Otter and Bunny are a pair of bonded kitten siblings who almost didn't get their chance to prove their toughness. At two weeks old, they were left all alone. Complicating their case, both kittens were missing portions of their front legs and feet, while Otter had a protrusion on his head that opened onto his brain.
The two needed help, and when Caroline Grace of Baby Kitten Rescue in Los Angeles saw them after a kind cat lover rescued them, she couldn't say no to bringing the sweet brother and sister combo into her care.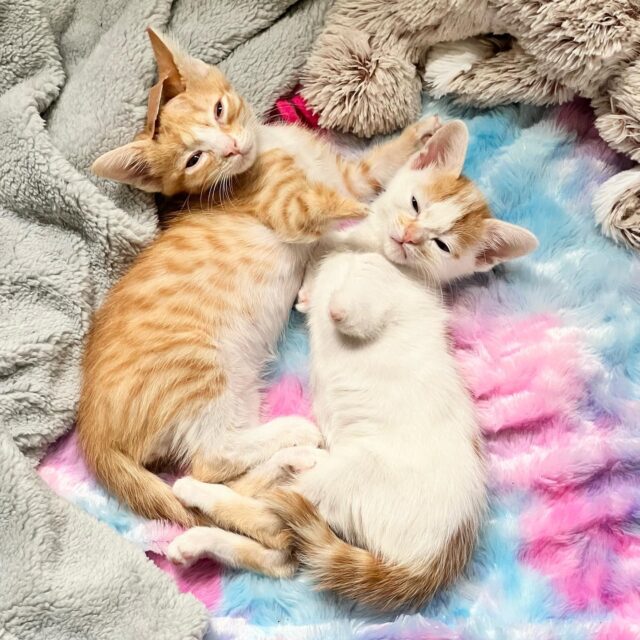 Right away, Caroline saw the kittens suffering from respiratory illness and "explosive" tummy troubles. But despite being abandoned, sick, and missing limbs, Bunny and Otter had fighting spirits and a will to live long and full lives.
Strong Spirits ln Tiny Bodies
After just a day of medication, love, and security, Bunny and Otter perked up, with Bunny giving Caroline a thank you of big purrs. And immediately, the bond between the brother and sister ginger kittens was apparent, as were their strong spirits. With Bunny's missing limbs and the abscess on Otter's head, that strength of will would serve them well.
"Bunny (the sister) is missing both of her front arms. Otter (the brother) is missing part of his right front arm and a few toes on the left front hand," Caroline explained to LoveMeow. "Their condition is most likely a congenital malformation."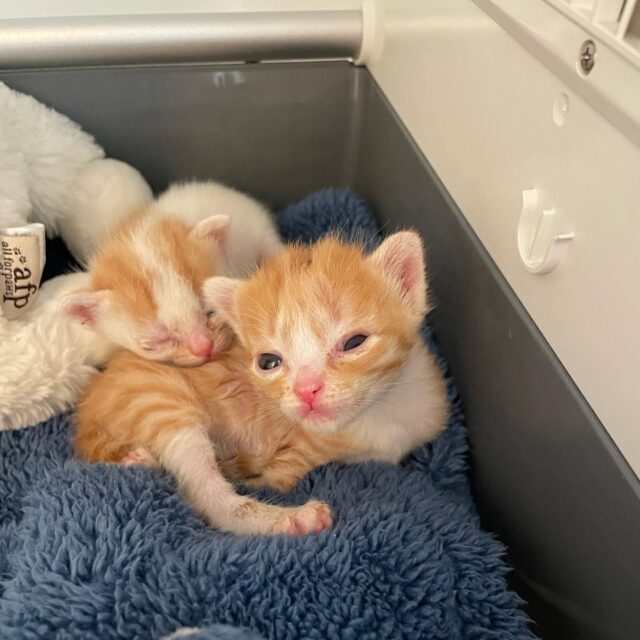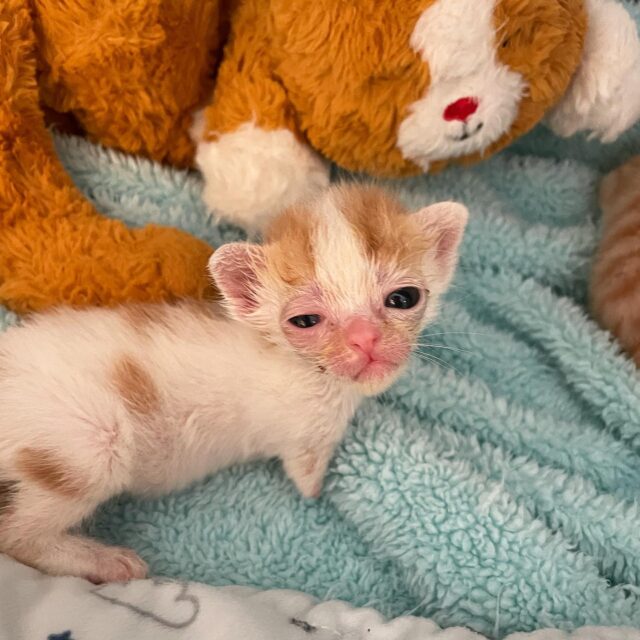 With Bunny's arms so affected, learning how to maneuver was tricky, but only at first, because as Caroline shared on Instagram, "Kittens quickly pick up how to walk on their back legs, like a little bunny."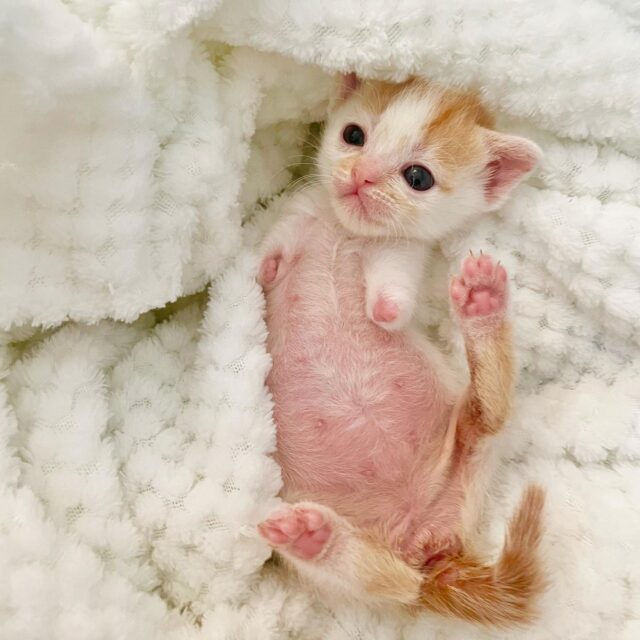 Tough little Bunny was "zooming around on her 2 legs in no time!"
A Literal Hole in the Head
But brother Otter had something odd going on with his little noggin.
"Otter may also have hydrocephalus or some other abnormality of the head or central nervous system. His head is disproportionately large which also causes his eyes to bulge," said Caroline. "He also has an abscess on the top of his head that may be related."
A neurologist's examination resulted in a hydrocephalus diagnosis and revealed the hole in Otter's head was more than just an abscess. It was a meningocele, a "protrusion at the top of his head, which is filled with cerebrospinal fluid."
And because these bubbles of fluid leak, it meant "there is an opening directly into Otter's brain."
"If he falls and hits the top of his head on something hard, it can damage his brain or even be fatal."
A later MRI revealed Otter's protrusion contained "not just cerebrospinal fluid in the opening but also meninges. So technically it should be called an encephalocele."
But that same scan also revealed remarkable news… Otter's hydrocephalus was gone.
"This is truly incredible and a miracle. This never happens. Hydrocephalus does not just go away completely. It is a chronic condition that requires lifelong management… but the MRI shows Otter has no extra fluid in his brain!!"
And while that win was one to celebrate, Otter would still need surgery to close the hole in his head. In the meantime, he was fitted with a helmet for protection. And he wore it oh so well!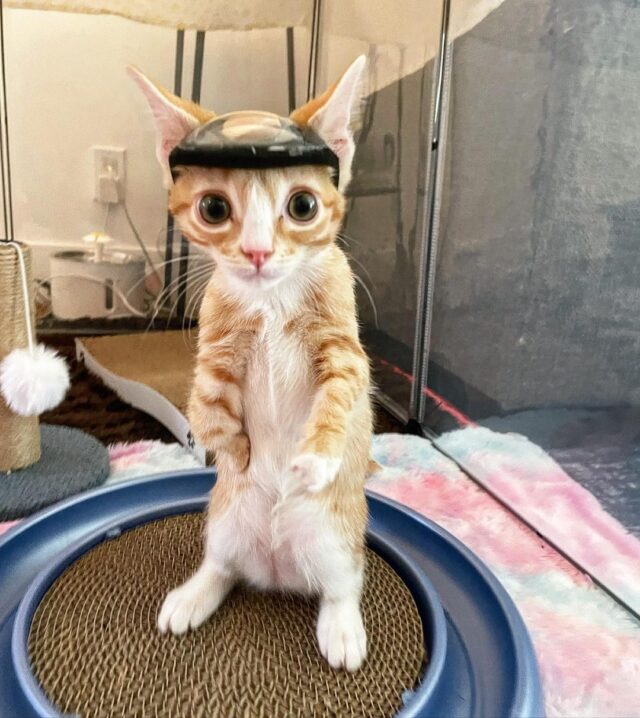 Once surgery time arrived, Otter was fitted with titanium mesh to close his skull. And this tough ginger boy came through just fine and even rocked his "mohawk incision."
"Look at this handsome HELMET-FREE boy!!!"
"I cannot believe how quickly and smoothly Otter has healed from such a major brain and skull surgery."
Still The Sweetest
Now months older, Bunny hops all over Caroline's house, moving faster than anyone could ever believe!
"Bunz is just out here living her best life and having the most fun every day."
"This girl never ceases to amaze me!! She is so strong, so powerful, so unstoppable!"
And Otter is enjoying life without the helmet or the worry of bumping his head. For all their struggles, Caroline gushed, "Bunny & Otter are both the SWEETEST babies!"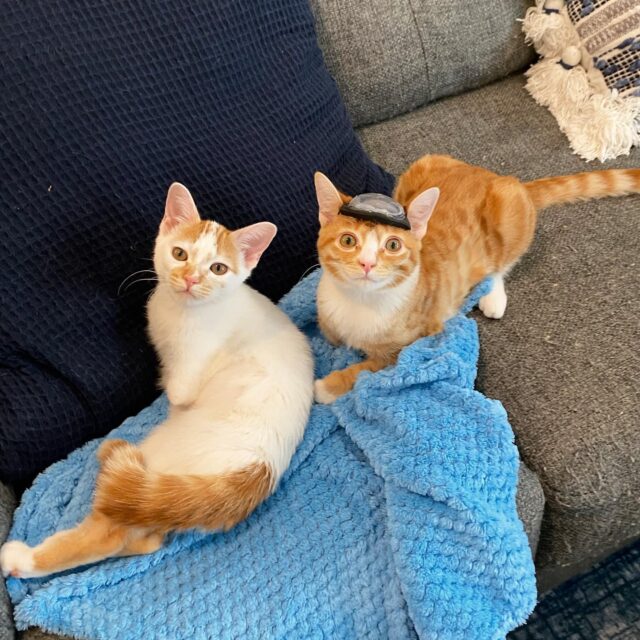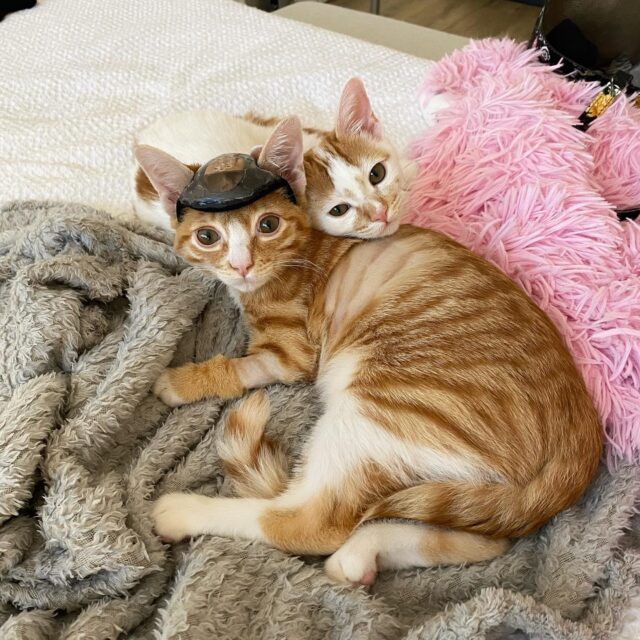 "They are happy and healthy, despite their congenital abnormality. They are both so full of love and joy! They love to give kisses, nuzzle your face, and purr endlessly anytime you hold them."
Caroline, Bunny, and Otter have spent most of this past year getting the kittens ready forever. And though they aren't ready for their forever home just yet, hopefully, that day is near! Want more cute kittens? Check out Take Delight In These 27 Angry Kittens Showing Their Adorable Spite!
Feature Image: Baby Kitten Rescue/Instagram