Hurricane Matthew spiraled up the east coast this weekend causing severe damage and loss of life in Florida, Georgia and the Carolinas.
Among the survivors was a teeny-tiny tabby kitten rescued from the torrential flooding in Raleigh, North Carolina.
The lucky little feline was taken to a local PetSmart and treated at the on-site Banfield Pet Hospital. Her caretakers even fashioned her a tiny sweater out of a sock, taking her cuteness score from an already perfect 10 to about a 1,000!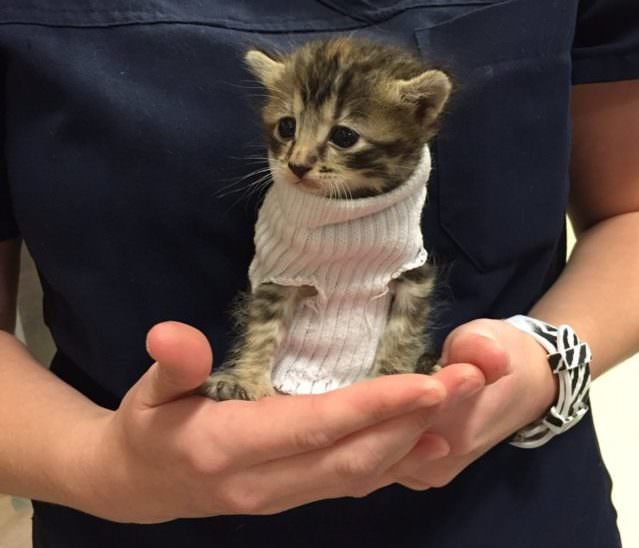 Twitter user, @crysomemore just happened to be at the very same PetSmart on Sunday, shopping for a new I.D. tag for her beloved cat, Question. As she explained on Twitter:
"Naturally I gotta look at the kitties up for adoption just to torture myself,"
User @crysomemore found herself beside a gentleman and his two young children checking out the available cats. One of the Banfield technicians approached the family and asked if they were in the market for a kitty. Despite the dad's hesitation, the gal went to fetch their hurricane survivor… and as they say, the rest is history!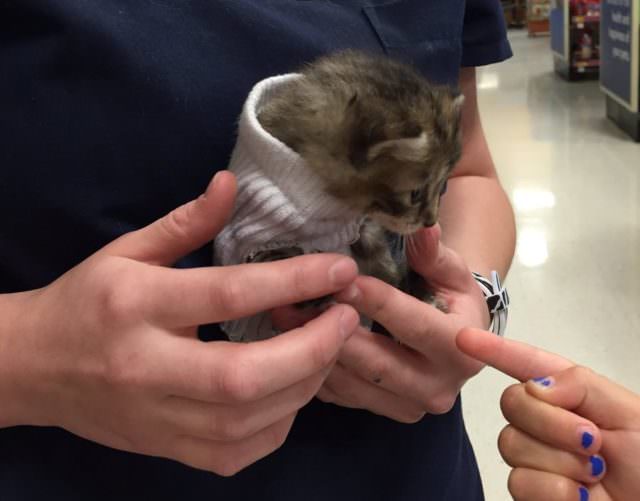 The trio instantly fell in love with the pitiful, sad-eyed kitten and after a phone call to mom, decided to adopt her then and there! Being the cat lover that she is, @crysomemore lingered around the store until the mom arrived to meet the new addition.
According to her Twitter feed update, she had no cause for worry. When at last she saw "The Tube Sock Sweater Kitten," it was cradled lovingly in mom's arms as the family shopped for kitten supplies – including "a hilariously huge and fancy litterbox."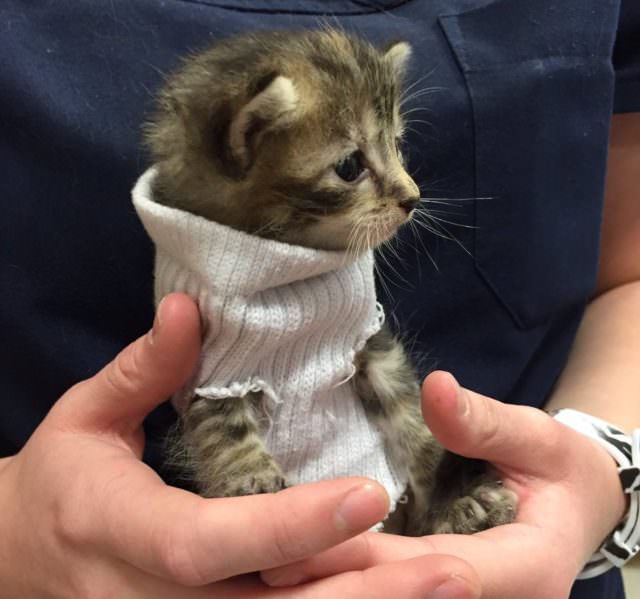 Luckily for the Twittersphere, @crysomemore snapped a few photos of the kitten in the tube sock onesie with its oh-so-perfect turtleneck cuff. She posted the images to her feed and in under 24 hours racked up 78,000 likes and 46,000 retweets!
With so many heartbreaking stories emerging in the wake of Hurricane Matthew, The Tube Sock Sweater Kitten is a ray of happiness and hope we can all appreciate.