One tiny tuxedo kitten didn't have much to sing about as she tried to eke out an existence alone on the South Los Angeles streets. But once she found the comfort and security of a loving foster home, Betty Boop the kitten transformed into quite the little singer with all her chirping and chattering.
Betty's journey to songbird began when Stray Cat Alliance picked her up from a local shelter and placed her with foster volunteer Alyssa. And when the two met, Alyssa was smitten with the tiny tux. Betty, however, wasn't so sure about the new human in her life, offering Alyssa hisses instead of kisses.
Shy Pipsqueak Grows into Chatterbox Cutie
Betty Boop was only five weeks old when she arrived in Alyssa's care as a lanky kitten in need of some TLC. But black and white Betty needed a second to adjust to indoor life.
"When I got her, she was so tiny, shy and a little hissy," Alyssa told LoveMeow. "Once she was settled in a bigger space with toys, a clean litter box, and yummy food, she slowly started to come out of her shell."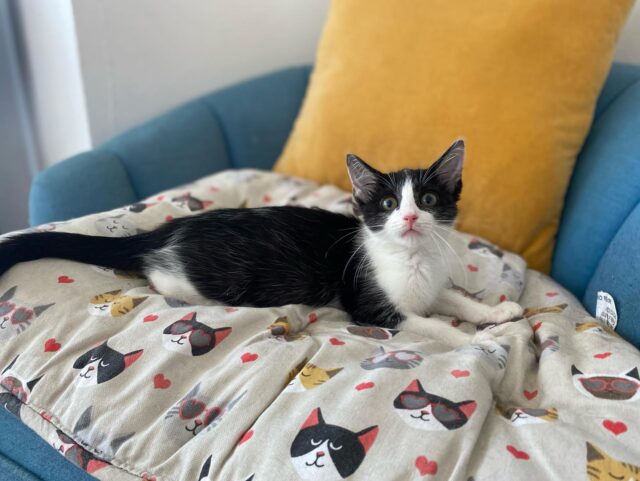 Once Betty realized she'd found the good life, she wasn't afraid to lift her voice and sing a chirpy song of joy. And once she discovered toys, playtime became Betty's favorite time to talk and chirp! Her favorite toy, a silly string thing that just begs for chasing, makes Betty so happy she'll dance about on the tips of her sweet paws while chirping away in hopes of catching it.
"She gets so excited when I bring that out to play, and I think those chirps are one thing that makes her extra special," shared Alyssa.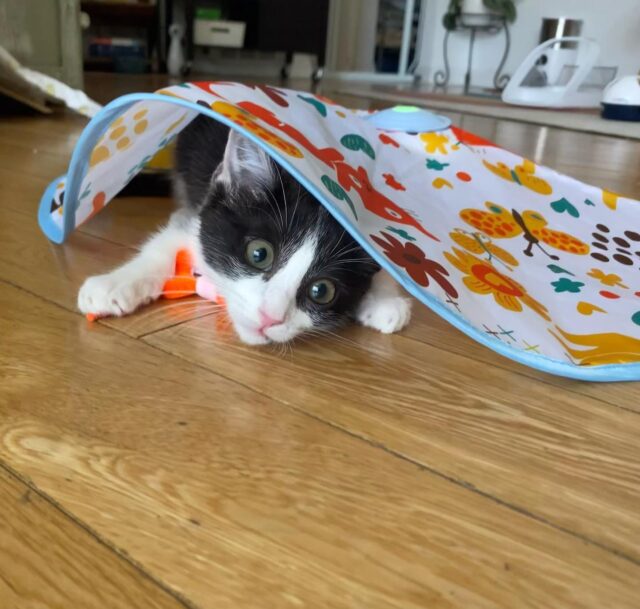 "She now immediately purrs when you pet her and loves attention. She has become so friendly and way less nervous about people. I'm so proud of how brave she is."
And Betty has had a purrfect role model for learning how to be a friendly cat from Mickey, the resident cat in charge of operations.
Learning How to Cat
Mickey the cat knows how to take a wily foster kitten in paw and teach them the ways of being a feline. Every kitty who comes through Alyssa's door leaves richer thanks to the handsome tuxedo lad's wisdom. And now, it's Betty benefitting from her fellow classy cat's experience.
Proud cat mom Alyssa said, "Mickey takes in all of our fosters, so it's no surprise that he and Betty were immediately friends."
"It took Betty only a few seconds to realize Mickey was going to love her. She chased him, tackled him, followed him all around the apartment, and lay next to him on my bed."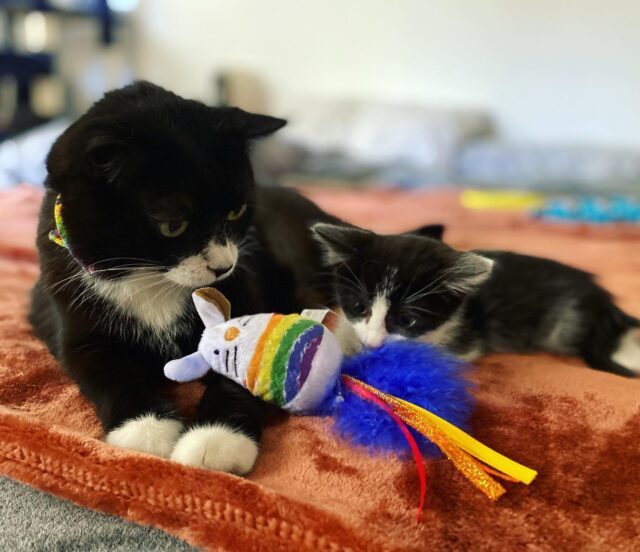 "She's like the annoying little sister who learns from the big loving brother. She always has to be in the same room as Mickey, and I think he really enjoys her company."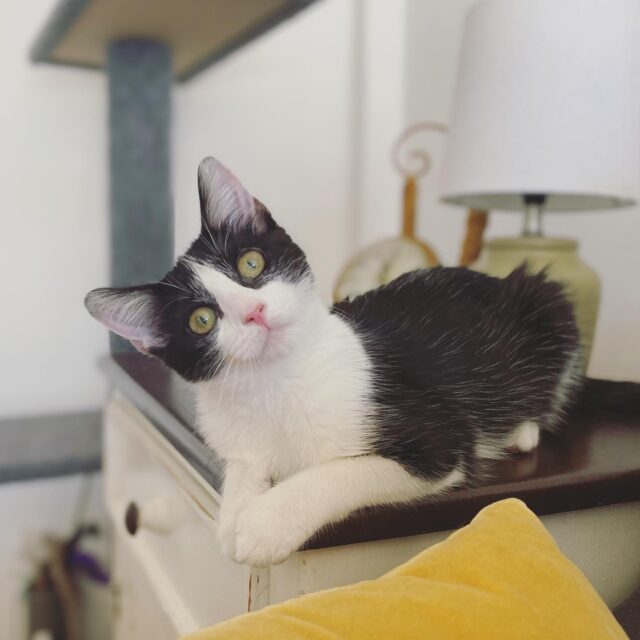 Thanks to all the love and care Betty's received from Alyssa and Mickey, she's ready to find her forever home, a place where she can chirp, sing, and chatter her whole life through. Alyssa hopes Betty and her family find each other soon because, as she shared, "She's going to make someone very happy one day."
Feature Image: @alycatsandfriends/Instagram