There is a particular glare that can come from a kitty who is not impressed with the contents of their kibble dish. Cat lovers everywhere have seen it. Without saying a word, the disappointed cat expresses heaps of disdain, as if to say, "You expect me to eat this?"
Parents to finicky felines, get ready! We found a special little something that will please even the most difficult to satisfy feline. And on top of that, it gives a nutritional boost to your cat's kibble. We call that a purr-fect combination!
Feed Meow Meal Enhancers
"I and love and you" aims to please the pickiest palate with Feed Meow meal enhancers. A savory topper that helps your cat look and feel his best is just the ticket for cats that tire of plain old kibble and could use a little excitement at meal time. Cat parents love it as much as their fur babies because each formula is packed with extra goodness that gives your kibble a step up in nutrition.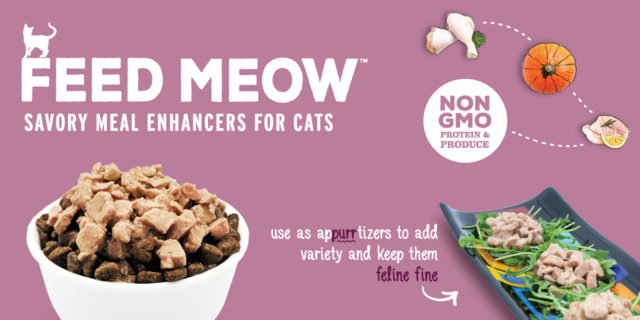 Feed Meow 'Boost'
Feed Meow Boost is designed with a host of superfoods that help your cat be their most fabulous self. Healthy, whole food ingredients like turkey, chicken broth, turkey liver, cranberries, and pumpkin make this meal topper both delicious and nutritious.
Organ meat, such as liver, is a healthy component to a cat's diet. In fact, organ meats typically deliver more nutrients and less fat than their muscle counterparts. Liver in particular has loads of vitamin A, vitamin K, iron, and phosphorus, all good minerals and vitamins for your feline friend.
'Shine' Meal Enhancer
Feed Meow Shine helps your kitty have healthy skin and a shiny coat. With Shine meal enhancers, your cat will be ready to impress and 'dressed' for success. Omega 3's and fish oils come in strong and straight from the source with mackerel and fish broth as the first two ingredients.
Fish oil helps your cat in a number of ways. It has anti-inflammatory properties that reduce itchy skin and dandruff. Additionally, it adds shine to your cat's coat and reduces shedding. Bust out that beautiful bowl. The cat is getting fancy tonight.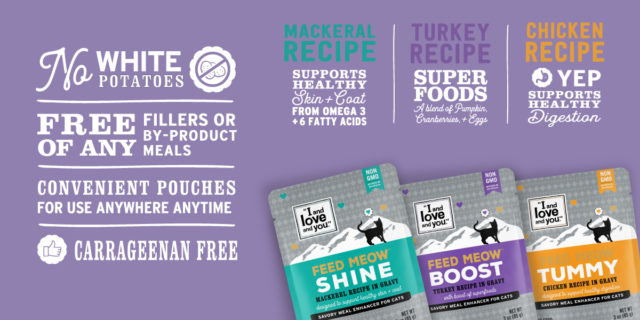 'Tummy' Cat Food Topper
If you've got a kitty with a sensitive tummy, this is the mealtime treat for her. Feed Meow Tummy helps keep tummy aches at bay when the meal is finished. Designed to support healthy digestion, this delicious chicken-based gravy has extra goodness to keep tummy trouble away.
Fructooligosaccharide is used both to add sweetness and as a pre-biotic. Feed Meow Tummy includes a healthy dose of this fruit-derived ingredient. Pre-biotics support your cat's gut biome, keeping the good bacteria that reside there happy and well. This leads to more efficient, healthy digestion and fewer stomach problems. Prepare for plenty of tummy-rub inviting flops.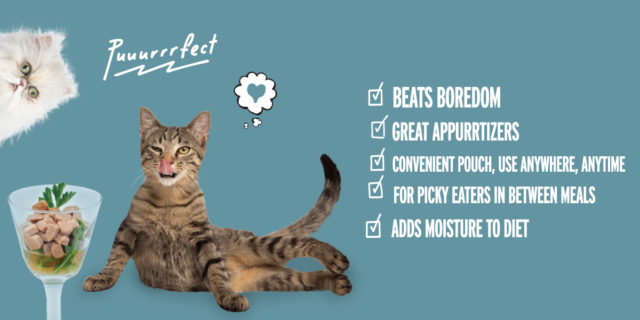 Jazz it Up with Meal Toppers
Topping your kitty's usual meal with the occasional savory gravy will help him avoid food boredom and refusal. You can feel great about serving up "I and love and you" meal enhancers because they are thoughtfully crafted with wholesome, beneficial ingredients.
So go ahead. Cue up the music, break out the china, and get fancy. Soon your cat will sound like these farm cats begging for Feed Meow now!