The newest officer at the Bryant Police Department is reporting for duty and the little kitten is arrestingly adorable.
On Friday, "Cad" the kitten received her badge, making her the newest officer in Bryant, Arkansas. Her pledge? To protect and serve and be super cute.
As she needs her paws free for purrfect patrol work, "Officer Hastings and their company ARMA Tactical" created a special badge setup so the watchful cat can wear her shield on her collar. In a picture shared by the Bryant Police Department on Facebook, Cad is shown wearing her collar and badge.

Bryant Police Department/Facebook
The fluffy kitten of grey tabby stripes spends most of the time in dispatch, so it seemed fitting to name her after one of department's operating systems. In law enforcement, CAD typically stands for Computer-Aided Dispatch. In the little kitten's case, purrhaps it stands for Cat-Aided Dispatch. Cat lovers know that's the best system around!
Gifts for the Furriest Officer on Staff
A couple days before the cute tabby kitten received her badge, a big box from Amazon arrived at the station. Cad the kitten was the addressee and inside the curious cat found a sack of food, a comfy bed, a scratching post, and various other cat supplies. Kitty cat lover, Meagan Harris couldn't resist gifting Cad a host of goodies to keep her alert on the job!
On the BPD Facebook, the department offered, "a Great Big Thank You to Meagan Harris, you have made this little kittens day. Meagan is responsible for ordering this for Cad and we cannot say thank you enough."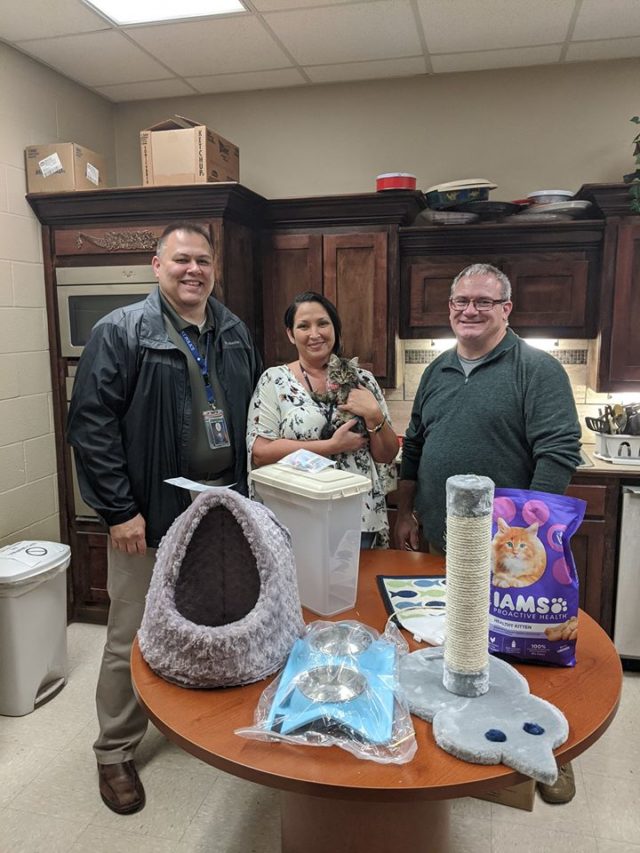 Bryant Police Department/Facebook
Cad's Story
This past fall, Cad, her two siblings and their mother arrived at the Bryant Animal Control & Adoption Center. The entire family was seriously ill. So sick in fact, the kittens' mother had rejected them. Animal Control Director Tricia Power reported the rejection occurred "likely because she was just trying to survive herself."
The cat and kittens were fostered out with hopes of bringing them to good health and eventual adoption. Crystal Winkler, a BPD employee, had the honor of fostering Cad and her brother. Sergeant Todd Crowson and other officers decided, "you know what, we'll take the sister."
A Kitten Served Will Help Protect
Not only does Cad now have a forever home, but she has a whole force of family there to serve and protect her. And, the tabby kitten gives back. Its well-known cats have a calming influence, in fact, petting a cat reduces blood pressure and calms anxiety.
"We hope that Cad will serve as a cute and cuddly ambassador for her species, as well as provide stress relief for the staff and officers at the police department," Power said, regarding Cad's appointment. "There's nothing quite like a purring, loving kitten to cuddle after a particularly tough day on the job."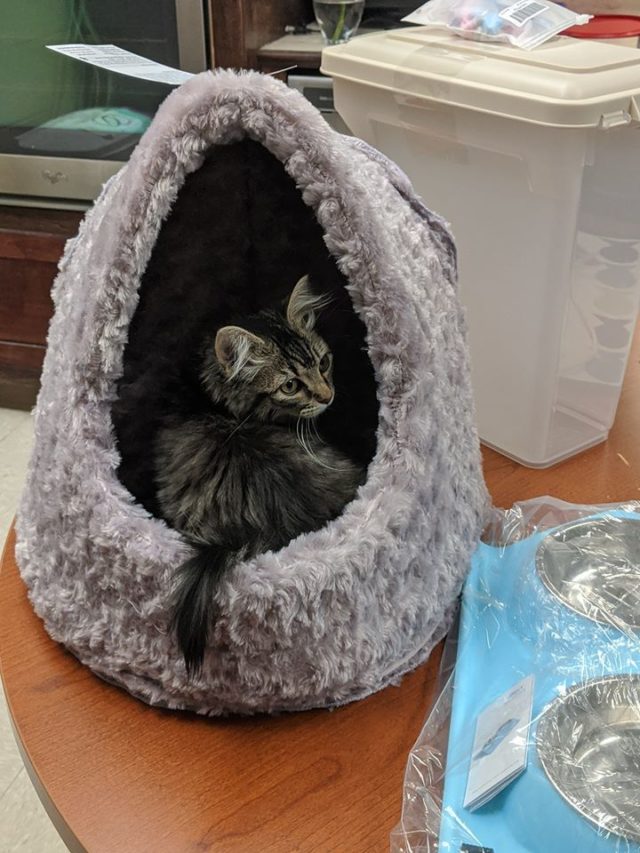 Bryant Police Department/Facebook
Plus, it's a sad fact many children have to spend time in a police department when life goes wrong. These kids can often be scared or upset and sweet Cad can help the kids out. A furry buddy has the power to soothe fears and help us feel a little safer.
Sgt. Todd Crowson said, "She's going to be able to help us out a whole lot with little kids who come in here who are scared to be here."

"They are scared, they are going through a lot, even adults. So she may be a way to provide therapy for them, maybe make their visit here a little bit easier."
The 14-week-old kitten can look forward to a long life as the chief cat in residence at Bryant Police Department. Our hats off to you "Pawfficer" Cad!
H/T: KARK.com
Feature Image: Bryant Police Department/Facebook