Not so long ago, life was flowing at a normal pace. People worked at their offices and grocery shopping was just a chore, not a mission. Shelters paced along, staff and volunteers working to get cats and dogs into their forever homes. And folks were adopting animals and kittens, like 3-week-old Monkey, were taken into foster.
But then everything changed and our wide worlds shrank to the space of our homes.
Monkey made it to a safe and secure home with foster mom Merissa just in time.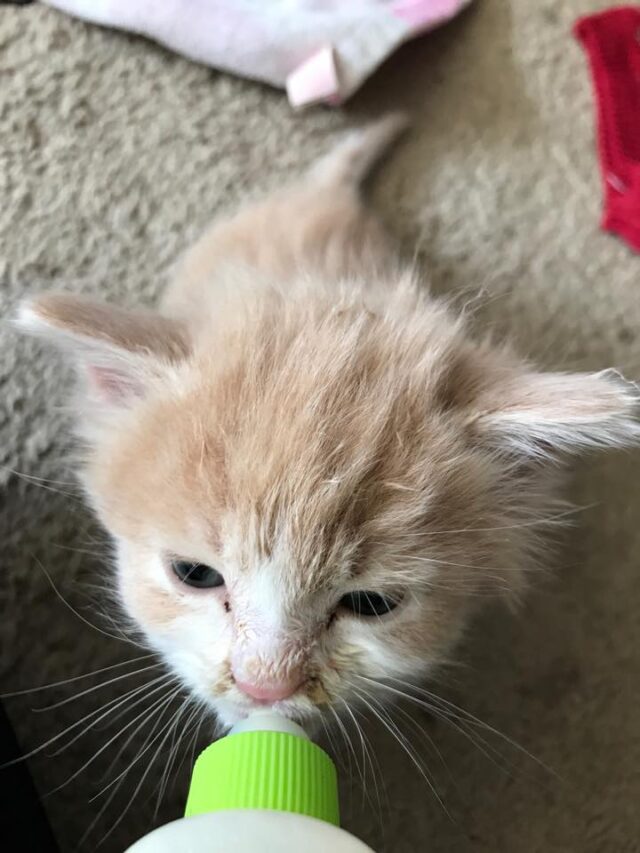 Saving Grace Rescue Inc/Facebook
A Kitten In Need
Monkey was a kitten alone and hungry, but thanks to San Jose Animal Services, he found himself in the care of Saving Grace Rescue. Founder Amber Rose said of the baby ginger cat, "He earned the name Monkey. He was so outgoing from the start and just a big personality."

Saving Grace Rescue Inc/Facebook
Amber put out the call for fosters for Monkey and it didn't take long for foster mom Merissa to offer her home to the adorable kitten. Not long after Merissa brought the kitten home, the state of California began the push for all residents to stay in place and remain at home.
The lucky kitten found his safe space just in time.
And, he settled in right away. By day 2, Monkey discovered how much he enjoyed cuddling. So much, in fact, he curled right up in Merissa's comfy robe.

Saving Grace Rescue Inc/Facebook
According to Love Meow, Monkey has found much to keep him occupied in his days at home with Merissa. The tiny boy enjoys padding around the house on his adorable toe beans and his curiosity keeps him busy discovering new things. The sweet baby has also learned about toys and how fun they can be.

Saving Grace Rescue Inc/Facebook

Saving Grace Rescue Inc/Facebook
In these strange times, Monkey keeps Merissa smiling!
Amber related, "He's been through a lot this week but this fantastic foster mom makes him feel loved and safe."

Saving Grace Rescue Inc/Facebook
This cat lover's opinion predicts a foster fail on the horizon because Monkey and Merissa seem to be a perfect match!
Don't Forget Rescue Animals
As for the other cats and kittens at Saving Grace Rescue, Amber shared everybody is safe with volunteers and foster families. "We have had a wonderful influx of volunteer fosters. We are grateful every day for our SGR family."
https://www.instagram.com/p/B-DGl0yBXVA/
From the cat lovers here at iHeartCats.com, thank you to all the animal rescue workers, volunteers, and fosters for keeping cats and kittens safe.
If you're interested in helping out, check out Saving Grace Rescue's initiatives or get in touch with your local shelter to see what rescue animals in your city need.
H/T: www.lovemeow.com
Feature Image: Saving Grace Rescue Inc/Facebook