Cat lovers are the best.
Want to know why?
Because anytime there are cats in need, you step up and help feed hungry tummies in animal shelters all across the country by simply purchasing adorable merchandise. We at iHeartCats.com can't thank you enough. And as they purr happily over their bowls of food, shelter cats thank you too.
And it's not just cats in shelters who thank you.
Feral cats living in wild colonies may not realize it, but they owe you a debt of gratitude too. Thanks to your generosity and the dedication of staff and volunteers at Faerie Tales Cat Rescue, a group of feral cats in Michigan receive healthy food.
And one of these wild cats wandered out of the group to voice her thanks.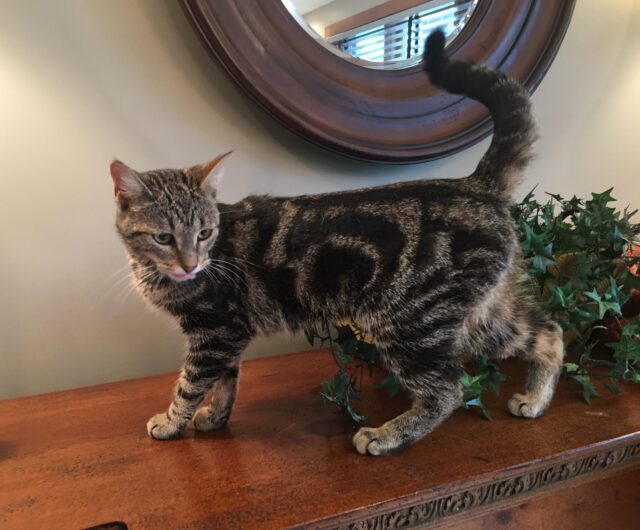 Image Courtesy of Faerie Tales Cat Rescue
A Tabby Life Saved
It turned out the little tabby wasn't one of the feral cats though, but most likely a dump off.
Gracie was new to this particular colony and Faerie Tales Cat Rescue related, "It was obvious pretty quickly that she was not a new feral but that someone discarded her."
Though a grey tabby beauty, "Gracie was very thin, not vetted, and not sure how much she trusted strangers, but she willingly allowed herself to be put in a carrier and trusted that we were going to take care of her."
And truly, as always, Faerie Tales Cat Rescue did an amazing job readying a cat for her forever home.
Staff reported it took a while for the swirly tab to come out of her shell, but once Gracie did, "she blossomed into a very nice kitty who loved nothing more than to bury her head into your shoulder."
After good food, amazing care, time to regain trust in humans, Gracie met her new family.
"She was recently adopted to a wonderful family who love her dearly! We are so happy to have been part of her journey."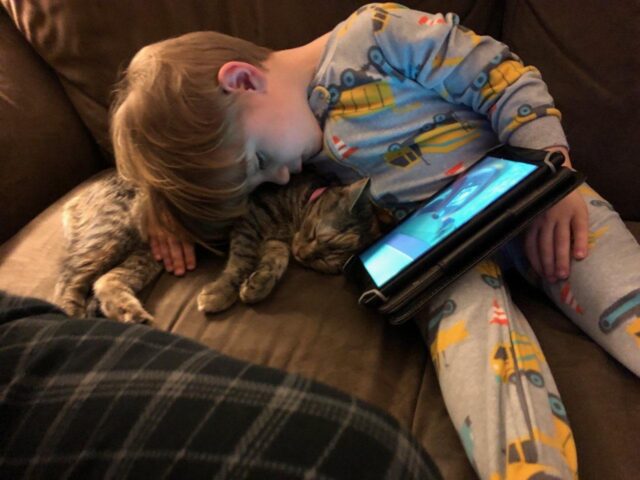 Image Courtesy of Faerie Tales Cat Rescue
Without Faerie Tales and the Rescue Bank, Gracie might never have gotten her chance to find peace and security.
Partnerships for Good
Thanks to a partnership between iHeartCats.com and GreaterGood.com, every purchase made helps animal shelters striving to give every cat a home. The Rescue Bank, a pet food distribution initiative in the GreaterGood family, has been keeping hungry bellies full in shelters across America since 2011. To date, Rescue Bank has fed shelter animals over 80 million meals.
And Gracie the cat was one such hungry animal and Faerie Tales said they couldn't make it without the generosity of the Rescue Bank. "GreaterGood.org's Rescue Bank allows us to provide food and care to the feral colonies. By feeding a colony, you know the cats and easily recognize and newcomer to determine if they need spay/neuter, veterinary care, or if they can be brought into an adoption program. Thank you for the food that enables us to save these forgotten souls."

Image Courtesy of Faerie Tales Cat Rescue
Let's help Faerie Tales Cat Rescue keep saving forgotten lives by simply buying adorable merchandise. As a cat lover, we know you'll continue helping and we, your fellow feline enthusiasts, thank you for it!
Feature Image Courtesy of Faerie Tales Cat Rescue