At the end of July, Rachel Dean of Dickinson, Texas came home to find something amiss. Her beautiful 10-year-old cat, Romeo, was not snoozing on the front step as usual. In fact, the indoor/outdoor kitty was nowhere to be found. Dean posted lost cat flyers with her phone number around the neighborhood.
On August 6, she began receiving cryptic calls from two different numbers and demands for cash in exchange for Romeo's return.
Dean told Chron.com that the caller asked if she was offering a reward for the cat. Over the following week, he claimed to have multiple pets in his possession and urged Dean to "come to his League City location" to see if Romeo was among them.
Frustrated and suspicious, Dean took to a local Facebook page, Lost Pet Advocates of Galveston County to warn others of the potential scam.
"Just so everyone knows!! Be careful with your pets! I believe we have a predator out there snatching animals and charging owners for a safe return," Dean wrote. "Today I received two phone calls from someone saying that they have my cat and want to know how much I would offer for them! This is the text conversation we had via texts when I asked for a picture."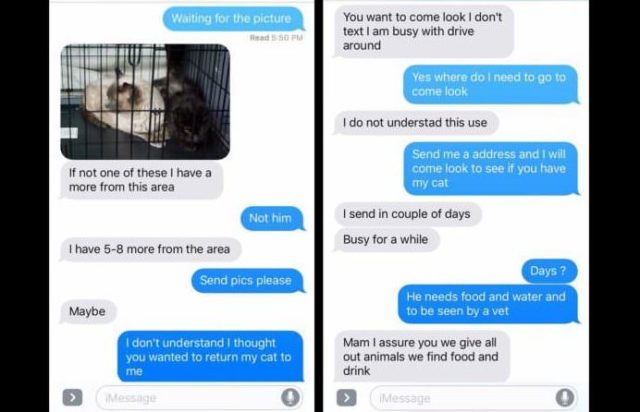 Dozens of concerned group members shared and commented on Dean's post. Most simply expressed their sadness and support for Dean and Romeo, while others took action. One member performed a search on the photo provided to Dean through text. It came up as the fourth Google Image result for the search term "cats in cage."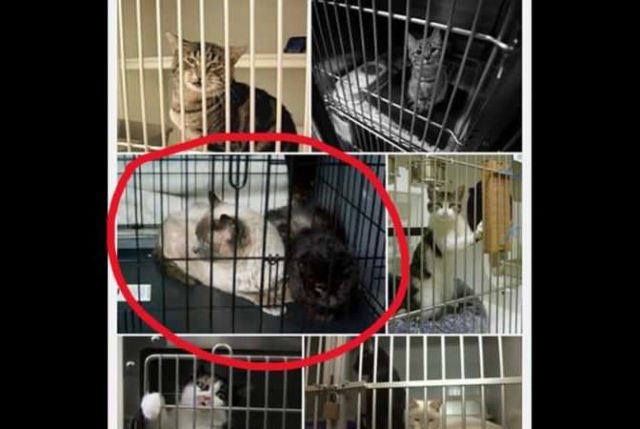 An employee at the local shelter offered her assistance and several group members recommended that Dean contact the police. Some even expressed concern that the scam may not be about money at all, but rather an attempt to lure women to a secluded location.
Dean posted the following screenshots of her latest texts with the "rescuer," who claims his business is rounding up lost pets and reuniting them with their owners – for a price. He offered to sell Romeo back to Dean for $300, or put her on a $50 per month payment plan!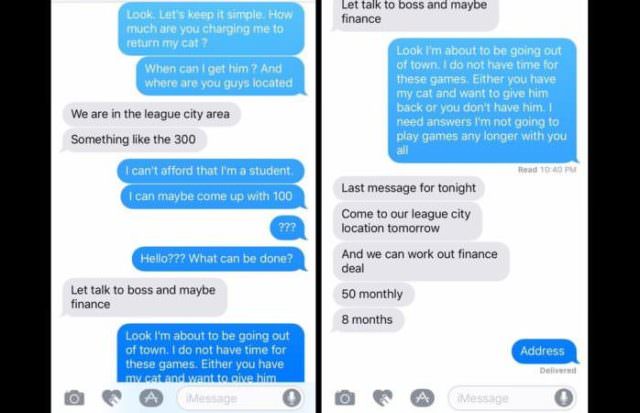 Dean reached out to the local police, but was told there was nothing they could do since the caller never identified himself and the number is spoofed. Law enforcement believes that this is a scam of opportunity, not a cat-napping.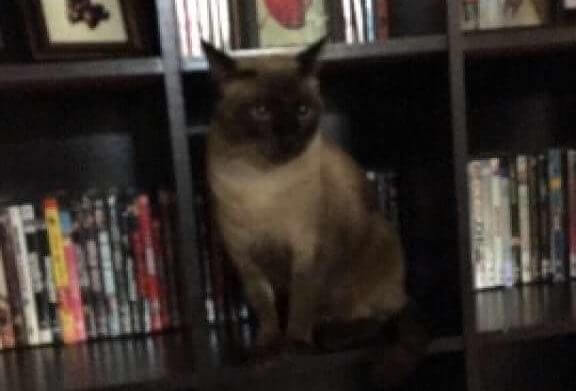 The last Facebook update from Dean came in on August 9. The messager had sent her an address, but like everything else, it turned out to be a fake. Dean reached out to several news outlets to spread the word and protect others from falling into the same trap.
 "I don't want some sweet grandmother who has lost her pet to fall for this and send money and never see her pet again," she told ABC 13. "He told me that this was his business. That they were in the business of reuniting lost pets with their owners for a price. I don't believe they have Romeo at all."
Featured Images via Rachel Dean