Newlyweds Michael and Courtney Jimenez consider their tuxedo cat, Angel, part of the family. So, it's no wonder that they couldn't imagine tying the knot without their furry "son" on their wedding day!
"We have two babies, Michael Jr. and our cat, Angel," Michael Jimenez said in a story by Cleveland.com. "We knew we wanted our cat to be a part of our special day, so Courtney's dad held him while she walked down the aisle."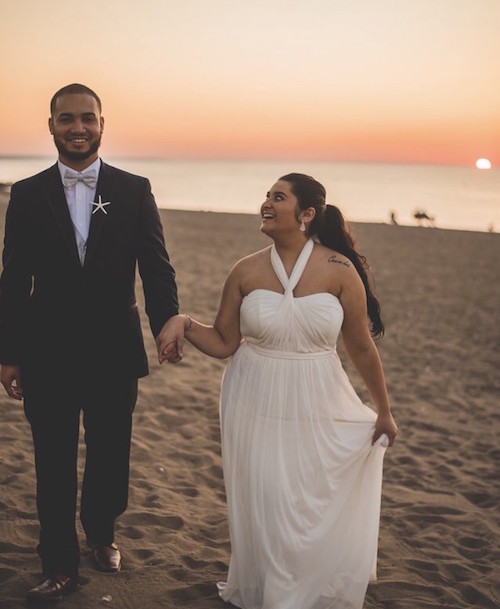 Luckily, they had Aileen of Aileen Elizabeth Photography, based in Lorain, Ohio, capture some of their feline-filled moments!
"This was the first wedding that I've ever photographed with a cat," Aileen told iHeartCats. "When Courtney told me about it, I was so excited!"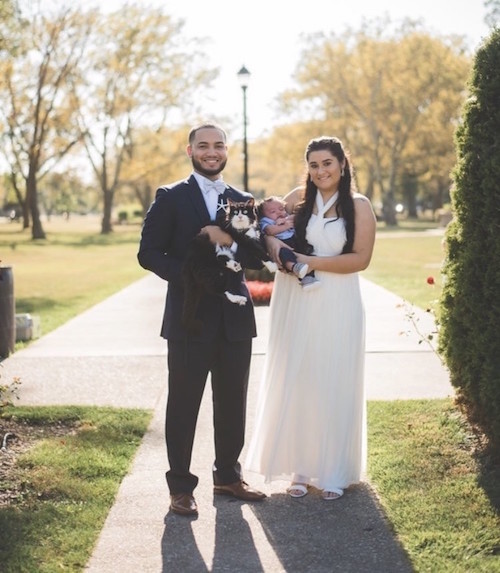 "I shoot a lot of weddings and I love it when the couples add in something to make it more personal to them and their story. This one was definitely one to remember. My parents asked, 'How was the wedding this weekend?' and I got to say, 'The bride's cat walked her down the aisle!' So awesome."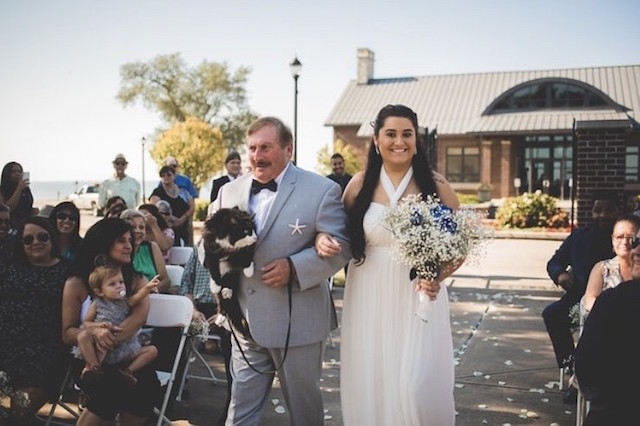 Aileen told us that the formal-furred tuxedo kitty was very well behaved, and even wore his very own bow tie! During the reception, he celebrated in his own way: by going home and taking a snooze.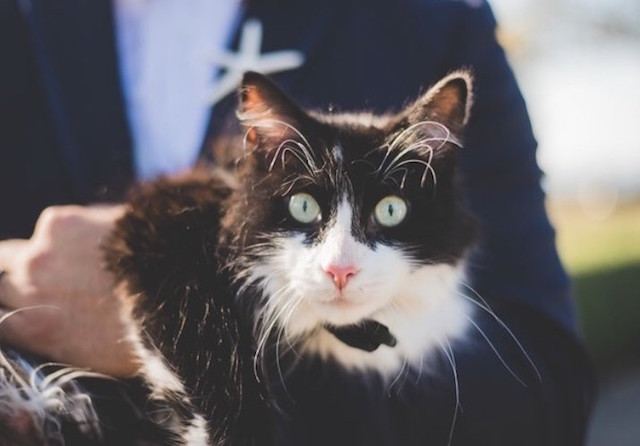 Although Angel was the first feline that Aileen ever photographed at a wedding, she did take pictures at a ceremony with a German Shepherd ring bearer.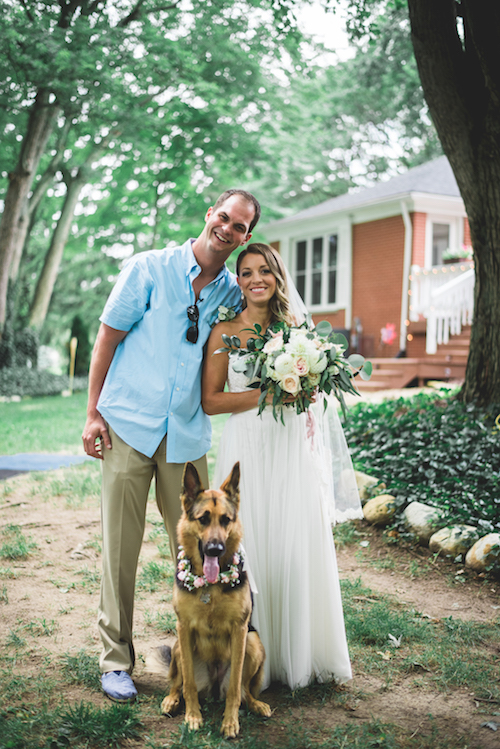 "Jazz made Ashley and Jason's wedding that much more special," Aileen said.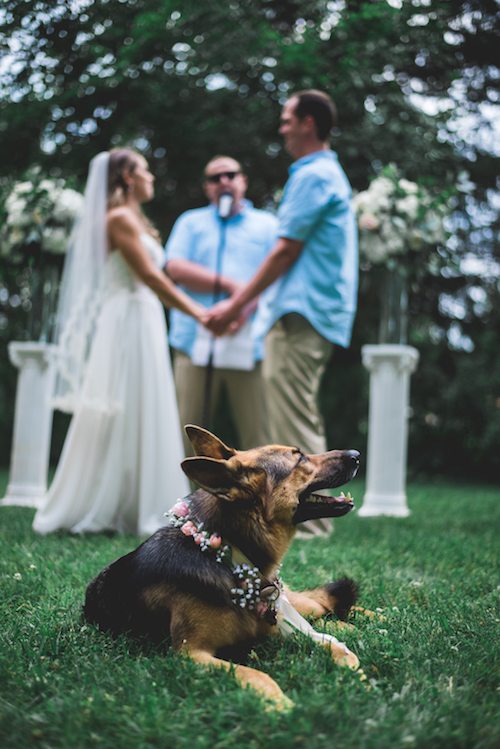 The photographer has a soft spot for pets, since she lived with the family dog, named Sam, for 17 years. Sadly, he crossed the Rainbow Bridge last month.
"I'd like to think we gave him a good and happy life. He was truly part of our family," Aileen said, then added, "I do have a plant, though. His name is Carl."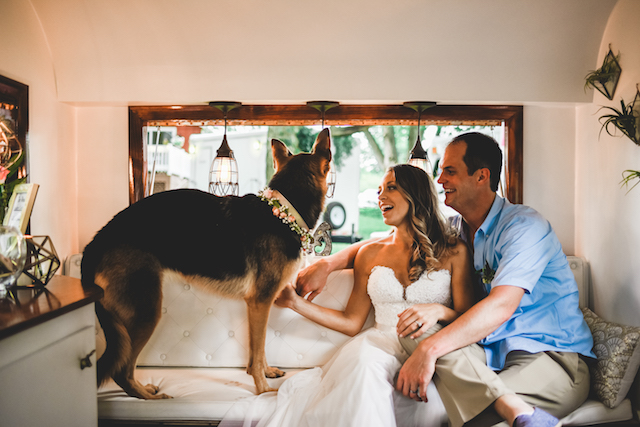 Aileen told us that she hopes more couples will be inspired to include their pets in their nuptials.
"Michael and Courtney's cat truly made their wedding unique," she said. "I definitely think more couples should add things like this to make their wedding personal to them. especially with pets, because they are family. So why aren't they present at the most important day of their lives?!"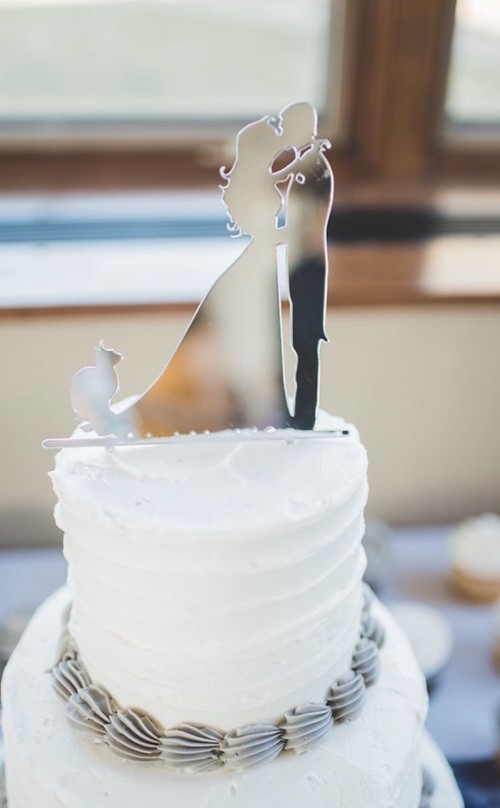 Thanks to Aileen for letting us share her beautiful photos! Follow Aileen Elizabeth Photography on Facebook and Instagram.
(h/t: Cleveland.com)