Cats and dogs make unlikely friends, but when a bond forms, love doesn't differentiate between meow and bark.
Gilbert the cat and Lucy the puppy have learned this fact to be true and the siblings have become inseparable in these days of coronavirus lockdown. Their dad, Adam Kopley, enjoys capturing videos of the Ragdoll cat and Corgi puppy playing and sharing them via social media. His aim? Spreading smiles during these strange times of distance.
And certainly, Gilbert and Lucy make us smile with their rowdiness.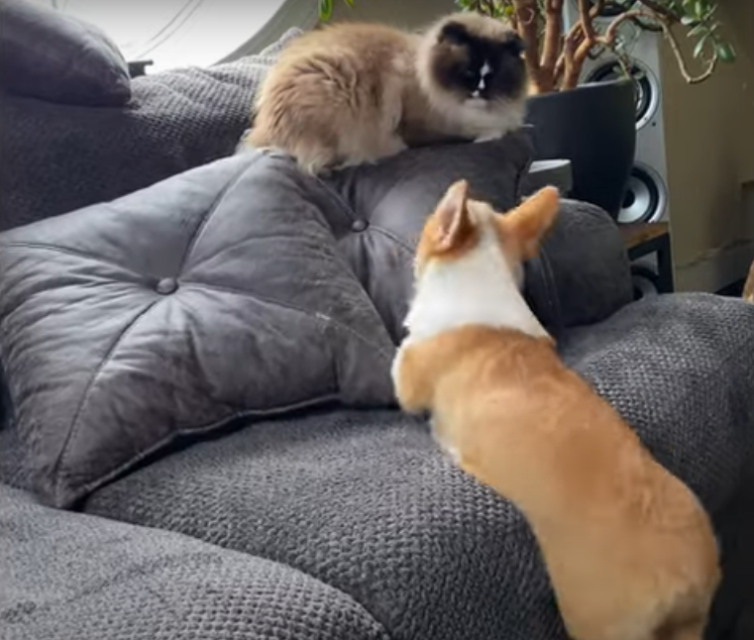 screenshot, Adam Kopley/YouTube
Three-month-old Lucy joined the Kopley family in the early days of the push to stay home and the connection between cat and puppy was pretty much instant. Being a cat, Gilbert just needed a second to check out the newcomer, but he quickly decided he was a fan of the new puppy. "As soon as Lucy came home, he watched her for like 30 minutes. Since then, they've been playing nonstop," said Adam.
And while cats aren't the usual play partners for puppies, Gilbert is an exception. The three-year-old Ragdoll is no stranger to dogs. Adam reported the handsome fluff "grew up roughhousing with a dog".
"They're 100% friends."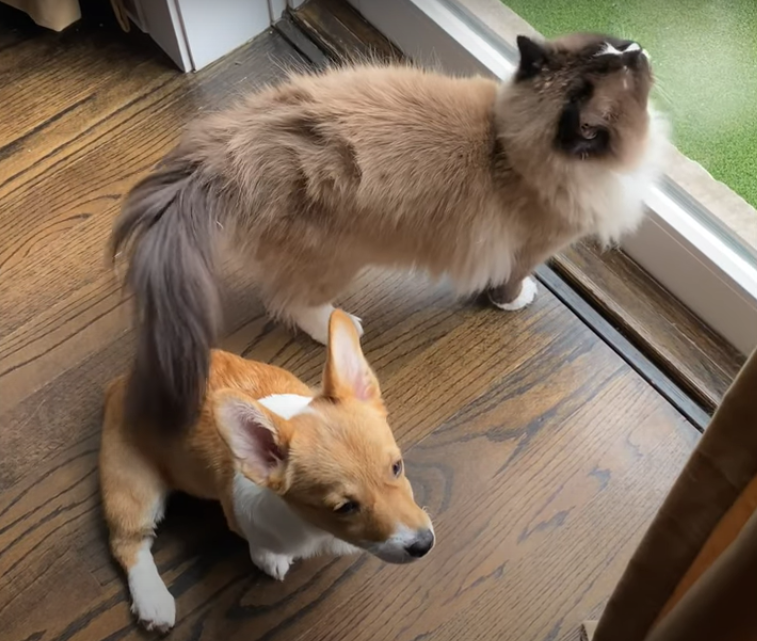 screenshot, Adam Kopley/YouTube
And photo evidence of the pair at play proves it!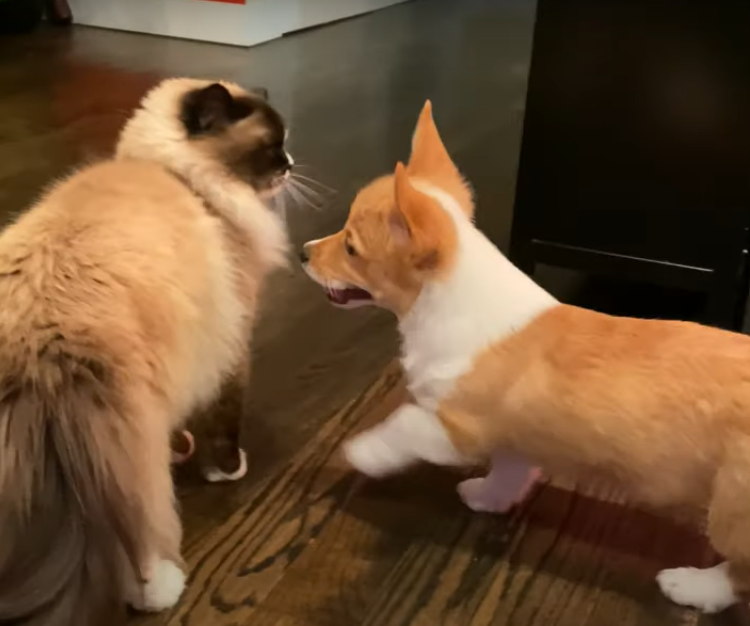 screenshot, Adam Kopley/YouTube
We also learn Gilbert is a patient cat! And while he enjoys playing with little sister Lucy, puppies are fireballs of energy and Gilbert sure tolerates her antics well. Seems he's a cat who dishes it just as well as he takes it…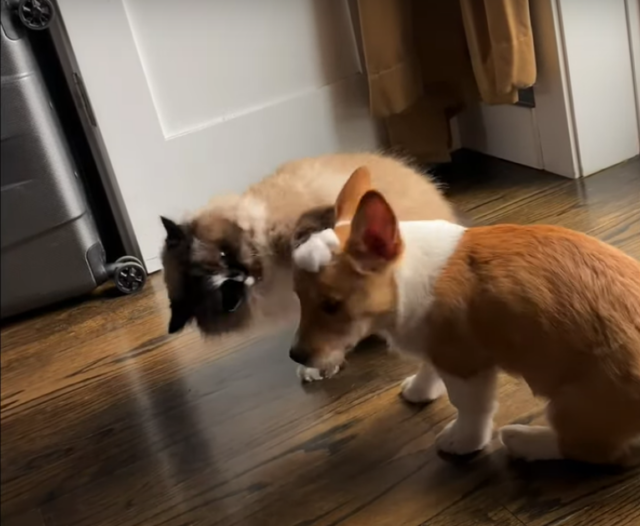 screenshot, Adam Kopley/YouTube
Time Together
Adam and his fur babies live in Chicago, IL, and when he got the orders to work from home starting mid-March, he saw a good moment to tackle a tough chore.
"We got our work from home orders on March 10th and I anticipated being home for a while," said Adam. "I thought this was a great opportunity to get Lucy housebroken."
And we wish him luck!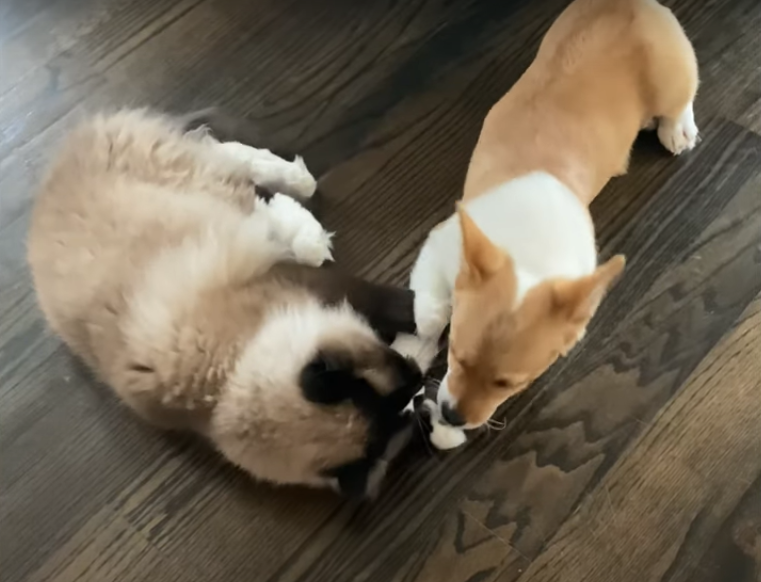 screenshot, Adam Kopley/YouTube
In between chasing Lucy to the puppy pads or outside, Adam catches great footage of the active puppy enticing Gilbert to play. Sometimes Lucy resorts to tail-pulling, dragging Gilbert along until he gets up on his paws to chase his little sister.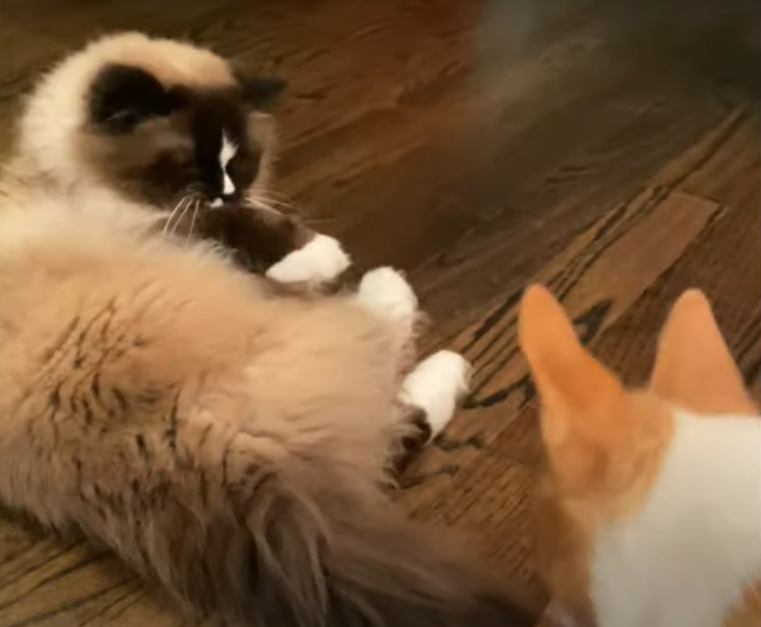 screenshot, Adam Kopley/YouTube
When the silly pair aren't tussling, they enjoy peacefully hanging out together at the window or the door, just watching the world outside.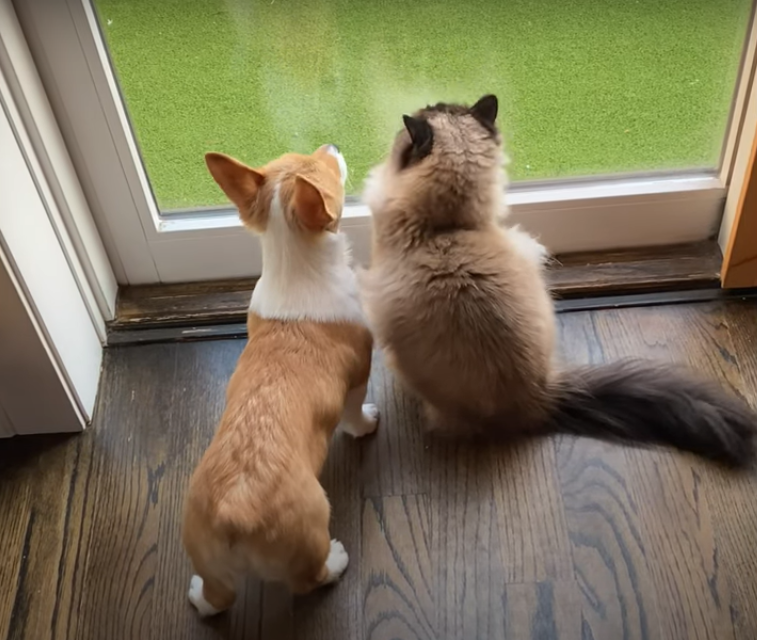 screenshot, Adam Kopley/YouTube
Adam shared, "We're all hanging out nonstop together. It's the only thing keeping me sane right now."
Cat and dog parents across the world understand Adam's sentiment well. As we are spreading out and keeping distance, our furry family members are keeping close, and reminding us everything will be okay!
H/T: www.vt.co
Featured Image: screenshot, Adam Kopley/YouTube