Cats do what they want.
If you're a cat parent, you're more than aware of this fact. And, you probably give into the whims of your feline when it comes to their will, because sometimes it just easier to let a cat have her way.
But there are some behaviors cat moms and dads can't abide.
Especially in a toilet paper shortage.
Naughty Eleanor
Kylie Duffield has trouble in her house. The source of this trouble may be whiskered, striped, and small, but she can do a lot of damage to an innocent roll of toilet paper. And Eleanor the cat can't be tamed when it comes to wads of cottony softness.
"Eleanor will destroy everything, loves pulling her collar off and chewing it up … but toilet paper is her real thing," Kylie told The Dodo.
Kylie does her best to keep Eleanor out of the bathroom, but cats are sneaky, especially when there's a forbidden object on the other side of the door. "I have to make sure I shut the door tight and I've never had a cat do this so I do forget on occasion."
While a cat all draped and wrapped in toilet tissue is adorable, in this time of toilet paper shortages, Eleanor's habit proves a little frustrating. But the naughty grey tabby could care less. She just wants to have fun!
"I've got a spare six-pack at the moment but the shops are cleaned out every time I go so I'm trying to keep her out but she's sneaky and cheeky," said Kylie.
The Trouble-Maker Sister
Eleanor and her twin sister, Tahani, came to Kylie by way of Tiny Tails Rescue in Australia. The sweet sisters were abandoned when their family moved away, but the tabby girls found their forever home in a hurry. Kylie had planned only to foster the cats, but she knew pretty quickly the kitty sisters were destined to be her 'foster fails'.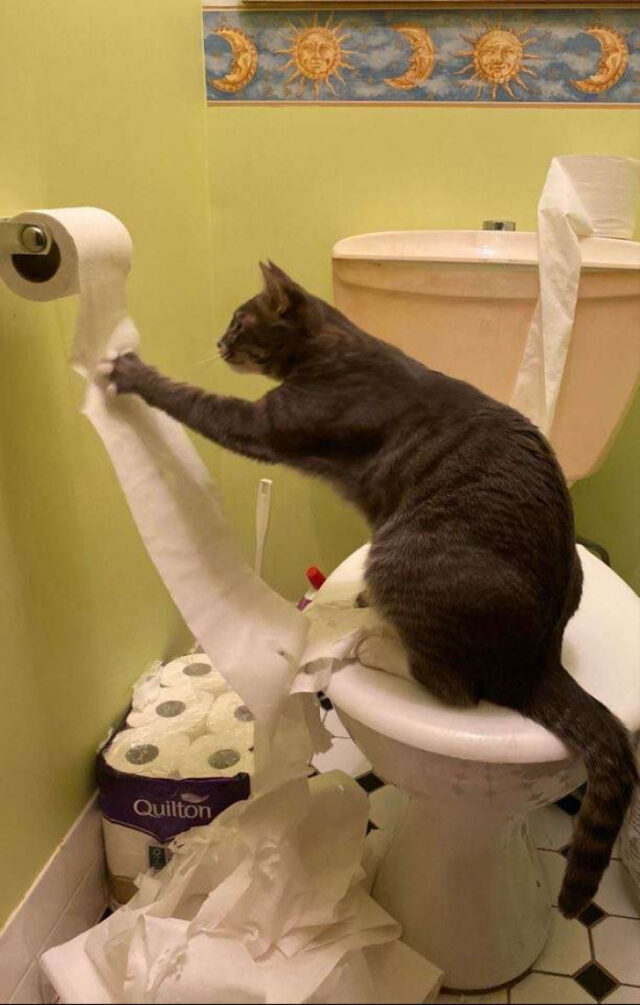 Image Courtesy of Kylie Duffield via The Dodo
Of the two sisters, Eleanor is the one who keeps Kylie on her toes. She's always getting into something and easily blows through Kylie's cat-proofing measures. But silly antics are one of a million reasons we love cats!
And when it comes to toilet paper, Eleanor isn't the only toilet paper fiend out there.
Check out these naughty cats shredding rolls…
This kitten claims, "I didn't do it. The roll jumped off the holder and unrolled itself!" Sure, sure…
"It was like this when i came in, Meowmy." We don't believe it, no matter how cute you are!
A whole basket of mischief…

@puudge.bubbs.kawowow/Instagram
A Bengal cat baby beating up the rolls…
Feisty cat caught in the act…
The picture of innocence on a comfy bed of toilet tissue…
Tip of the day: Guard your toilet paper, folks!
H/T: www.catsoncatnip.co
Feature Images:@bengalkatpablo/Instagram  & @artemis_bug/Instagram