In Boston, MA, a beautiful, exotic, young Bengal cat named Shakira has attracted much attention from cat-lovers across the country. 
Shakira was found earlier this month outside of a Worcester home with significant injuries that many had feared would leave her paralyzed. She was entirely immobile at the time of her rescue and seemed very painful. Fortunately, the Good Samaritan locals who found her brought her immediately to their local MSPCA shelter.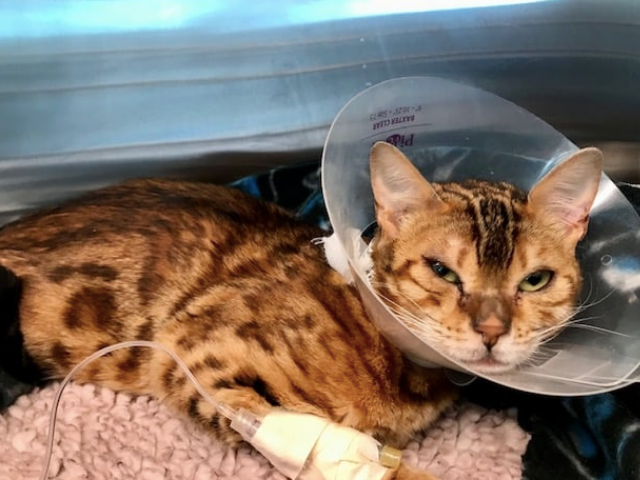 Shakira was immediately given a strong dose of pain medication and scanned for a microchip. To the dismay of both the Good Samaritan folks and shelter workers, Shakira had no microchip and, in turn, no owner to contact. 
Despite their shock that a young, otherwise healthy exotic cat could be without an owner, the kind-hearted staff at MSPCA immediately went to work assessing the brave kitty's injuries. At this time, they determined Shakira was just a baby Bengal, guestimating that she was one year of age or less. 
"Our staff knew immediately the cat had some kind of problem with her hind legs," said MSPCA-Angell Shelter Operations Coordinator, Corinne Bourgoin. "They later discovered that she has a pelvic fracture that also created a destabilization of the hip joint and will require surgery." 
Shakira was evaluated by a veterinarian who diagnosed her with a severe pelvic fracture that would only heal surgically. At the time of evaluation, the fracture was significant enough to have destabilized the hip joint. This was undoubtedly incredibly painful and fully explained her inability to walk. 
The MSPCA staff was determined to raise enough money for her to have the surgery, though it wasn't going to come cheap. The quote they were given for this surgery was a daunting $4500. Fundraising campaigns were begun immediately on social media, with Shakira's story being spread on every channel and news outlet available.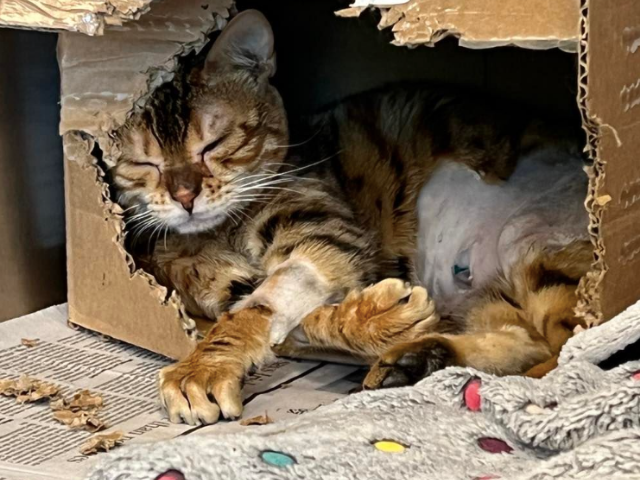 The staff wanted to ensure that Shakira could have the surgery done as soon as possible so that she would no longer be uncomfortable. At this time, her pain was well managed, but it was no secret that this regimen was a short-term solution at best. 
To the delight of all involved in Shakira's story, over $5,000 was raised in less than two weeks by generous cat-lovers everywhere. Shakira's surgery was scheduled, and the MSPCA family began counting down the days. 
Shakira underwent a surgical procedure known as a Femoral Head Ostectomy (FHO). Her surgeon removed the head and neck of the femur to create a false joint that will allow her to eventually move pain-free. 
MSPCA staff announced on May 13th, 2022, that Shakira's FHO surgery was a complete success, and she is now resting comfortably.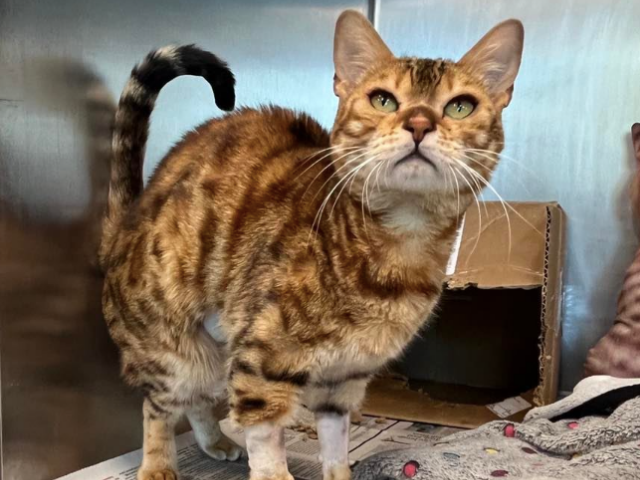 Fun Fact: Shakira was lovingly given her name as an ironic reference to pop sensation Shakira's hit single "Hips Don't Lie." Staff at MSPCA allowed those who donated to her surgery to choose the name, and Shakira was, by far, the fan favorite. Other honorable mentions included "Stripey McPelvis." 
Shakira is expected to make a full recovery, and her caretakers at the shelter are now looking for her forever home. They have received hundreds of applications already – so many that they have had to stop accepting new ones!
It's no wonder that Shakira has received so many inquiries – most Bengal cats are brown or silver, but Shakira has a very unique and stunning coat made up of orange and gold. 
The MSPCA crew will undoubtedly be extremely particular when choosing a new owner for Shakira. They are currently perusing the many applications for someone with experience owning an exotic cat and who can be responsible for her care following the surgery. 
"Bengals are usually very active and need lots of interactive play every day, but it's hard to know what her personality will be like until she's healed," Bourgoin said. "We're looking for an adopter who has experience with exotic cats that can help her maintain a very low activity level while she fully recovers and take her to follow-up vet appointments." 
We wish Shakira a speedy recovery and the best of luck in finding her perfect fur-ever home!
Featured Image: Facebook