Cats are born to be bosses, and ginger tabby kitten Bobby is no exception. But before he could grow into the best boss kitty, he needed some serious help. And the Warwick Veterinary Hospital in Perth, Australia, was there for him when he arrived in their care, struggling to breathe and lethargic at only four weeks old.
Emergency x-rays revealed Bobby had pneumonia that was particularly severe in his right lung. Staff administered a first dose of antibiotics, and though he was a very ill kitten, Bobby showed his displeasure over taking them. That spunky spirit would carry him through his illness and into his role as clinic boss.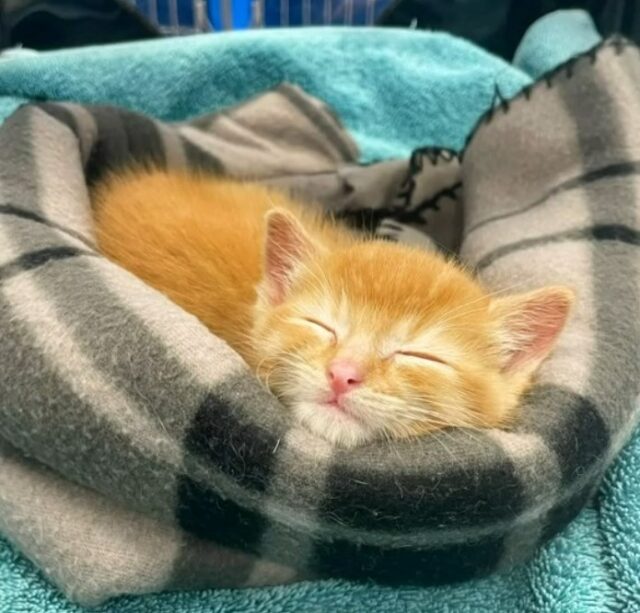 Calling the Clinic Home
Though the first few days saw Bobby sleeping, he soon began to wake, and as Kate Hayes, a vet nurse at Warwick, shared on TikTok, "His bright eyes began to shine."
"As did his personality."
That adorable orange cat personality soon had the whole clinic in love. And because pneumonia had left its mark, deciding Bobby should call the clinic home was an easy decision.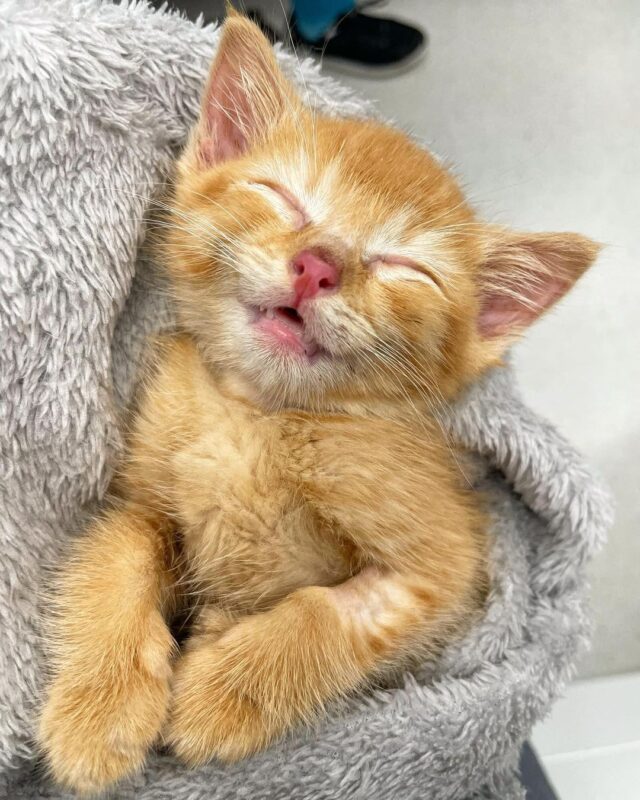 "We discovered his right lung will never re-inflate as it is too scarred. We showed him his x-rays and lab reports," Kate shared. "He smiled despite the news. He fought hard to survive and won all our hearts in the process."
"Now he spends his days playing games on our phones and watching cat tv on YouTube."
But he's not just a kitten about leisure. He and dog buddy Moon run the clinic together like a pair of bosses!
Love to the Moon and Back
Kate's dog Moon often comes to the office with her, and from the moment pup and kitten met, the pair were tight buddies.
"Moon was Bobby's protector from the minute he first arrived," said Kate. "He is so playful towards Moon, and like the good boy Moon is, he takes it all in his stride, even though sometimes Bobby pushes his boundaries."
And under Moon's tutelage, the Warwick Veterinary Hospital shared their little kitten is growing up, writing, "Baby Bobby has become Boss Bobby."
Bobby has stepped into his boss role like a champ, with Moon watching on and stepping in with advice when his feline trainee needs it.
Bobby's also taking well to his work with "hospital patient supervision."
"Peanut and Sesame were in for their desexing surgeries. Bobby kept a very close eye on them while they were in hospital."
In what was the biggest challenge of all, "he didn't try and steal their food." And one of Bobby's favorite tasks? Overseeing work from someone's shoulder!
Keep up with cat boss Bobby's good work @warwickvetperth on Instagram and @cute_moonbear on TikTok and Instagram. Want more boss kitties? Check out Cats With Jobs: No Freeloading Felines Here!
Feature Image: @cute_moonbear/Instagram & @warwickvetperth/Instagram