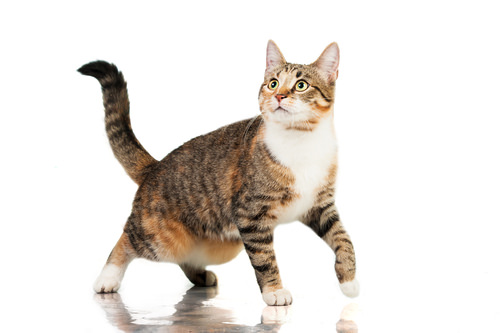 Hip Dysplasia is a term that we are maybe familiar with in dogs and people, but have you ever wondered if your cat can get it too?
Hip Dysplasia is a source of pain for dogs, but no one knows that it can be a problem in cats too. Affected patients often act stiff or sore on their rear legs. They may have difficulty rising or walking on slick surfaces. They may also resist jumping onto furniture or climbing as the disease progresses. Cats are typically stoic about pain, but hip dysplasia usually shows itself eventually.
The hip joint is made up of a ball and socket. Ball and socket joints typically allow rotary movement in every direction within reason. The ball (the femoral head) fits into the rounded cuplike socket (acetabulum) and when the hip moves, the ball rolls around inside the bounds of the socket. This set up allows for a good range of movement…when all is well.
Hip dysplasia is a term that applies to malformation of the components of the joint. The malformations lead to instability of the joint itself. There can be abnormalities in the either the ball or the socket (or both). A loose joint in which the components lack symmetry produces abnormal wear. Think about how the soles of your shoes wear in odd places if you walk without perfect symmetry. The abnormal wear eventually leads to significant osteoarthritis.
There is a strong genetic correlation for hip dysplasia in certain breeds, including many large breed dogs. Sadly, hip dysplasia in cats has a genetic link as well.  There can also be other contributing factors, such as obesity or injury to the joint as it forms.
Most cases in cats require surgical intervention, but cats deal well with hip dysplasia when appropriate medical care is sought.  The only true prevention for hip dysplasia in cats is being sure that you do your research if you are looking into a purebred cat. Fortunately, hip dysplasia is uncommon in cats, but if you think that your cat has pain or she is not acting like herself, be sure to mention it to your veterinarian.
Fur is flying on Facebook! Follow me to see all the FURvor! Click here.