Fall has officially arrived, meaning it's time to open the windows and let the crisp, clean breeze blow away the summer heat. And when the changing of the leaves brings sweater weather and cozy feels, baking homemade treats is so much fun. But don't forget to include your favorite feline in the culinary delight when you break out your best recipes for fall. Your cat loves hearty snacks too!
With this list of homemade cat treats, you'll find feline-friendly snacks with a fall flair that not only celebrate the tastes of autumn with pumpkin, sweet potato, cranberry, turkey, and even carrots, but you'll also discover these recipes offer the comfort of a full tummy that leads to the best of afternoon cat naps!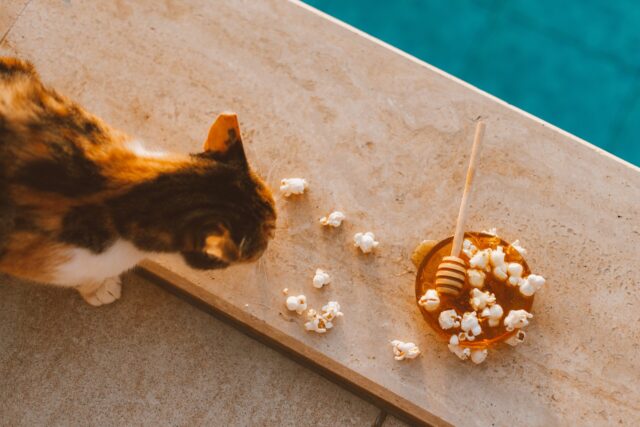 9 Homemade Cat Treat Recipes for Fall
When making homemade treats for your cat, skip spices of all kinds and stick with cat-friendly foods if you decide to embellish any of these recipes. Check out the 25 Foods You Should Never Feed Your Cat to keep things safe for your precious kitties. Also, try to choose organic and natural ingredients to give your cat the tastiest and healthiest options.
Remember, with all good things, moderation is key. Feeding your cat too many decadent treats may cause stomach upset, so hand them out sparingly.
#1. Pumpkin Tuna Cat Treats
Cats love tuna, and their digestive tracts love pumpkin for the fiber it brings. Treat your kitty and do their litter box habits some good with these tasty Pumpkin Tuna Cat Treats from Animallama.
INGREDIENTS:
7 oz (200 grams) fresh tuna
1 egg
7 oz (20 grams) carrot
7 oz (20 grams) pumpkin
5 tablespoon (20 grams) olive oil
1 teaspoon catnip herb (leave out if your cat doesn't care for catnip)
8 cups (200 grams) oat flour
DIRECTIONS:
Preheat the oven to 350 °F (180 °C).
Roast fresh tuna and pumpkin. Cool and crush.
In a bowl, beat the egg, and add peeled and grated carrot, catnip, olive oil, tuna, and pumpkin.
Add the oat flour and mix until homogeneous dough forms. Rest for five minutes.
Spread the dough up to half an inch thick. Cut with molds of your choice.
Place the cookies on a greased paper tray and bake at 350 °F (180 °C) for 10-15 minutes.
Cool at room temperature.
Store in a tightly sealed container in the fridge for a maximum of one week.
#2. Chicken & Cranberry Cat Treats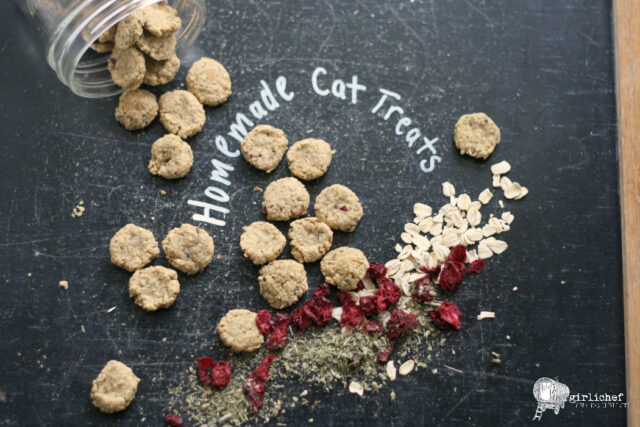 You can't celebrate autumn without cranberries! Be sure your cat gets to celebrate with these tart nutritional powerhouses too. Not only are they packed with vitamins and minerals, but cranberries are also good for urinary health in cats. Heather with All Roads Lead to the Kitchen loves to bake these homemade chicken and cranberry treats for her cat Luna, and Luna loves it when she does. If you have leftover turkey, substitute it for the chicken for a real fall flair. Be sure to use only unsweetened cranberries.
INGREDIENTS:
1 heaping cup of rolled oats
3 tablespoons unsweetened, low-moisture, dried cranberries
4 oz cooked, plain chicken (no salt or seasoning added), chopped small
2 tablespoons + 1/2 teaspoon olive oil
1 heaping tablespoon dried catnip
1 large egg
DIRECTIONS:
Place the oats in a food processor and whiz until you have flour.
Add the dried cranberries and whiz again until they are ground fine.
Add remaining ingredients to the food processor and pulse until well combined. Turn out into a bowl.
Preheat oven to 350° F. Line two baking sheets with parchment paper.
Measure out 1/4 teaspoon-sized portions. Roll each piece into a ball and press flat using your finger. Line up evenly on the prepared baking sheets.
Bake for 15-17 minutes, or until golden and dried out on top. Allow treats to cool completely.
Once cool, treat your kitty!
Store completely cooled treats in an airtight container in the fridge for up to 5 days.
#3. No-Bake Salmon Sweet Potato Cat Treats
While your cat probably won't dig sweet potato casserole with brown sugar, butter, and marshmallows, they will get into these salmon sweet potato bites from 12 Tomatoes. And even if your cat does want to taste those buttery yams or sweet taters, it's better they stick with these no-bake cat treats instead!
INGREDIENTS:
1 (14 oz.) can wild-caught salmon
1 1/2 cups sweet potato, baked and mashed
1 1/2 cups old-fashioned oats
1/4 cup fresh parsley
DIRECTIONS:
Combine salmon and sweet potato in a large bowl, using two forks to break up larger salmon pieces while mixing them with the sweet potato.
In a food processor, pulse oats and parsley until finely ground, then pour into salmon sweet potato mixture.
Fold everything together until incorporated, then spoon the mixture into a silicone mold.
Freeze for at least 2-3 hours, or until set, then serve to your cat as desired.
#4. Carrot & Catnip Treats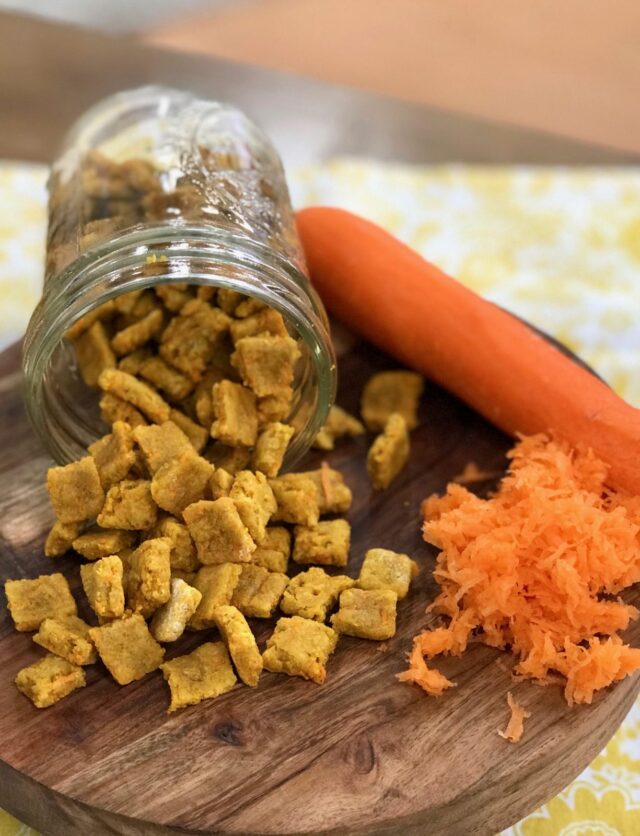 Carrots are rich in Vitamin A, which is necessary for supporting feline night vision, healthy skin, and a strong immune system. Be sure your cat only eats carrots in moderation, and always ensure they're cooked before sharing. These yummy DIY cat treats from Tina at Epicuricloud are an excellent way to give your whiskered one the taste of carrot and the catnip they crave!
INGREDIENTS:
2 tablespoons oil (coconut or olive oil work well)
1 1/4 cups flour – plus additional flour for rolling dough (Use whatever flour your cat can eat; Tina used oat flour)
1 tablespoon dried catnip (optional)
3/4 cup finely shredded carrot
1 large egg, lightly beaten
cold water as needed
DIRECTIONS:
Preheat your oven to 375 degrees F.
Line a baking sheet with parchment paper.
In a medium bowl, add oil and mix in 1 cup of flour until mixture looks sandy.
Stir in catnip and carrots.
Mix in egg. Add a little water if the mixture looks too dry and isn't holding together. Add a little flour if the mixture seems too wet and sticky.
Sprinkle a flat surface with a bit of additional flour and roll or pat dough to 1/4-inch thickness. Sprinkle dough with extra flour as needed.
Prick dough all over with a fork. Use a pizza wheel to cut dough into 1/2 inch squares.
Arrange squares on prepared baking sheet.
Bake for approximately 12 minutes or until starting to brown. (Bake longer for drier texture.)
Cool on baking sheet.
Store in an airtight container for several days or freeze for longer storage.
#5. DIY Pumpkin Push-Up Cat Treats
Squeeze-tube cat treats are all the rage, with just about every kitty going bonkers for the whipped goodness inside them. Janelle of Paws PDX Travels delivers a homemade version with the deliciousness of pumpkin your kitty will fall for. Kitty Lyra loves it when her mom whips up these delicious snacks!
INGREDIENTS:
2 boneless, skinless chicken breasts
1/3 cup pure pureed pumpkin
1/2 cup water or cooking liquid from chicken
DIRECTIONS:
In a medium-sized saucepan, place two boneless and skinless breasts in just enough water to cover them.
Bring the water to a simmer. Cover and cook until the chicken reaches an internal temperature of 160 degrees Fahrenheit.
Remove the chicken from your pan to cool, reserving the liquid for later.
Roughly chop the chicken and place it in a high-powered blender or food processor along with the pure pumpkin puree.
Add half of the water or reserved cooking liquid and blend, adding more water as needed until the mixture is smooth.
Transfer your blended puree to a freezer-safe single-serving container, leaving a half-inch gap between puree and the top for expansion in the freezer.
Serve immediately, or freeze for up to four months.
Optionally, sprinkle the top of the treat with catnip.
#6. Catnip Soup
When fall evenings hold a nip in the air, warm your kitty's tummy and heart with a nice bowl of easy-to-make catnip soup. Then, get ready for a silly cat show followed by a good snooze!
INGREDIENTS:
1 tablespoon dried catnip or 3 tbsp. fresh catnip
1 cup warm water
1/4 teaspoon chicken broth, no sodium
DIRECTIONS:
Place warm water and chicken broth in a container with a tight-fitting lid.
Add catnip to the water/broth mixture.
Put the lid in place and shake until well-mixed. Catnip will give the soup a green tint.
Serve 1/4 cup or less to your cat in a shallow bowl.
Store leftovers in the refrigerator for up to 3 days.
#7. Baked Sweet Potato & Fish Cat Treats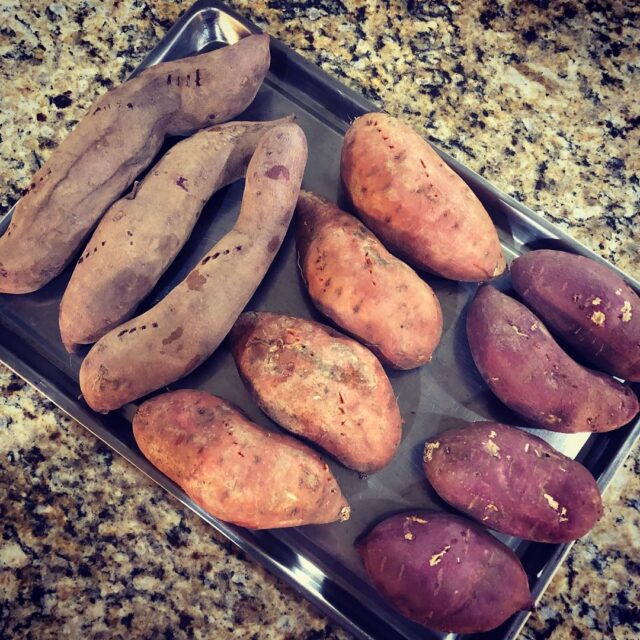 Sweet potato not only provides cats with vitamins and minerals, but it also provides a good fiber source to help felines keep regular. To celebrate the fall, bake up a batch of these sweet and fishy bites from Wellness Mama and give your kitty something good to crunch!
INGREDIENTS:
2 medium size sweet potatoes, mashed
1/2 cup coconut flour
1 egg
1/2 cup coconut oil
1/4 cup gelatin powder
1 can (drained) tuna or sardines
DIRECTIONS:
Preheat the oven to 350 degrees F.
Mix all ingredients in a medium-sized bowl.
Use a fork to mash everything together until evenly mixed and all large pieces of fish and sweet potato are mashed.
Add a little extra coconut flour if needed to get a dough roughly the consistency of play dough.
Roll into 1-inch balls and mash down with a fork to form little "cookies."
Bake for 20 minutes or until lightly browned.
Remove from heat and let cool completely.
Store in the refrigerator for several weeks or in the freezer for several months.
#8. Pumpkin No-Spice Latte for Cats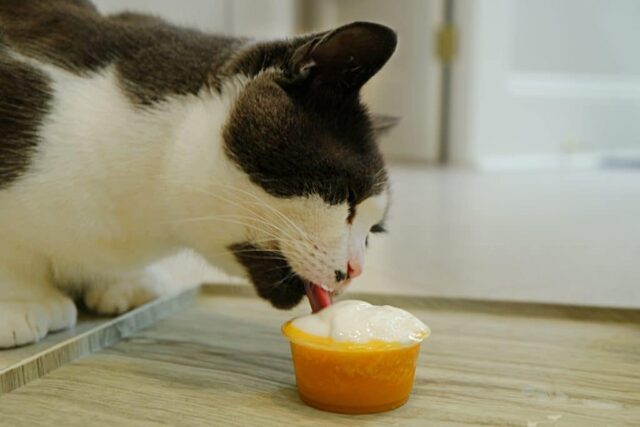 You love your Pumpkin Spice Lattes and wish you could share the delicious fall treat with your kitty, but you know all those yummy spices are bad for cats. Janelle of Paws PDX Travels brings us another fantastic cat treat recipe for fall with this cat-friendly latte that skips the spice so your kitty can sip their own pumpkin goodness too!
INGREDIENTS:
For the Pumpkin No-Spice Latte:
1 tablespoon pure pumpkin puree
1 teaspoon dehydrated goat milk
1/4 cup water
Frozen cat-safe bone broth cubes or ice cubes*
For the Cat-Friendly "Whipped Cream":
1/8 cup water + 1 tbsp
1 teaspoon dehydrated goat milk
1 teaspoon unflavored gelatin
DIRECTIONS:
If adding cat-friendly "whipped cream," prepare by placing your small mixing bowl and beaters in the freezer for about 10–15 minutes. Meanwhile, bloom the gelatin.
In a small, microwave-safe bowl, bloom one teaspoon unflavored gelatin with one tablespoon cold water. Let sit, for about five minutes, until thick and gel-like.
While the gelatin is blooming, make the pumpkin no-spice latte by placing the pure pumpkin puree, dehydrated goat milk, and water in a blender or food processor. Add ice or frozen bone broth, blending and adding more ice until desired texture is reached. Set in the fridge to keep cool and prepare the "whipped cream" topping.
In a mixing bowl that's been chilled in the freezer, combine goat milk and 1/8 cup of water. Blend with an electric mixer until foamy.
Heat the bloomed gelatin in the microwave for a few seconds, just until the mixture is liquid but not hot.
Still beating the goat milk, slowly add the liquid-bloomed gelatin. Beat until foamy and thickened, then place it in the freezer for about five minutes to form soft peaks.
Pour the blended pumpkin no-spice latte into small serving cups or your cat's favorite bowl. Top with a dollop of "whipped cream."
NOTES:
*When served, this recipe will be slushy but not frozen. For a warm or room temperature treat, substitute warm or room-temp broth or water for the ice cubes, and blend to your desired consistency.
#9 – Turkey or Chicken Pot Pie for Cats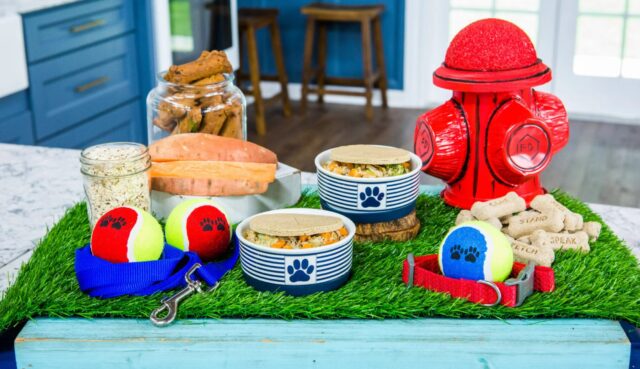 Using turkey or chicken, you can serve your kitty the ultimate in Fall comfort foods—warm and hearty pot pie! This pot pie recipe from the Hallmark Channel will fill your cat's tummy with nutritious goodness. And a belly full of comfort food is one of the best parts of the autumn season.
INGREDIENTS:
Crust:
1 cup oat flour, plus more for counter
1 tablespoon cold butter
4 tablespoons ice water
1 large egg, for wash
Filling:
1 can (13 oz) chicken breast
1/2 cup frozen broccoli
1/2 cup diced sweet potato
1/4 cup water
1 tablespoon oat flour
DIRECTIONS:
Heat oven to 375˚F.
Add oat flour and butter to your food processor. Pulse until butter crumbles into pebbles.
Add oat flour to bowl. Using your fingers, press butter into the flour until it breaks into small pieces.
Add water one tablespoon at a time, kneading until the mixture is sturdy dough.
Sprinkle counter with extra flour, and roll out dough until it is 1/4-inch thick.
Use 4-inch ring mold to cut out two circles from dough, re-rolling, if necessary, after the first cut.
Cut an "X" in the middle of each round for steam to escape through while baking.
Brush each round with egg wash.
Bake dough rounds for 15 minutes, remove, and set aside.
While crust is baking, make the filling.
In a large skillet over medium heat, add canned chicken, frozen broccoli, and sweet potato. Cook until broccoli is defrosted and cooked through.
Add water and flour to your skillet, and stir everything together until coated in "sauce."
Spoon filling into two ramekins.
Place baked dough rounds on top of each ramekin, then put in the oven for another 10 minutes.
Let cool before serving to cats.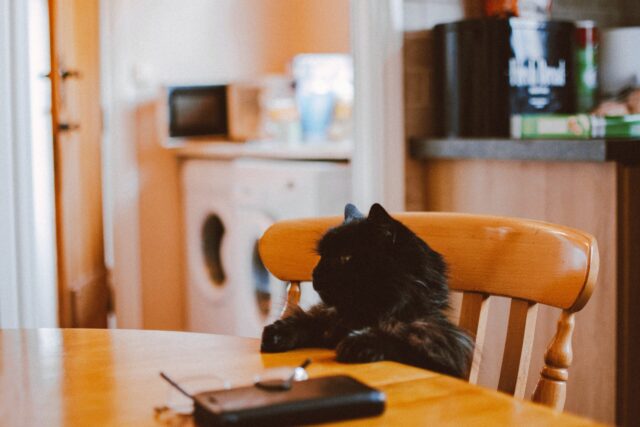 Share your favorite homemade cat treat recipes with us, or show us a picture of your feline enjoying some of these homemade cat treats. Here's to a happy and healthy Fall season for both you and your cats!