Last week we posted an article about 9 Purr-Worthy Jobs for Crazy Cat Ladies that featured nine ways to turn your passion for cats into a career. There are, of course, many ways to help save and enhance the lives of cats that don't involve working 40 hours per week.
You can volunteer to help cats in your spare time, either on your own or with an established organization. Think about what skills you have and how you can translate them to animal rescue. Don't worry if you can't think of any applicable skills — many rescue organizations are more than willing to train people who are passionate about the work.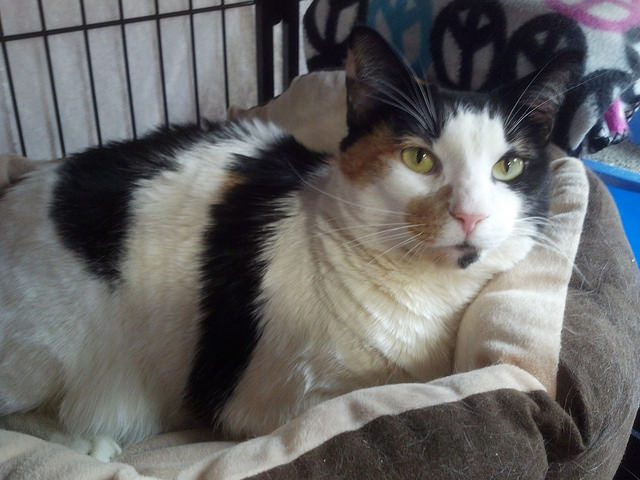 Image Source: Something Ferdinand via Flickr.com
1. Volunteer at a shelter
Shelters are teeming with volunteer opportunities. Each organization has different roles and needs, but many shelters need volunteers to:
Clean cages and free-roaming spaces
Groom, pet, and socialize cats
Administer medications
Transport cats to veterinarian appointments, foster homes, or adoption events
Foster kittens or other cats that need a quiet home environment to thrive or heal
Serve on the Board of Directors
Participate in community outreach programs and adoption events
Many shelters have websites that outline their specific volunteer needs and the process for getting started.

Image Source: Phliar via Flickr.com
2. Help organize a Pet Fair
Many communities have Pet Fairs which allow potential adopters a great opportunity to meet and spend time with available cats. These events require a tremendous amount of work and most organizations will be thrilled to have another volunteer (especially if you have experience in event planning, writing press releases, graphic design, etc.) Determine which organizations plan these events in your community and get in touch to see if or how they need help.

Image Source: brownpau via Flickr.com
3. Donate writing or graphic design work to a rescue organization
Many rescue organizations function solely on grants and donations and can't afford to hire paid professionals for writing or graphic design jobs. Of course, community outreach efforts are much more successful with well-crafted websites, pamphlets, posters, blogs, social network posts, and newsletters. You can bet you'll be in high demand and well-loved if you can donate your time as a skilled writer or graphic designer. As a bonus, this work will also help you build your portfolio.

Image Source: Martin Lopatka via Flickr.com
4. Start or join a TNR (Trap, Neuter, Return) program in your area
TNR work is crucial in the struggle to reduce the population of stray and feral cats. TNR work is generally done on a smaller, grassroots level and involves trapping stray and feral cats, getting them spayed or neutered, and returning them to the location where they were captured.
Many TNR organizations work with local veterinarians who provide spaying and neutering (and sometimes also a general health assessments and vaccinations) for a reduced cost. Alleycat.org is a great resource for learning more about TNR, how it works, and how you can get involved.

Image Source: Tina Lawson via Flickr.com
5. Collect supplies for your local shelter or rescue organization
Many shelters and rescue organizations depend on donated supplies to keep doing the important work they do. Organizing a supply drive to collect food, litter, bedding, treats, toys, and monetary donations can go a long way in improving the lives of cats.
Check with the specific organization beforehand to see if there is anything they are particularly desperate for or if they have any restrictions for what they can accept. For instance, because of how quickly problems such as fleas or ringworm can spread in a shelter environment, shelters may only accept brand new bedding or toys.

Image Source: Hefin Owen via Flickr.com
6. Foster a cat or kittens
Every spring and summer, shelters see a huge wave of rescued kittens. This annual event is so dependable that it even has a name — "kitten season". What many people don't know is that kittens (due to their delicate immune systems and need for more constant care and attention) can't live in shelters with their adult counterparts and instead require foster homes. During this time each year, shelters struggle to find enough safe and temporary homes to house all of the kittens they rescue.
Kittens aren't the only ones who require foster homes. Some adult cats — whether they are recovering from a surgery or medical issue or are particularly anxious in a shelter environment — thrive best in foster homes.
Many organizations will cover all expenses while you are fostering, including medical, food, bedding, and toys. This is a meaningful way for you to volunteer if you have the time, energy, and space to provide a nurturing temporary home.
Find out about foster opportunities by reaching out to your local rescue organizations.