It's no wonder why cats love to perch. Being high above the ground allows them to survey their environment, stay safe from predators, and sneakily hunt prey, while also getting a bit of exercise from climbing and jumping. Perching is so important to cats that they'll often create their own perching spots on bookshelves or dressers if others aren't provided. Store-bought perches and cat trees aren't always the most reasonable option, since a decent cat tree can cost several hundred dollars (ouch!). If you're motivated and crafty, though, you can build a perch yourself for much less. Here are 5 DIY perches your cat will love.
DIY Carpeted Cat Shelves
Source: chezlin via YouTube
YouTube user chezlin loves making videos about DIY projects and sometimes her cat benefits from her craftiness. If you have a blank wall in your home, consider making some simple, carpeted shelves to give your cat a place to perch, nap, and play. Check out chezlin's YouTube channel for more cat-related DIY projects, too!
DIY Cat Tower
Source: dadand.com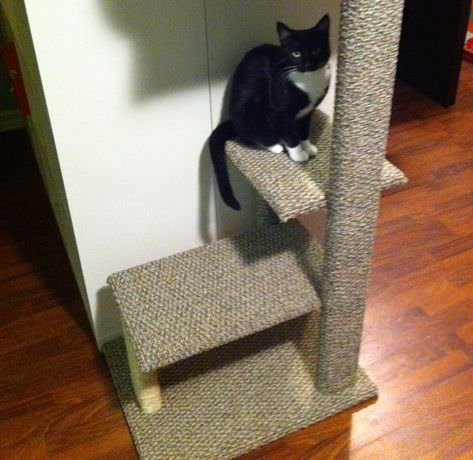 Marty from dadand.com, a self-proclaimed "blog about DIY, How-To, Family + Gadgets", was appalled by the prices of the cat trees available in stores so he decided to build his own for $125 less than retail! Read his detailed post Build a DIY Cat Condo, Kitty Tower, Scratching Post, Cat Tree or download more straight-to-the-point directions here.
DIY Window Perch
Source: Joe Lydic via YouTube
Joe built this DIY window perch to give his cat a place to relax out of reach from their large dog, but this would be a great addition to a dog-less home too. For added fun, place a bird feeder outside of the window after you install this perch.
DIY Cat Hammock
Source: Uta Gmuu via YouTube
If you want to create more perching spots for your cat but you're low on space, a hammock that hangs under a kitchen chair may be perfect! This hammock is super simple to make and uses tools and supplies most of us have laying around.
DIY Wall-Mounted Cat Tree
Source: Practical Engineering via YouTube
YouTube user Practical Engineering got a kitten (Hank) for Christmas. To keep Hank safe from their family dog, as well as giving him a place to eat and perch, he built something pretty cool– a cross between a cat tree and cat shelves. Lucky cat!