Other than the occasional flea collar, many cat parents don't think to put collars on their indoor-only cats. Why bother putting a collar on a cat that doesn't go outside? There are two main reasons to consider putting a collar on your indoor cat. First, you never know when your cat may get outside. We all know how sneaky and slippery they can be. If or when she finds a way to push the screen out of your bedroom window, don't you want her to get back to you as quickly and safely as possible? Second, many collars offer benefits and features that go beyond the purpose of helping your cat find her way home. Here are five of our favorite collars that can add safety, fun, and value to the lives of you and your cat.
#1 – PetHub ID

With the PetHub ID, anyone with a phone (smartphone or even and old school landline) or computer can immediately access important information to help your cat get home quickly and safely. When someone finds your cat, there are 4 ways they'll be able to help your cat get home:
They can use their smartphone to scan the QR code located on your cat's PetHub ID tag.
They can go to PetHub's website, which is also listed on the tag.
If they have a newer cellphone they can use it to simply tap the tag.
They can call PetHub's 24-hour hotline and talk to a real human.
The scan code, website, and hotline will all help the good samaritan by giving them access to the free online profile you will set up for your cat after buying the PetHub ID tag. You can include whatever information you want in the profile, including multiple emergency contacts, vaccination information, critical daily medications, microchip information, etc.
Image Source: www.whistle.com
The Whistle GPS Pet Tracker clips to your cat's collar to provide real-time information to help you locate your cat at any time. Through the free app you'll be able to check your cat's location and receive alerts if she leaves home. The device easily detached from the collar for charging and the app will let you know when the battery is getting low. The Whistle GPS Pet Tracker is waterproof to stand up to all the mischief your cat may get into on her adventure.
#3 – Eyenimal PetCam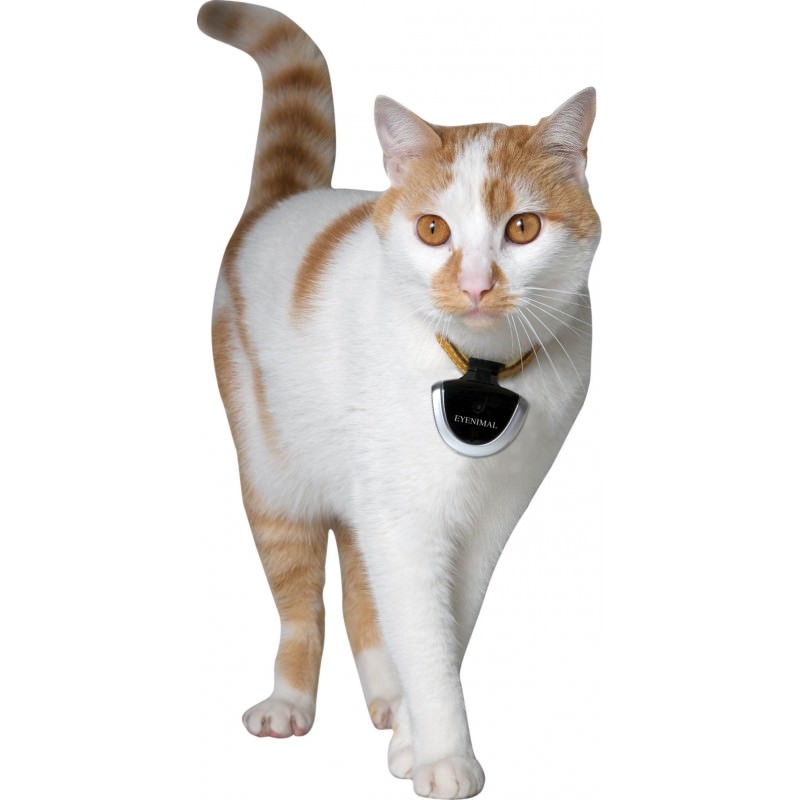 Image Source: www.eyenimal.com
Do you ever wonder what your cat gets into or up to when you're away? The Eyenimal PetCam will let you find out! The camera clips onto your cat's collar to capture her life from her perspective. Just remember, seeing the world through her eyes means a close-up of the litter box too!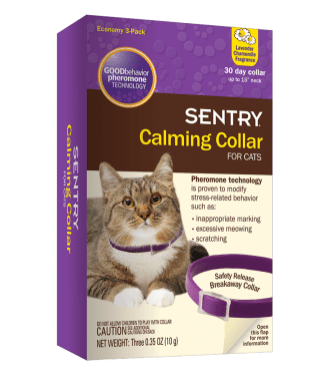 Image Source: www.sentrypetcare.com
You may already know about products like Feliway that disperse synthetic feline facial pheromones through sprays or diffusers. The pheromones mimic the ones your cat exudes when she's happy and comfortable, and the synthetic ones can help her feel that way even when her environment is changing or otherwise stressful. Thanks to Sentry, the magic of synthetic feline facial pheromones are available in the form of a collar too!
Image Source: Rogz via Amazon.com
Traffic is one of the biggest danger to a cat who has escaped into the great outdoors, and the risk jumps substantially at night when drivers may not be able to see her until it's too late. The Rogz collar gives your cat night time protection in two different ways. First, the collar is made with the same reflective material that you can find on many pairs of sports shoes. Second, this collar features a unique layer of glow-in-the-dark polyurethane. This collar won't only benefit your cat if she happens to escape– it'll also benefit both you and her when you can see her in the dark rather than tripping over her on your way to the bathroom at 3am.
Did you like this?