Are you bringing a regal black cat into your family? Then you may be wondering what to name him or her that exemplifies their beauty and shining personality. Here are 15 unique names that celebrate those stunning, shiny black coats. Would you name a black cat any of these? Tell us or let us know the name of your black cat in the comments!
#1 – Raven
A popular name for girls with black hair, it's a great name for cat with sleek black fur. Ravens in folklore are often cunning and intelligent, making the name even more appropriate.
#2 – Ebony
Used as a synonym for black, it's a pretty name for black cat. It can even be shortened to "Ebon" for a male cat.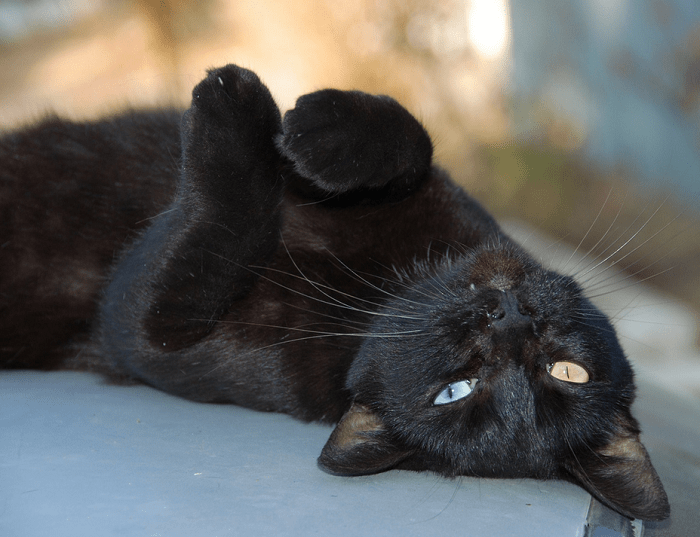 #3 – Irusan
This is the name of the Cait Sidhe, the King of Cats in Celtic lore. It's a fun name, and he may have been a black cat, himself.
#4 – Kellas
This name is actually a tribute to the Scottish Wildcat, which has a genetic variance that produces a cat with pure black fur that is called a Kellas Cat.  There are only 35 of them remaining in the wilds of Scotland, so your black kitty would be a tribute to them. www.scottishwildcats.co.uk
#5 – Bellatrix
Ever thought about naming your black cat after this black-haired witch from Harry Potter? Well you should, because she is pretty darn cool.
#6 – Hollyhock
There is a beautiful black flower called Black Magic Hollyhock. It's the perfect name for a dainty she-cat with luxurious black fur.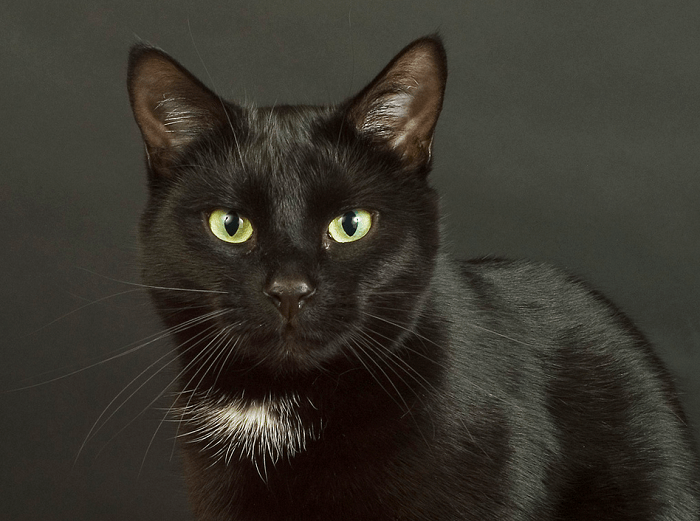 #7 – Spook
This is just a fun name for a black cat that's maybe on the shy side. It fits their black coat and their personality!
#8 – Onyx
Another name that's perfect for a black cat since onyx is a beautiful dark stone. It works for both male and female cats.
#9 – Ink
A cute and short name, Ink (or Inky, even!) is a great name, especially if you are a writer or artist.
#10 – Mischief
Have a black cat that likes to cause trouble? This fun name might fit him to a tee!
#11 – Vader
Is anyone in your family a Star Wars fan? Vader or Darth is the perfect name for a black cat that plots to take over the world. Or, at least, your house.
#12 – Wayne
This is a nod to Bruce Wayne, of course! This caped crusader wears A LOT of black, making a black cat a great namesake.
#13 – Thorne
Nathaniel Hawthorne's The House of Seven Gables is a quintessential book on the witch trials, and it's the perfect person to name a black cat after.
#14 – Licorice
This is a sweet name for that petite black cat with a soft side. Even if you don't like the candy, you have to admit it's a purrfect name for a black cat.
#15 – Salem
Of course, this isn't as original as some other names on this list, but it had to be included. It doesn't just refer to the Salem Witch Trials, it's also reminiscent of the famous black cat from the 90's show, Sabrina, The Teenage Witch.