Cats are territorial creatures of habit. They crave dependability, familiarity, and knowing that the boundaries to their homes are safe and secure. A cat who isn't confident may be withdrawn, aggressive, or display other behavioral problems like inappropriate scratching or spraying. Here are 11 simple ways to provide the tools your furry friend needs to be a confident and secure cat.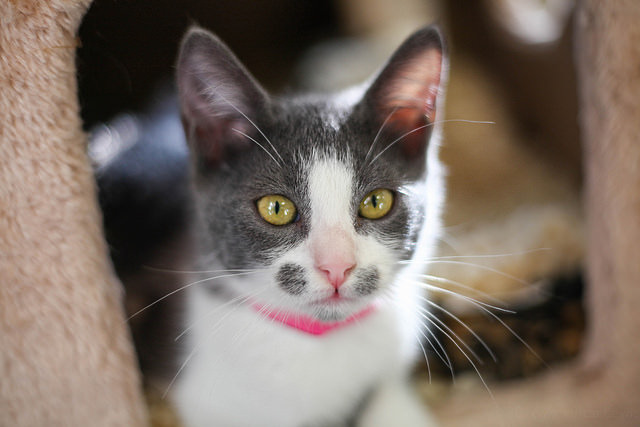 #1 – Address behavior issues consistently
In order to feel confident in her environment and in her relationship with you, your cat will need to be able to reasonably predict the outcome of her behaviors and actions. That means you'll have to be consistent in the way you deal with behaviors such as her jumping on the kitchen counter or scratching the side of the couch. Pick your battles and stay consistent with your reactions. If you want your cat to stay off the kitchen counters, for instance, you'll need to discourage the behavior every time, not just when you are chopping vegetables for dinner. Your cat won't understand the difference between that time and any other time you allow her to be up there.
Related:
Are You (Accidentally) Encouraging Your Cat's Bad Behavior?
Should You Hire A Cat Behaviorist?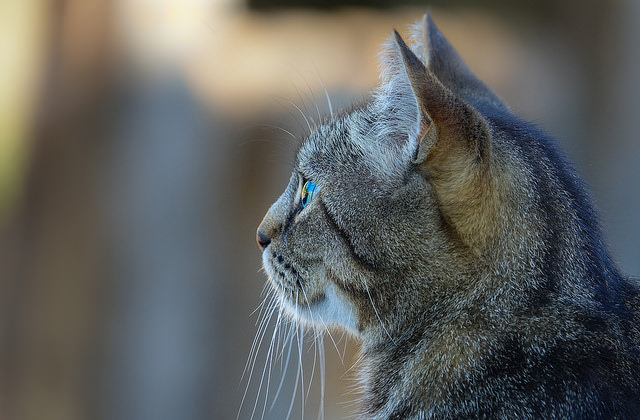 #2 – Keep to a feeding schedule
Food can be a very touchy subject for cats. Their wildcat instincts drive them to be fiercely independent creatures, so it can be distressing for them to not be in control of when they'll be fed. You can ease a lot of stress and insecurity by keeping to a consistent feeding schedule. If your schedule isn't consistent enough to be home at the same time every day for meals, consider investing in a timed feeder, which will make sure fresh food is available to your cat at the same time every day, whether you're home or not.
Related:
Are You Making Any Of These 7 Feeding Mistakes With Your Cat?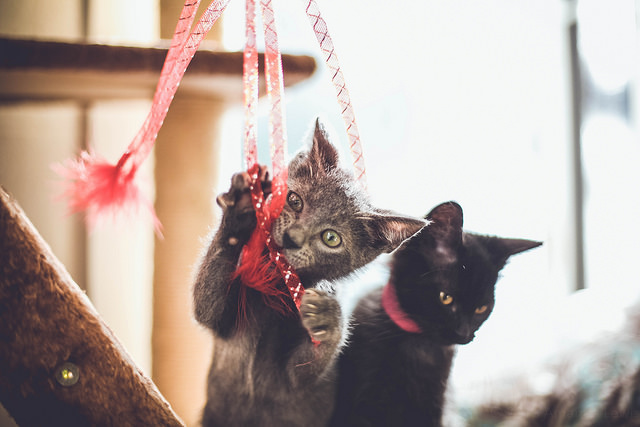 #3 – Encourage curiosity
Cats use their very strong senses to understand their environments. An easy way to boost your cat's confidence is to encourage her need to explore her world through smelling, listening, tasting, watching, and touching. In my home that means my cats get to explore the house in whatever way they want or need to as long as they aren't putting themselves or anyone else in danger.
Related:
5 "Naughty" Cat Habits That Are Okay To Encourage
5 Signs Your Cat Needs More Attention
#4 – Provide a 'safe space'
Even the bravest and most outgoing cats may need a break sometimes from an active home. Your cat may create a safe space on her own by taking over a corner of a closet or by pawing into the cabinet under the sink (if your cat is doing this, make sure it's clear of toxic cleaners, insect repellants, etc.). If she hasn't taken the initiative, you can create a cozy retreat for her in a quiet corner of your home that's away from busy, high traffic areas.
Related:
10 Ways You May Be Stressing Out Your Cat
9 Ways To Build Trust In A Shy Cat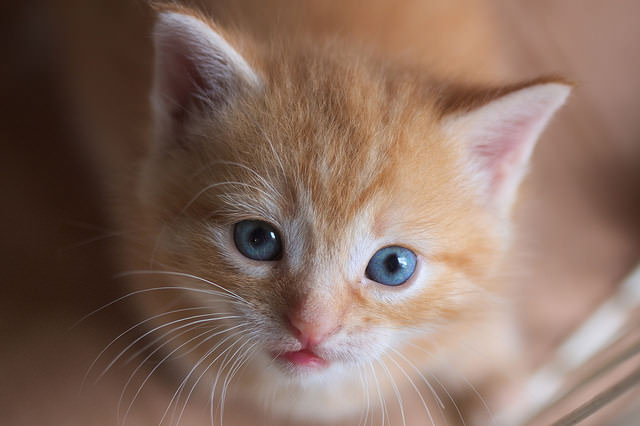 #5 – Engage in interactive hunting play
Engaging your cat in interactive play will help her feel like an invincible hunter, which will in turn boost her confidence. Play with your cat every day using a laser pointer or wand toy to encourage her to hunt, stalk, and eventually "kill" her prey. If you aren't able to engage your cat in this type of play on a regular basis, consider adding a battery-operated interactive toy to your home so your cat doesn't miss out.
Related:
6 Reasons To Play With Your Cat More
The 7 Best Battery-Operated Toys to Keep Your Cat Active
8 Ways To Excite Your Bored Kitty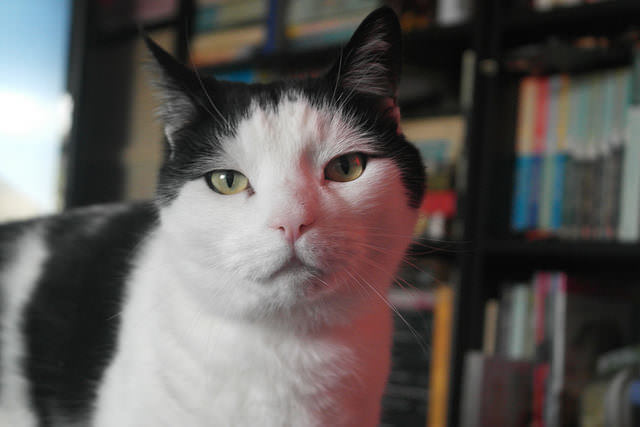 #6 – Keep the volume down
Your cat's sense of hearing is very, very sensitive. Her hearing is about five times stronger than your own, in fact. Loud or sudden noises can be startling and overstimulating for her and can make her feel unsafe in her home. Keep the loud noises to a minimum. If your home is chaotic (permanently or temporarily– say, for a birthday party), make sure your cat has a safe, quite nook to hide out in to escape.
Related:
How Do Your Cat's Five Senses Compare To Your Own?
4 Amazing Super-Senses That Cats Inherited From Their Ancestors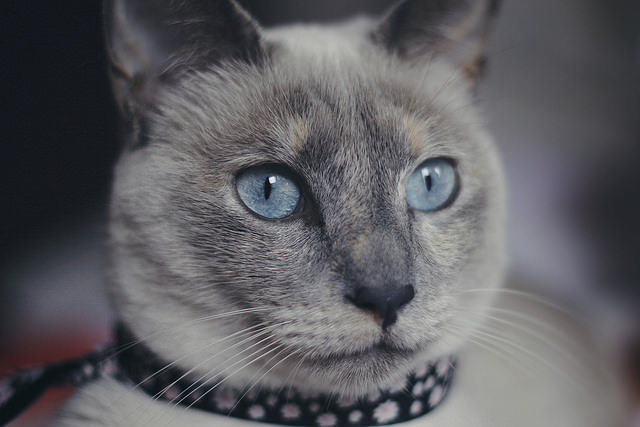 #7 – Respect cues and boundaries
It's not always easy to understand what your cat wants or needs, but a lot can be gleaned from her body language and behavior if you take the time to learn what her subtle cues mean. You cat will be more confident when she knows you are making an effort to understand her cues and knows that you'll respect her needs and boundaries when she communicates them.
Related:
Learn To Speak Your Cat's Language
6 Common Cat Noises, Finally Explained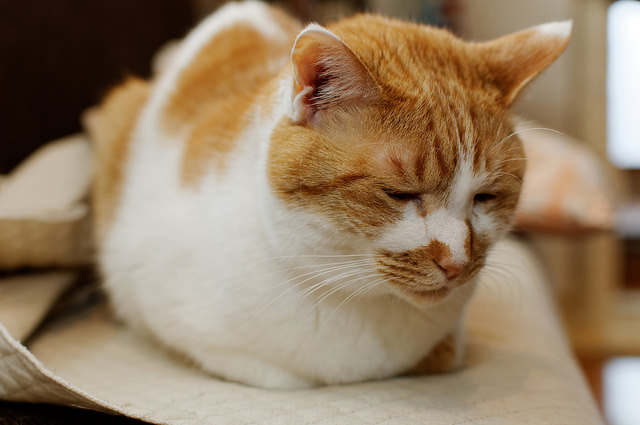 #8 – Plug in a pheromone diffuser
Since cats can easily become overstimulated and anxious, it may help to employ the help of a feline facial pheromone diffuser like the one made by Comfort Zone. When cats feel secure in their surroundings they rub "happy" pheromones from their cheeks on objects, people, or other animals to mark them as safe. The Comfort Zone diffuser mimics your cat's facial pheromones and can help trick an anxious and insecure cat into feeling more confident.
Related:
Manage Your Cat's Anxiety With These 9 Tips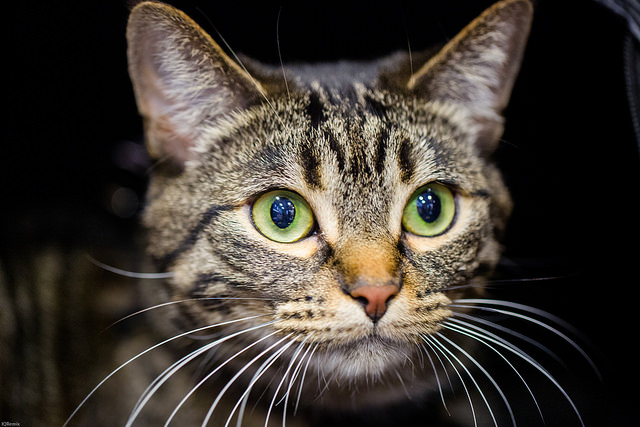 #9 – Add perches
Perching high helps your cat have a better view of her environment and can help her feel confident that she's not going to get attacked by predators in her sleep. A good cat home will always have a few perches.
Related:
6 Ways To Create A Home That Nurtures Your Cat's Natural Instincts
6 Ways To Add More Cat-Friendly Vertical Space To Your Home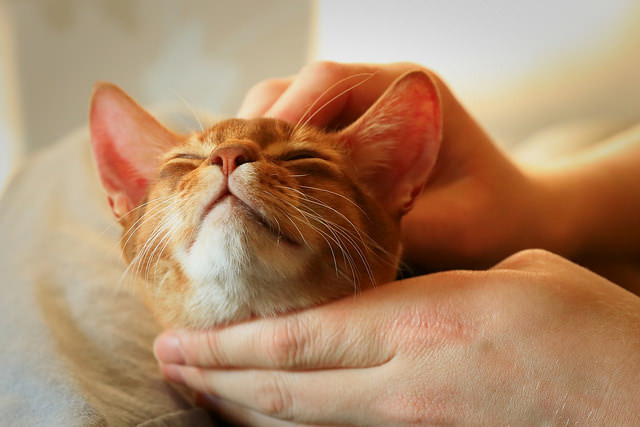 #10 – Discourage strays
An indoor cat who can see strays lurking outside doors or windows can feel as if her territory is being threatened and may begin to act out in ways that may include scratching, aggression, or spraying. You can discourage strays by discontinuing to feed them, spraying a cat repellant around your home, or installing a motion-activated sprinkler system.
Related:
The Top 7 Reasons Cats Avoid The Litter Box
Litter Box Problems vs. Territorial Marking: Decode Your Cat's Smelly Problem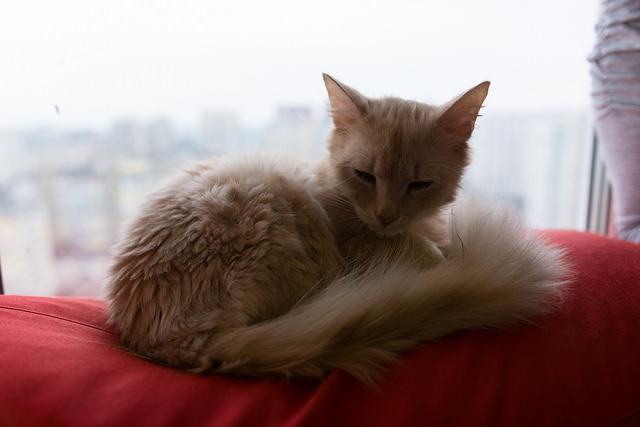 #11 – Provide enough shared resources
If you live with multiple cats, you may be causing distress without even realizing it simply by neglecting to provide enough shared resources to go around. Having only one litter box, for instance, can make a timid cat feel anxious if a more dominant cat is blocking it. Making sure there are enough resources to go around (in several locations throughout your home), will help your cat feel confident that all of her needs will be met.
Related:
6 Ways To Keep The Peace In A Multi-Cat Home
5 Ways To Help Your Cats Bond With Each Other
The Subtle Art Of Cat-To-Cat Communication