Radagast Pet Food, Inc. has announced a voluntary recall of four lots of frozen Rad Cat Raw Diet products for possible contamination of Salmonella and/or Listeria monocytogenes.
The FDA (Food & Drug Administration) third party contracted lab found that two lots of Grass-Fed Beef tested positive for Listeria monocytogenes, one lot of Free-range Chicken tested positive for Listeria monocytogenes, and one lot of Free-range Turkey tested positive for Salmonella and Listeria monocytogenes. As a precautionary measure, the company is voluntarily recalling three products produced in four lots.
Affected Product
The following recalled products were distributed in western Canada and all US States except in HI and MS. Lot codes and "Best By" dates are located on the lid of all product packages in tubs and on the bottom of the sample cups.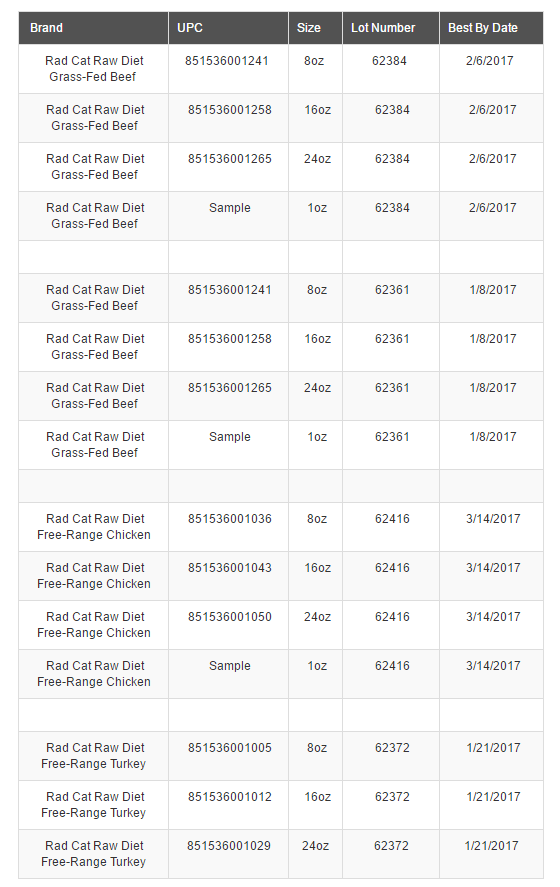 The Risk
Salmonella is an organism which can cause serious and sometimes fatal infections in young children, frail or elderly people, and others with weakened immune systems.
Salmonella can affect animals eating the products and there is risk to humans from handling contaminated pet products, especially if they have not thoroughly washed their hands after having contact with the products or any surfaces exposed to these products. 
Healthy people infected with Salmonella should monitor themselves for some or all of the following symptoms:
Nausea
Vomiting
Diarrhea or bloody diarrhea
Abdominal cramping
Fever
Rarely, Salmonella can result in more serious ailments, including arterial infections, endocarditis, arthritis, muscle pain, eye irritation, and urinary tract symptoms. Consumers exhibiting these signs after having contact with this product should contact their healthcare providers.
Pets with Salmonella infections may show the following symptoms:
Lethargic
Diarrhea or bloody diarrhea
Fever
Vomiting
Some animals will have only decreased appetite, fever and abdominal pain. Infected but otherwise healthy animals can be carriers and infect other animals or humans.
Listeria symptoms in pets and humans will be similar to those listed above. If either you or your pet has any of these symptoms, seek professional medical attention immediately.
If You Have Product
Do not return any of the product to the retailer! Instead, they are asking that you dispose of it in a secure waste receptacle. For refund claims, fill out all sections of The Consumer Claims Form and return this form to the retailer where you purchased the product for a refund. Consumers may call Radagast Pet Food, Inc. at 503-736-4649 for assistance in filling out the Claim Form.