If Zuca was born to do one thing, it was to be a mother.
When the rescue dog was found wandering the streets on her own, she was heavily pregnant and in need of help. Animal Control took her in, and she gave birth to her puppies in the comfort of a foster home.
Zuca loved mothering her babies, and she was so good at it, she even became a surrogate mother to a few other puppies in need.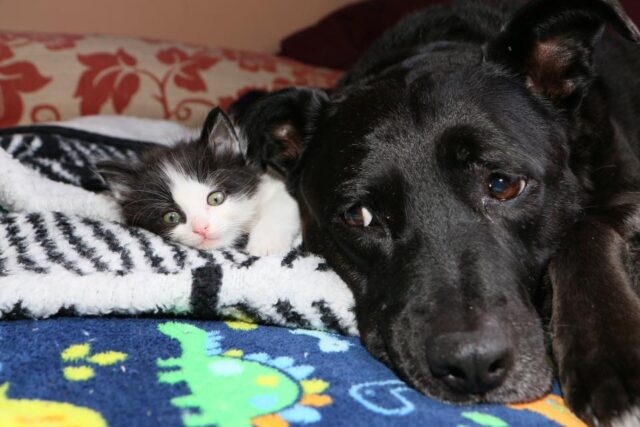 As her babies grew up, they eventually found forever homes. Zuca was up for adoption too, but for weeks, people passed by her kennel without giving her a chance.
She lived quietly at the shelter for five months before a woman named Ronda saw what no one else did. Unlike the other dogs, Zuca wasn't jumping at the kennel door or barking. She sat quietly with her barely twitching tail as the only clue to her true feelings.
For Ronda, it was love at first sight. She knew she and Zuca were meant to be, and the two started their lives together that same day.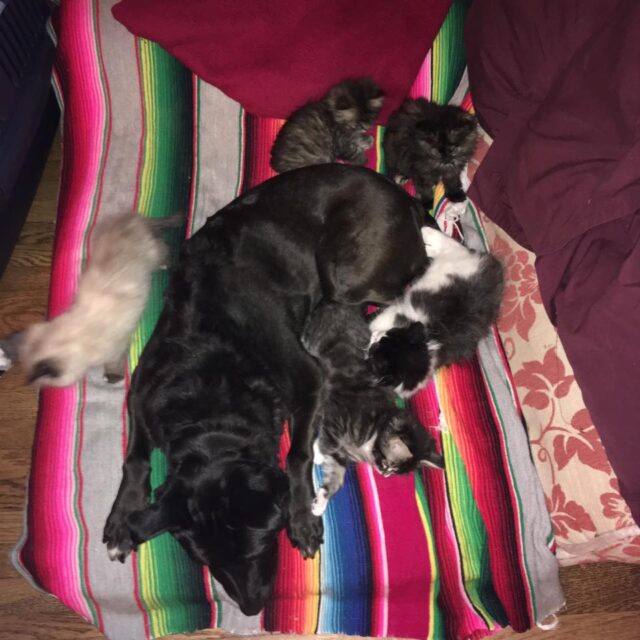 After a life as a stray and then several months at the shelter, living in a home was a lot to take in. She needed time to get comfortable in her new surroundings, but a special friend made it a little easier.
Ronda's cat, Stout, took an instant liking to the 50-pound dog. She welcomed Zuca into her home, and Zuca was always the most comfortable and the most confident with her feline friend by her side.
When Stout passed away, Zuca was devastated. She missed her friend, and Ronda recognized the signs of depression in her dog. She wanted to help, so she came up with the idea to start fostering kittens.
Their first foster kitten, a feisty girl named Monkey, met Zuca in 2015. Ronda was initially nervous about the barely one-pound kitten interacting with her big dog, but it turned out there was nothing to worry about. Zuca's motherly instincts kicked in, and she seemed to know exactly what Monkey needed.
Zuca let Monkey climb on her back, bite her ears, and get cuddly on the floor. She was always gentle, and Ronda saw her formerly depressed dog come back to life. When it was time for Monkey to move on to a forever home, Ronda brought in more kittens.
With each new litter, Zuca never hesitated to take on the role of foster mother. When the kittens were shy and afraid, Zuca knew to hang back and give them their space. When they were sociable and playful, the mother dog was quick to give kisses. She seemed to know exactly what each individual kitten needed, and her foster felines flourished in her care.
Since she first met Monkey in 2015, Zuca has cared for over 100 kittens. All have since gone on to forever homes, and in many cases, their relationship with their canine surrogate helped them find families. This is because adopters with their own dogs saw the kittens getting along with Zuca, and they wanted that same energy and love in their own homes.
Zuca is now 12 years old, but she's not letting her age stop her from doing what she does best. She and Ronda plan to take in more fosters this kitten season.
Featured image via Facebook/Zuca's Kittens
H/T: Love Meow