Ever wondered how cats in commercials and advertisements get those luxurious coats? Of course, sometimes the ad is trying to tell you that if you buy their product, your cat will look like that. But is that really true? Here are 10 secrets from professionals in the pet industry that will help your cat's skin and coat shine with health.
#1 – Use Natural Products
Seek out natural botanical ingredients, which promote a healthy shine while allowing a cat's skin to breathe properly. It's important to avoid products with oils, silicone, wax, petroleum, or synthetic polymers.
Click page 2 below for the next secret!
#2 – Good Diet
Promote a good diet. A representative of Evanger's Pet Foods explained that a cat's healthy skin and coat starts from the inside out. Select high protein, made in the USA foods that offer premium nutrition.
#3 – Keep Kitty Trim
You might think a slightly overweight cat would have a nicer coat and skin (all that fat!) but actually the opposite is true. Larger, heavier cats can't always reach all parts of their own bodies for cleaning, meaning their skin and coat become dry, dull and flaky.
#4 – Allergies
If your cat's coat and skin are irritated, there may be allergens at work. Evanger's suggests choosing a pure meat sources and combinations (chicken, turkey, beef, duck, rabbit, pheasant, buffalo, and lamb) free of corn, soy, wheat, and dairy ingredients that can cause and trigger allergy flare-ups. Of course, talk to your vet first.
#5 – EQyss Cat Mist
This all-natural product is something new to the cat grooming market. It's a spray that actually replaces the moisture lost by your cat continuously cleaning/grooming himself, thereby helping to minimize shedding.
#6 – De-shedding tool
Use a gentle de-shedding tool that does not directly scrape the cat's skin to safely remove the loose undercoat that would otherwise cause mats, hot spots and hairballs. Just one brush can make your cat's coat look much healthier.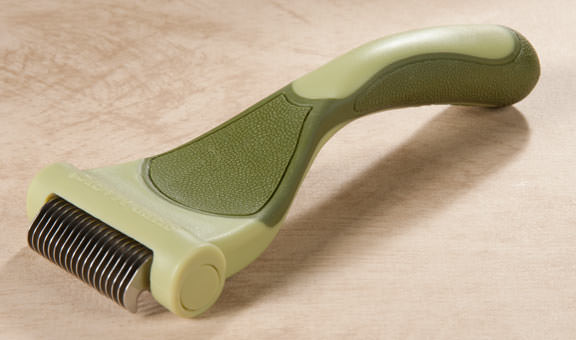 #7 – Litter
Something many of us do not think about when choosing a litter (usually we are going for odor control) is how it affects our cats. Cats can be allergic to certain litters (corn-based, for example) which can cause irritation to the skin. If your cat is having skin issues, you may want to think about trying a different litter.
#8 – Too Much Bathing
While cats can need a bath from time to time, over bathing your cat can actually cause coat issues. It strips the coat of its natural oils and can make it dry and flaky.
#9 – Regular Deworming
If your cat has worms, they are getting all the vital nutrients and vitamins out of the blood, so your cat isn't getting them. This can cause balding and dry, flaky coats. Talk to your vet, cats are normally dewormed every three months.
#10 – Probiotics
Probiotics help your cat absorb the nutrition from their food better, so they will be healthier all around, including their skin and coat. Talk to your vet before beginning probiotics.