Even if you live in a small, big city apartment, your kitty can still have a jungle to explore with these simple and creative ways to add cmore living space. Most you can probably do with things you already have laying around!
#1 – Hammock
Brenda Hattery shares a boat with her kitty, Beryl, which obviously limits space. She has found some creative ways to give her cat more places to call her own, including using fruit nets as kitty hammocks by placing them under chairs with a pillow.
Click page 2 below for the next idea!
#2 – Screens
Hattery also noticed that her kitty liked to "hide" behind curtains, so she added some fabric to her bookshelves to create a little enclaves for Beryl.
#3 – Under the Bed
Another tip from Hattery, she has found many cats are happy under the bed, which is great space to give to your cats because it's usually wasted otherwise. Simply adding a bed skirt can make under your bed an attractive hiding spot for your cat.
#4 – Wall Shelves
These have become all the rage lately, as more people in small spaces get cats and want something more attractive and space-saving than traditional cat trees. You can buy or make them yourself and really the only limit is the length of your wall and the height of your ceiling.
#5 – Window Seat
Windows are another "wasted space" that cats love. Like the shelves, you can buy premade seats, or make your own. Your cat will be pleased with either one.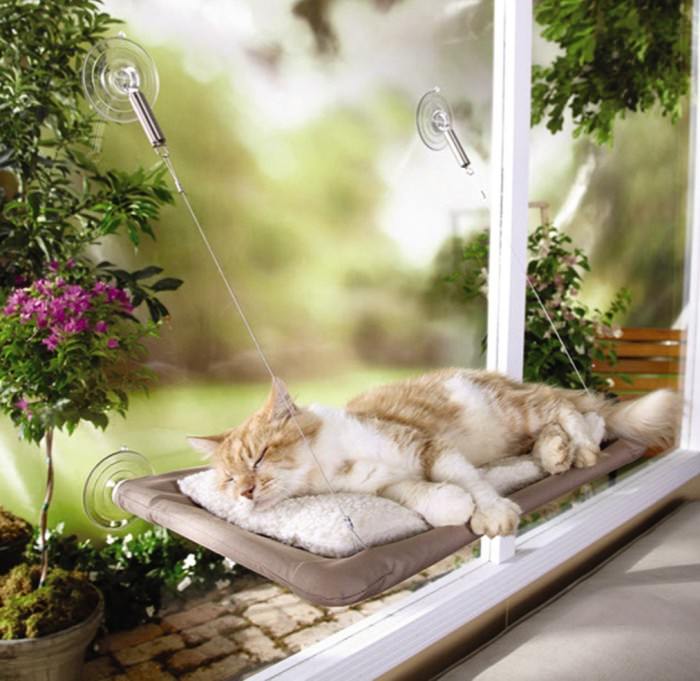 #6 – Behind the door
Not something you think about, there is quite a bit of space behind each door that is just that – space. These cool cat climbers use that space for something your kitty will love. Just open your doors slowly.
#7 – Wall Mounted Cat Tree
More than just a step, this is actually a tree that even has a shelf to put catnip, toys, etc. on. Complete with a scratching/rubbing surface.
#8 – Desk Cat Seat
Does your cat try to sit on your already too cluttered desk? No room for her to hang out near you? This simple addition to your desk will give kitty a place to hang out while you work.
#9 – Closet Sleeper
Most cats love hiding in closest. This cool cubby gives them a place to call their own right in between the hanging clothes and shoes. It keeps kitty off your clothes and still gives you space for your stuff.
#10 – Feline Feeding Station
Have problems feeding kitties when the dogs are around? Tired of stepping in water dishes? Maybe your cat has been eating in the middle of the kitchen floor because you couldn't find any other place for her. Well than this DIY project is for you! Made from Ikea parts, it the perfect solution to all of these problems.