The holiday season is the perfect time to enjoy delicious meals with your friends and family. Many people look forward to this season simply because of the yummy food. It is a perfect opportunity to have a nice dinner with all your loved ones, and of course, that includes your kitty! So, while you're getting ready to have an extravagant feast, this may also be the perfect time to switch your cat to a much healthier and tastier food!
iHeartCats has partnered with "I and love and you", a dog and cat food company that makes seriously awesome food for your cat. Your cat deserves the best food, especially this time of year. So, what makes "I and love and you" the perfect food to kick-off the holidays?
Love is a Priority
"I and love and you" cares about their furry consumers much more than they care about money, so, they ensure that your cat gets the best quality food possible! They are an employee-owned company that does things differently than other cat food brands, such as using meat as the first three ingredients, removing all fillers, using pre + probiotics… and so much more! They strongly believe that feeding your cat the perfect food is the best way to show them that you really love them.
They're Highly Rated
Compared to other popular cat foods, you'll find a lot more positive characteristics, such as high meat percentages, no grains, and no fillers. They provide different formulas to suit the needs and preferences of every cat. All their food includes high-quality ingredients such as quality meat sources, superfoods, and of course, no fillers, which means nothing scary!
It's Tasty Even for Picky Eaters
The biggest problem that cat parents face is finding a food that their cat actually enjoys, but with a proper transition to "I and love and you", you won't have to worry about your cat being picky anymore. There are 5 different dry food formulas and 9 different wet food formulas – they are all healthy, and your cat is guaranteed to find something that they can't resist! To add to the delicious flavors, you can include meal enhancers to keep things exciting for your cat.
The team at "I and love and you" realizes that some cats can be super finicky, so they recommend a super slow transition to their ultra-premium meals. Cats are driven by their strong sense of smell, so take the time to introduce the food properly, and soon your cat will be enjoying the best food with the best health benefits. They even recommend feeding the kibble as treats to start off with for those really picky kitties.
It's the Perfect Food for the Holidays!
"I and love and you" is more than just a daily meal for your cat because it's something they will love and look forward to. Plus, it will fill their bellies with highly nutritious ingredients! The holidays are the perfect time to give your cat some nice, new things, so why not consider what you're currently feeding them and make a change?  They'll love it so much that you'll be able to feed it to them throughout the year from now on, not just for the holidays! Also, consider trying their new "Feed Meow Toppers" – a great stocking stuffer, and an even better meal enhancer.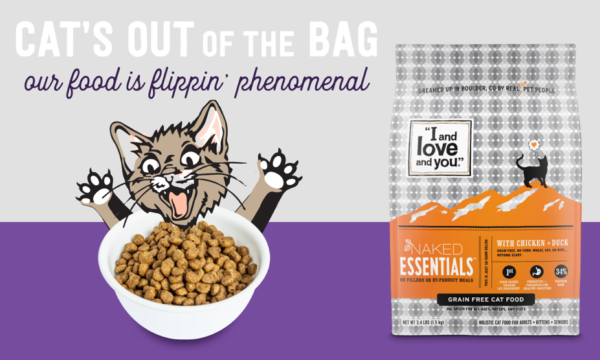 This holiday season, start serving your cat the food they deserve. Love begins with giving your cat the healthy food they need, so while you're eating your delicious holiday meals, give your furry friend something amazing too. Your cat may enjoy "I and love and you" so much that you'll want to continue giving it to them year-round.
"I and love and you" even has a special offer for the iHeartCats community: $10 off any order with the code ILY10!