Have you ever wondered what your cats get up to when you're not home? The popularity of smart phones has made it very easy to find out. There are a lot of cameras and products on the market now that are designed to help you watch, speak to, and care for your cats– all from the convenience of a phone app. Here are 5 of our favorite ones: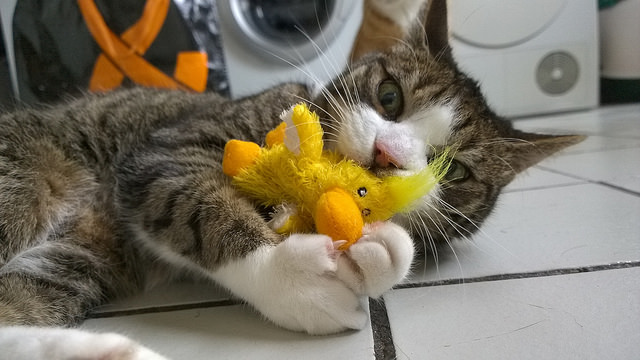 Image: muisstil : Flickr
#1 – Nest Cam
The Nest Cam is a great way to keep an eye on your home and kitties when you aren't there. It features 24/7 live streaming of whatever areas of your home you choose, plus clear night vision. The feed streams to an app on your phone and you can use the app to zoom in for a better look and even talk to your cat through a speaker! The app will also allow you to post video clips to your social media sites for when your cat does something extra cute or funny.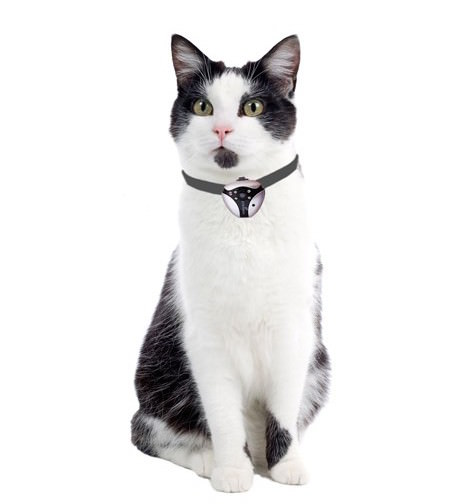 Image: www.eyenimal.com
#2 – Collar Camera
Collar cameras like the Eyenimal let you get as close as possible to seeing the world through your cat's eyes. They Eyenimal camera is easy to clip on, small, and lightweight to be minimally intrusive for your curious kitty. The batteries in the collar camera tend to have a fairly short lifespan before you'll need to recharge them (the average is around 3 hours), but most have motion sensors that allow them to automatically turn off to reserve power while your cat is napping.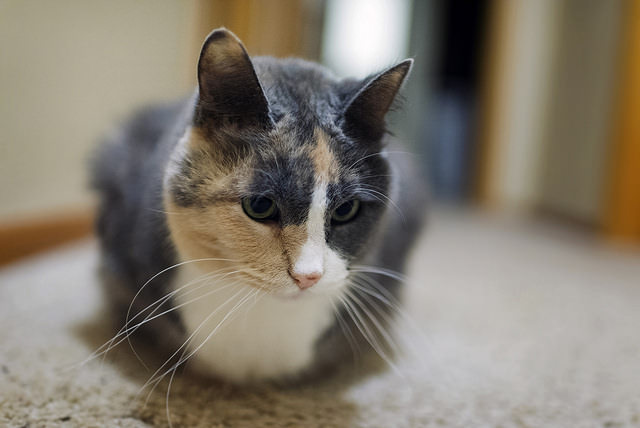 Image: Dustin Gaffke : Flickr
#3 – Security system
There are a lot of reasons to have a great security system, and keeping our animals safe and happy is pretty high on the list. A system like Uxari will go above and beyond what an average security system will do. Not only will it live stream video footage to your phone so you can finally catch your cat knocking over your Christmas cactus, but you can also use it to talk to her and keep her comfortable by turning on lights and controlling the thermostat from far away. You can even set it up to detect heat and smoke and automatically alert your local fire department!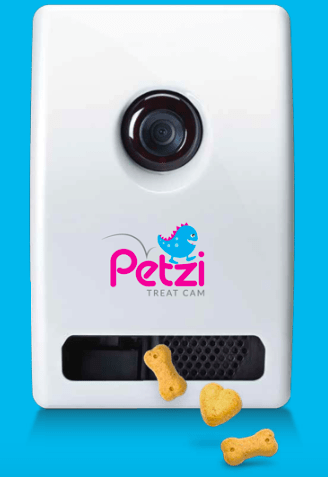 Image: www.petzi.com
#4 – Petzi Treat Cam
The Petzi Treat Cam lets you watch your cat lounge or play in her favorite areas of your home and snap pics at any time, which you can post to your social media sites from an app on your phone. What makes Petzi different from other cameras is that the app will also allow you to dispense treats to your cat! Just push a button on the app and a treat will be playfully ejected into the air within the camera's viewing area. It's a great way to get your cat excited while you're away.
#5 – Petcube
The Petcube is great because it's a camera AND a toy. That's right, not only can you stream live feeds to your phone, but there's also a laser pointer (also controlled through your phone) that will allow you to play with your cats while you're away! This is a great way to make sure your cats are getting some exercise even when you aren't home for a play session. You aren't the only one who can use the laser to play with your cat–you can allow friends and family to access the laser from their own phones too! That should keep your kitty busy. There's also a microphone that'll let you talk to your cats.

Did you like this?