What's cuter than a litter of fluffy rescue kittens? How about a shirtless fireman snuggling a litter of fluffy rescue kittens?!
Earlier this year, dozens of heroic hotties gathered to shoot six different versions of the 2020 Australian Firefighters Calendar. Our favorite? The Cat Calendar, of course!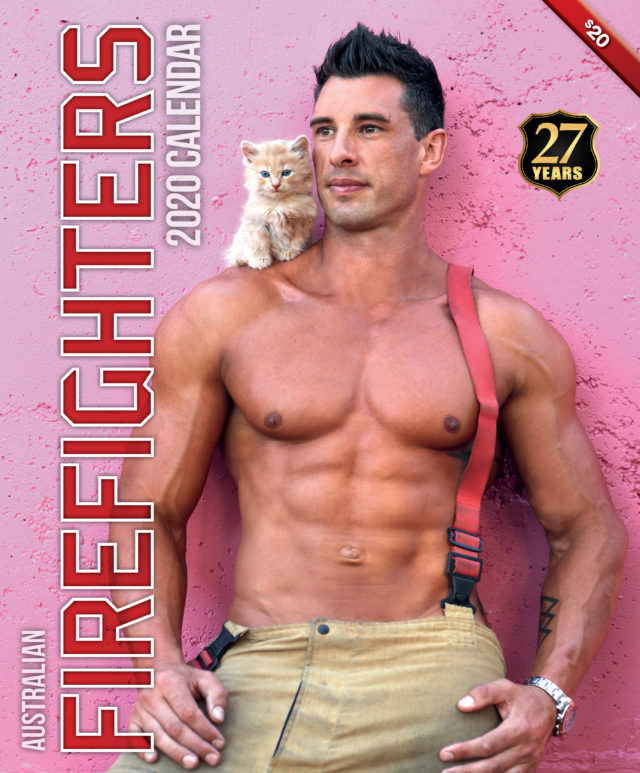 The Australian Firefighters Calendar first came out in 1993 with the proceeds supporting research into childhood burns. After nearly three decades supporting Australian children's hospital organizations, the creators decided to focus on smaller charities benefiting native Australian, rescue, and therapy animals.
"We felt that it was important to help some of the smaller charities that the public never hears about," says David Rogers, Director of the Australian Firefighters Calendar. "These grass roots organizations work tirelessly in their local community making a huge difference in people's [and animals'] lives."
All told, over $3 million has been raised for various charitable organizations since the calendar was founded.
This year's proceeds will go to groups such as Pets of the Homeless. POTH provides food and temporary housing for pets that can no longer be looked after by their owners due to homelessness, domestic violence, or other unforeseeable events.
Other worthy recipients include Healing Hooves which offers equine therapy to children with Autism, veterans with PTSD, and seniors suffering from dementia; and BackTrack Youth Works, which helps troubled youth learn respect and responsibility.
Donated funds from the calendar will also help The Currumbin Wildlife Hospital purchase new equipment and fund research into diseases affecting the koala population. The facility treats more than 11,000 Australian animals each year.
While the animal-free version of the yearly calendar is always a success, the creators found that posing sexy dudes with adorable cats and dogs helps sell more merchandise.
Check out this behind-the-scenes look at the making of the 2020 cat calendar and you'll see why!
All of the feline cuties featured in the 2020 cat calendar are rescues from ABC Rescue Qld, AMS Cat Haven and Best Friends Felines. But at least one of them has found her new home.
Did you catch the footage of firefighter Brenden and his posing partner Sarah? It turns out Brenden was so taken with the cute kitten that he officially adopted her after the shoot! Here they are signing the papers together.
Australian Firefighter Calendars make excellent Christmas presents for every animal lover on your list. In addition to the adorable cat calendar, the dog, horse, wildlife, and farm animal calendars feature a whole new batch of cute creatures and hot guys.
For those who'd rather focus on the topless heroes, the classic calendar is also available for 2020.
Order your  2020 Australian Firefighters Calendars here, and be sure to follow the guys and their animal friends on Facebook and Instagram!
All Images c/o The Australian Firefighters Calendar