All those skating boarding bulldogs, surfing pups and Jack Russells doing laundry have NOTHING on this super cool cat!
Didga (short for Didgeridoo) is owned by Robert Dollwet, a dog trainer who used to train animals for acting who now resides in Australia. Robert rescued Didga when she was just 13 weeks old from a shelter.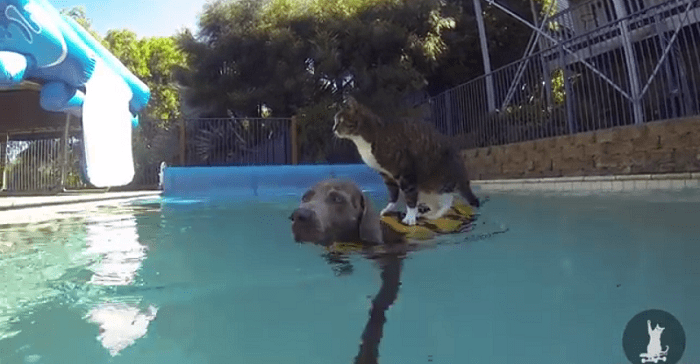 "I rescued Didga to start a YouTube Channel to educate people about cats and dispel many of the myths associated with cats, like cats need to roam to be happy or they can't be taught/trained or that it's okay to declaw a cat or there must be something wrong with the animals at the shelter, etc.," says Dollwet.
Dogwell uses his 28 years of experience working with animals to help people all over the world via his online training tutorials. One of his main goals is to stress that all cats have the capability to be taught tricks, some may just take longer than others – just like dogs.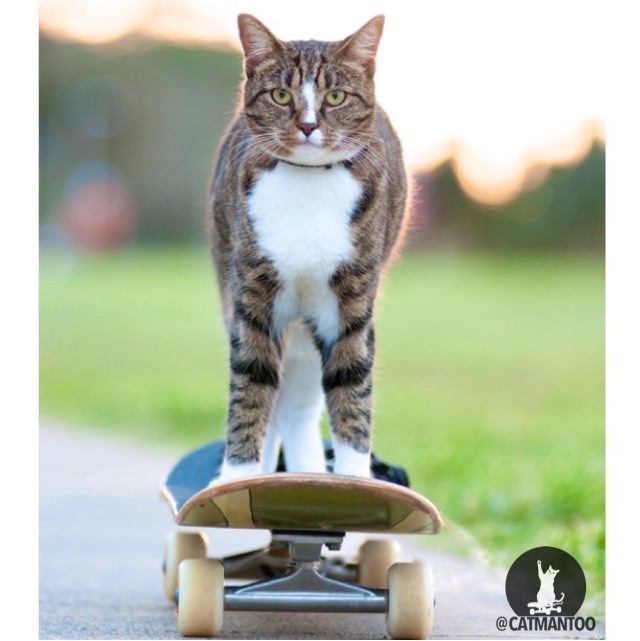 "Didga was a very confident cat to start, so I was able to move her a long a little faster than if I had a more 'scaredy cat' where I would have to take things much slower and do most of the teaching in the house," he explains.
Dollwet used only positive reinforcement "clicker training" to teach Didga these amazing stunts, which include skateboarding, surfing, jumping over and onto dogs, rolling over, side step, playing dead using the toilet, and many more.
So how did he get her to like water?
"As a kitten, she wasn't too keen on the water but what I did anyway," he explains. "I used an empty litter box, which she wasn't using because I had taught her to use the toilet by then. I put a very small amount of water on the bottom, then put a bowl of high value meat which if she wanted, she'd have to step in this wet bottom of the tray. Then about every 5 days I'd add a teenie weenie bit more water."
They also frequented the beach and rivers but she never went in to swim. About six months later, he says the litter box was full to the top and something "clicked."
"She started walking in water in the river and jumping off the paddle board for a swim and going in the water while hanging out with the dog group I trained," Dollwet adds.
Follow him on Facebook and YouTube and check out his website to learn more how to train your cat!
Does your cat doing any tricks? Let us know in the comments!