Want to travel this year but just not sure where to go? How about a tour of the world's best cat cafés? You can travel the world and visit felines while taking in local customs and cousins all at the same time. And you are sure to make friends while there, since you all have something in common – the love of cats! So pack your bags and take a trip 'round the world via Cat Cafés!
#1 – Café Dog & Cats, Taipei, Taiwan
Although Japan made the cat café famous, the first cat café was actually in Taiwan. So, a visit to one of their cafes is a must! This one is a favorite from a cat café blogger, who says the food is good. The café got its name because they have one resident dog as well as cats.  (Tripadvisor.com)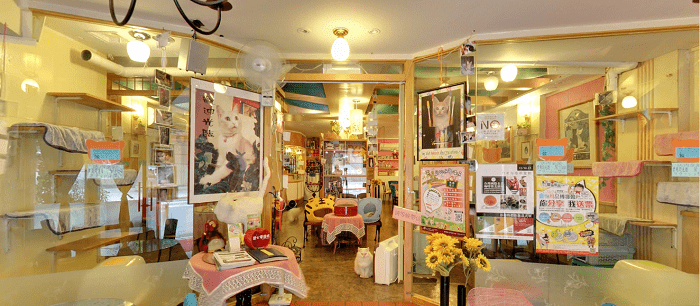 #2 –  Neko no Jikan, Osaka, Japan
There seems to be some debate as to which cat café was first in Japan, but this one is one of the earliest, and a favorite among travelers. Here, you can purchase human as well as kitty treats. Nekonojikan.com
#3 – Temari no Ouchi, Tokyo, Japan
This fun cat café has a whimsical, fairytale theme- unlike any other cat café we have ever seen – so you definitely need to visit it! Along with snuggling adorable cats, you can drink in the amazing décor that looks like you stepped into a underground fairy house.Temarinoouchi.com
#4 – Neko Jalala, Toyko, Japan
There are so many cat cafés in Japan, it's hard to choose which to visit. However this one is special because the resident felines are not your everyday tabbys. They have everything from Maine Coones to exotic Abyssinians.
#5 – Cats Republic, Saint-Petersburg, Russia
This was not only the first cat café in Russia, but the first one in Europe so it's a must see. It's a cat café, but also a club, souvenir shop and a "cat therapy hall" where you can snuggle the kitties of course. Catsrepublic.ru
#6 – Cat Café Neko no Niwa, Singapore
This was the first cat café to open in Singapore, so a good one to pick if you decide to stop over there on your tour. The café was created by cat lovers after they visited several in Japan, so the feel is similar. They offer coffee, artisan desserts, and other drinks, and plenty of time with the cats. Catcafe.com.sg
#7 –  Café Neko, Vienna, Austria
Ask an Austrian, and they will claim that Austria had the world's first cat café, which opened in 1912 and closed two years later. Whether or not that's true, they do have a cat café now, Café Neko, which opened in 2012. This café has five resident cats for your enjoyment and serves homemade cakes, Japanese tea and juice made by Austrian farmers. Cafeneko.at
#8 – Café Miao, Copenhagen, Denmark
If you fancy a stop in Denmark (and who wouldn't!), then you can stop off at Café Miao, Denmark's first, and only, cat café. They serve a variety of food, including an adorable burger with a bun shaped like a cat. Cafemiao.dk/en
#9 –  Le Café des Chats, Paris, France
For some reason it just feels right to have a cat café in France! And in Paris at that! This café has a similar tea menu as other cafes, including desserts. Lecafedeschats.fr
#10 – Stubentiger Café, Hannover, Germany
Another "first" this cat café is perfect for those who want to visit Germany on their tour. They boost a larger menu than most cat cafes, and even offer vegetarian options and dairy alternatives such as almond or soy milk. Stubentigercafe.de
#11 – MiaGola Café, Turin, Italy
Fancy eating some pasta with a Persian? Then this is probably a good stop for you. This cat café offers not only coffee, but also wine and cocktails and a full menu, specializing in Vegan and Vegetarian options. Miagolacaffe.it
#12 – Romeow Cat Bistro, Rome, Italy
And since no one wants to go to Italy without stopping in Rome, here is your cat café stop along the way! You can enjoy vegan and raw dishes for lunch and dinner while playing with the six resident cats. Romeowcatbistrot.com
#13 –  Lady Dinah's Cat Emporium London, England
When this cat café first opened, they had a two month waiting list for reservations! They still book up quick, so be sure to make reservations early if this is one of your planned stops. LadyDinahs.com
#14 – Bag of Nails, Bristol, England
This one is on the list, not because it's a cat café, persay, but because it's a cat pub and that makes it different! This pub is famous for its cats. Different accounts put the number at anywhere between 15 and 24 felines roaming the place. Definitely worth a visit. Bag of Nails Facebook
#15 – Maison De Moggy, Edinburgh, Scotland
Having been open since January 2015, this is Scotland's first cat café. Sample their delicious homemade cakes, cupcakes and traybakes from local suppliers will sipping on coffee, loose leaf teas and even ice cream floats in the summer. They also have gluten free cake! They have ten resident cats to make conversation with while you eat. Maisondemoggy.com
#16 – Café Chat L'Heureux, Montreal, Quebec
This café is populated by kitties that were all adopted from rescues. Aside from the usual tea offerings, they hold informative events such as vet conference, zootherapy for elders and disabled people, and workshops for kids. They are advocates of adoption. Cafechatlheureux.com
#17 – Meow Parlour, New York City, New York
The Meow Parlour in the Big Apple (a must on any world trip!) is a great place to stop off and see some kitties, all adoptable! The Parlour has cats from KittyKind a no-kill rescue group in NYC so you can have a snack, drink some coffee, and find a new best friend to take home with you. Can't take a kitty? Be sure to pick up some swag from their shop. Meowparlour.com
#18 – Blue Cat Café, Austin, Texas
If you want to get a taste of the West, then stopping in Texas is a good idea. Lucky for you, they have a cat café! This café helps stray and homeless felines find homes as an adoption center. They also have a store for kitty items and serve a variety of option on the menu including "local" Tex-Mex faire. Bluecatcafe.com
#19 – Cat Town Café, Oakland, California
Touted as the first cat café in the United States, this one is another "must stop" for those on the cat café tour. You can get a variety of yummy snacks, pet a kitty, and even adopt one if you like! And, unlike most cat cafés, this one is a non-profit! Cattownoakland.org
#20 –  The Cat Lounge, Auckland, New Zealand
The Cat Lounge is the only cat café in New Zealand. They are partnered with Friskies and a local rescue, Lonely Miaow, to help get cats adopted through the café. They also do fundraisers for the rescue and donate unused food to the Salvation Army. The lucky kitties at this café have an outdoor enclosure as well as indoor, so they can soak up the sun.  Thecatlounge.co.nz