The holidays are here, and we've got the ultimate holiday gift guide to help you find presents for your favorite feline and the minions who love them! Check out this ultimate buyer's guide to find cat-themed gifts your family, friends, and coworkers will adore. And when they learn their gift helps cats in need, they'll love it all the more.
But as you're browsing, don't forget your kitty. The furry one deserves a bunch of great Christmas presents, too! And be sure to write your name on the shopping list as well. After all, you've been nice all year! Treat yourself to something good, and shop with a smile, knowing everything you purchase from this iHeartCats Holiday Gift Guide for 2023 donates food, toys, and blankets to shelter cats. Here's to pleasant shopping, and we wish you and your furry ones the happiest of holidays!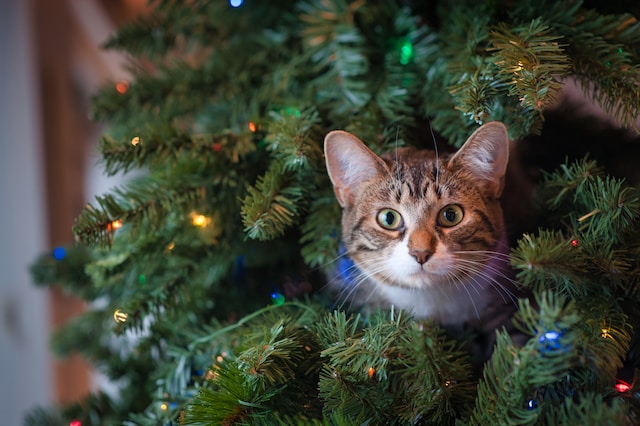 The Ultimate 2023 iHeartCats Holiday Gift Guide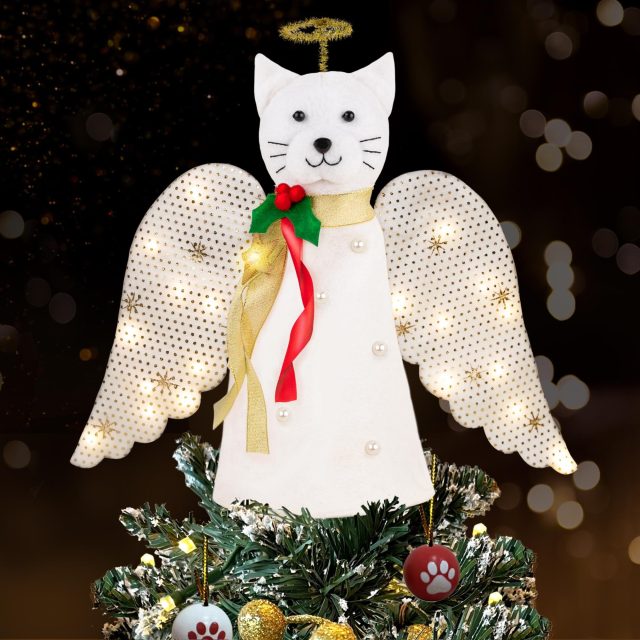 Fill a cat lover's home with heavenly light while bringing goodwill to needy kitties! New for 2023, iHeartCats presents the next in our annual tree topper tradition with our A 'Christmas Miracle' Angel Cat Tree Topper with Golden Sparkle Lighted Wings. This divine kitty angel glows from her wings and the star on her chest. Her pearl button accents and holly leaf collar accent finish off her holiday beauty with purrfection. She'll brighten any spot and every heart with the joy she brings to hungry cats. Start a loved one's tree topper collection this Christmas with our illuminated angel.
Every Angel Tree Topper purchased provides 30 healthy meals for hungry shelter cats.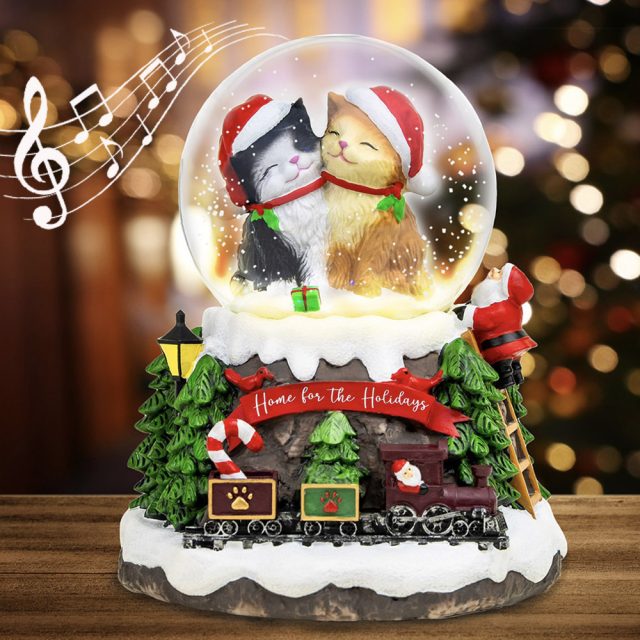 The Home For The Holidays Christmas Musical Water Glittering Cat Snow Globe is a charming holiday decoration that captures the essence of the season with a feline twist. As soon as you wind it up, it fills the room with the timeless melody of "Jingle Bells" plus six other traditional holiday songs, bringing instant cheer and nostalgia. The craftsmanship is noteworthy; inside the globe, the sweet, snuggling cats surrounded by a swirling dance of glitter evoke a whimsical winter wonderland that cat lovers will admire. And with the LED light that shines up from the bottom of the globe, you'll really see that glitter shine.
Its sturdy base, adorned with additional festive details, adds to its collectible quality, making it a piece that can be cherished for years to come. This cat-themed snow globe's magical glow is the perfect accompaniment to a cozy Christmas evening, making it a soothing visual piece for a night in. All these features combined make the iHeartCats snow globe a thoughtful and delightful gift for cat enthusiasts.
Every Cat Snow Globe purchased provides 30 healthy meals for hungry shelter cats.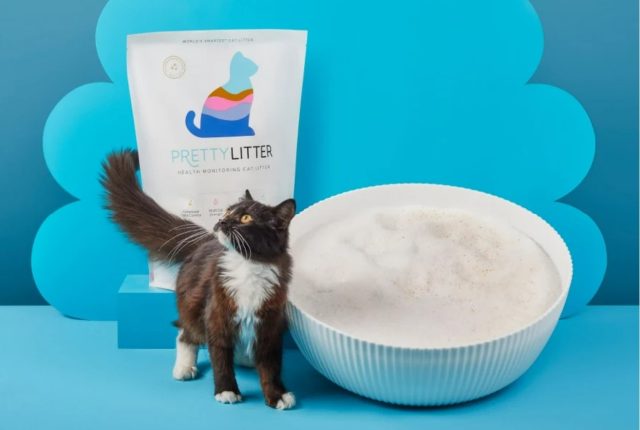 PrettyLitter makes for an innovative and practical Christmas gift, both for your own cat or as a thoughtful present to get a cat-loving friend started with it in their home. This unique litter stands out with its health-monitoring feature, changing colors to indicate potential health issues, offering peace of mind to any pet parent. Its ultra-absorbent crystals not only control odor more effectively than traditional litters but also require less frequent changing, making it a convenient choice for busy cat people. The dust-free formula contributes to a cleaner litter area and a healthier environment for both cats and their humans. Gifting PrettyLitter at Christmas is not just about providing a daily necessity; it's about showing care for a your cat or a friend's beloved pet's well-being. Once they try it with their cats, they'll thank you for the introduction to this incredible cat litter, appreciating both its practicality and the thoughtful gesture behind it. Save 20% on Litter & Get a Free Turkey Toy with code PURRKEY!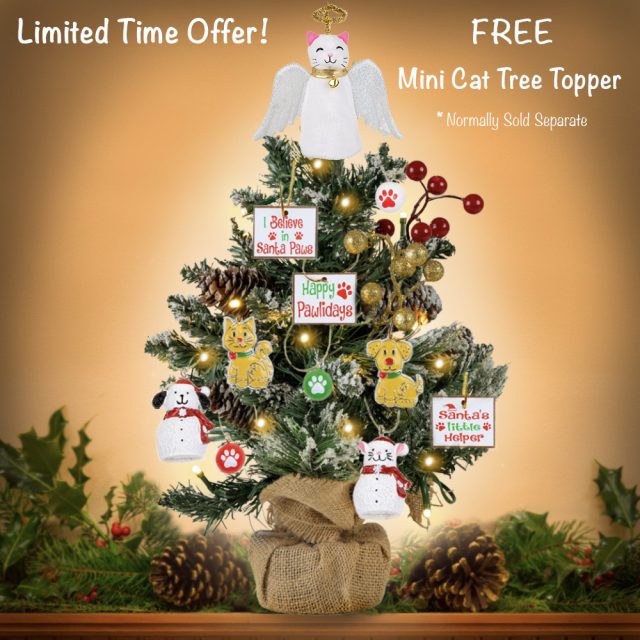 The iHeartCats Free Mini Cat Tree Topper paired with the Mini 14″ Table Top Christmas Tree is an endearing gift that cat lovers would be thrilled to receive. The mini tree itself is a quaint and adorable addition to any cat enthusiast's holiday décor, offering just the right size for display on a tabletop or office desk. It's pre-lit with battery-operated lights and features snowy flocked tipped branches with golden glitter balls, red berries, AND a 10-piece Mini Ornament collection specially designed for dog & cat lovers.
The cat angel tree topper, a unique and playful twist on the traditional star or angel, adds a personal touch that speaks to a cat lover's heart, featuring a whimsical feline silhouette that's sure to bring a smile. Crafted with care, the tree topper sits snugly atop the miniature tree, making setup a breeze and ensuring a stable, charming crown for the festive greenery. Any cat lover who receives this tabletop tree set will be delighted to know the purchase of their gift funded meals from an entire shelter!
Every Table Top Tree purchased provides 50 healthy meals for hungry shelter cats.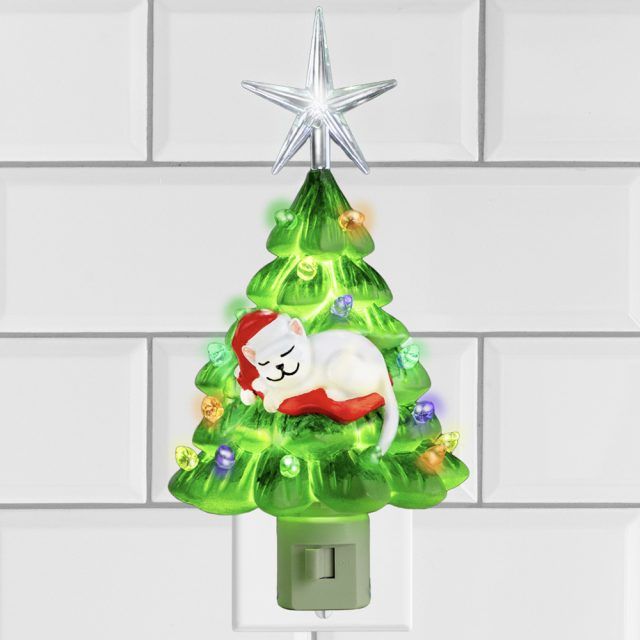 The Sleeping Cat Christmas Tree Night Light is an enchanting addition to the holiday offerings for cat aficionados. This night light exudes a gentle glow, casting a peaceful ambiance that's perfect for the season of coziness and warmth. Its design—a serene cat curled up on a Christmas tree—is both heartwarming and whimsical, capturing the blissful tranquility of a cat nap amid holiday festivities. The attention to detail in the craftsmanship ensures that this durable resin night light is not just functional but also a charming conversation piece. It's an ideal gift for cat lovers who appreciate subtle touches of feline-inspired decor in their homes.
Every Cat Night Light purchased provides 7 healthy meals for hungry shelter cats.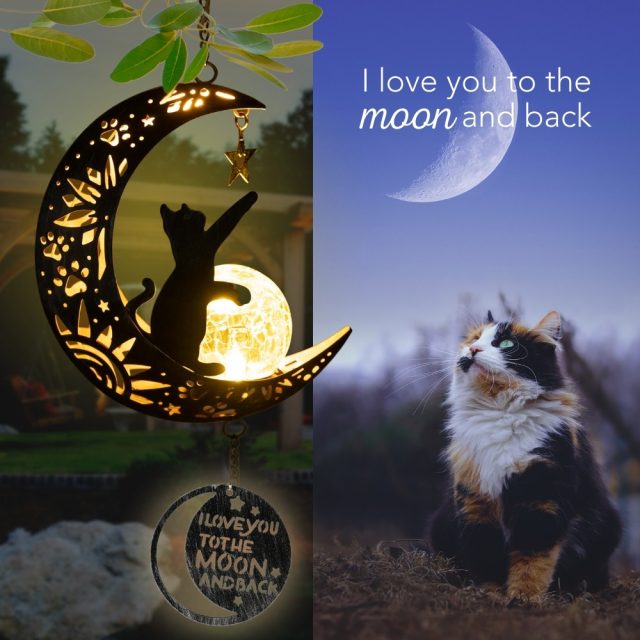 The "I Love You To The Moon & Back" Solar Lantern is a celestial tribute to the bond between cats and their humans, making it a delightful gift for any cat lover. Its solar-powered design ensures a soft, ambient light that automatically illuminates at dusk, casting a soothing glow in any garden or patio setting. The phrase "I Love You To The Moon & Back," etched onto the lantern's pendant, resonates deeply with the sentimentality of pet parents, echoing the endless love they share with their feline friends. This eco-friendly lantern not only provides a charming light source but also serves as a constant reminder of the love that transcends even the night sky.
The durability of the lantern, coupled with its whimsical cat silhouettes that play across the light as it shines, ensures a lasting tribute that can be cherished throughout the years. As a Christmas gift, it offers a unique and heartwarming way to light up a cat lover's life, symbolizing the luminous affection they hold for their beloved felines. Plus, it arrives in a gift box for easy gifting.
Every Solar Lantern purchased provides 7 healthy meals for hungry shelter cats.
Smalls Fresh Cat Food is a gourmet offering that takes feline nutrition seriously, making it an exceptional holiday surprise for any beloved cat. Each batch is crafted with high-quality, human-grade ingredients, ensuring that every meal is not just delicious but also exceptionally nutritious. The texture and flavor have been tailored to cater to a cat's carnivorous nature, which can lead to a more enthusiastic response at mealtime, something pet parents will surely appreciate. The variety of recipes available means that even the pickiest of eaters will find something to love, be it the tender, moist texture of the fresh ground meat or the satisfying mouthfeel of the smooth pate style option.
Smalls also focuses on portion control and tailored nutrition, aiding in maintaining a healthy weight for cats, which is especially important during the indulgent holiday season. Presenting Smalls Food to a cat as a holiday gift is not just a treat for them but an investment in their health and well-being, making it a gift that loving cat parents can feel good about giving.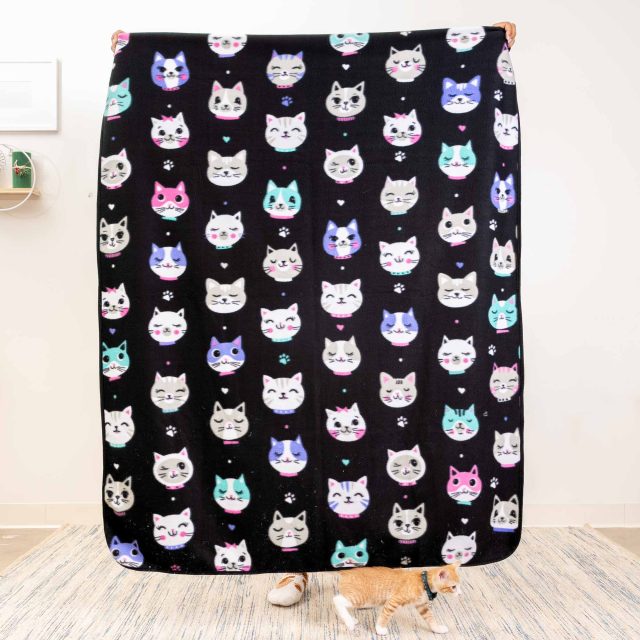 The  iLuv Love Kitties Polar Fleece Cat Blanket, with its generous 50″x 60″ dimensions, is the epitome of cozy comfort for both felines and their human friends. Adorned with adorable kitty faces, this blanket is a visual expression of cat adoration, making it an ideal Christmas gift for cat lovers who enjoy snuggling up with their furry companions. The soft polar fleece material provides warmth and comfort during chilly winter evenings, ensuring a snug experience, whether draped over a lap or a cat bed.
For your cat, this blanket can become their new favorite spot, offering a sense of security and a soft resting place that smells like their beloved person. For the cat parent, it's not just a practical item for home comfort but also a whimsical addition to their home decor that clearly shows off their love for cats. Whether it's for cuddling on the couch during holiday movie marathons or providing an extra layer of warmth at night, the iLuv Love Kitties Blanket is a versatile gift that encapsulates the joy and love of the Christmas season.
Every Polar Fleece Blanket purchased provides 5 healthy meals for hungry shelter cats.
The Christmas Ribbon Lights featuring Cat Paws & Stars is a whimsical lighting solution that effortlessly combines festive cheer with feline charm. These lights are a delightful twist on traditional holiday decorations, with adorable paw prints and stars that will make any cat lover's heart swell with joy. The soft glow emitted by these ribbon lights creates a cozy and inviting atmosphere, perfect for those who wish to infuse their holiday decor with a touch of personal passion. Ideal as a gift, they speak to the thoughtfulness of the giver, understanding and celebrating the recipient's love for cats. They're not just lights; they're a conversation starter and a statement piece that can be used to adorn Christmas trees, mantles, or even bedroom walls. Whether for a friend or as a treat for yourself, the iHeartCats Christmas Ribbon Lights are sure to add a purrfectly cute flair to any holiday setting.
Every pack of Christmas Ribbon purchased provides 2 healthy meals for hungry shelter cats.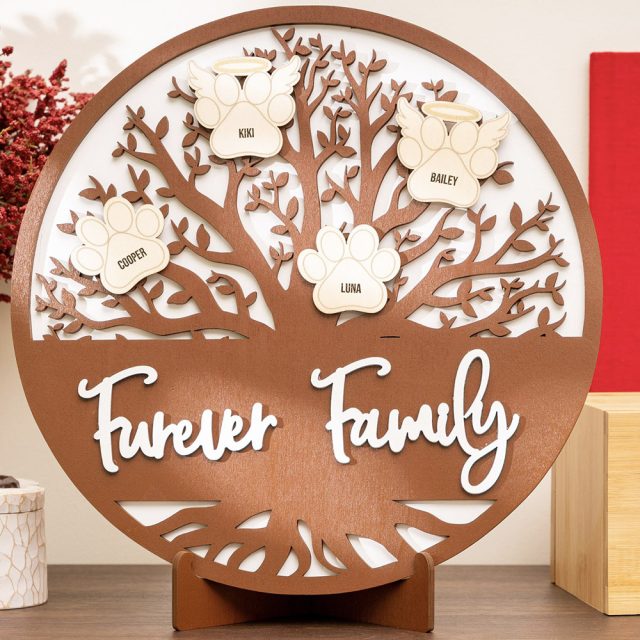 The Furever Family Tree stands as a heartfelt homage to the beloved felines that grace one's life, offering a deeply personal touch in holiday gifting. This beautifully crafted piece allows cat parents to customize each paw print with the names of their furry companions, creating an affectionate mosaic of their personal cat family. The family tree arrives with 20 pawprints for customization: 10 wooden paws and 10 winged paws. Its design is both elegant and whimsical, effortlessly blending into the holiday decor while serving as a year-round reminder of the love shared with each cat.
The ability to personalize this tree makes it a particularly thoughtful gift, showing a level of care and consideration that goes beyond the typical Christmas present. For any cat lover, the iHeartCats Furever Family Tree is more than just a gift; it's a treasure that cherishes every meow and purr through the festive season and for years to come.
Every Family Tree purchased provides 10 healthy meals for hungry shelter cats.
The Forever My Guardian Angel Cat Garden Solar Light is a heartfelt and poignant gift, ideal for cat lovers who want to honor their cherished companions. This beautifully crafted solar light combines the silhouette of a serene cat with angelic wings, symbolizing the everlasting bond between pet and owner. It's a gentle reminder that even when a beloved cat is no longer by their side, their spirit continues to shine. As a solar-powered light, it's not only environmentally friendly but also easy to use, glowing warmly as dusk falls without the need for batteries or cords. The durable construction ensures it stands up to the elements, making it suitable for year-round outdoor use in a garden or as a memorial piece. Gifting this at Christmas provides a comforting presence during a season of reflection and remembrance, making it a touching tribute for anyone who holds cats dear in their hearts.
Every Solar Angel Cat purchased provides 7 healthy meals for hungry shelter cats.
Gifting cat-sitting services from Rover to a cat lover is an incredibly thoughtful and practical present, especially during the holiday season. Rover's platform offers a wide range of experienced and vetted cat sitters, ensuring the recipient's feline friends are in safe, loving hands. The ease of selecting a sitter who matches the specific needs and personality of the cat adds a personalized touch to the gift. This service not only provides peace of mind to the cat parents but also ensures that their beloved pets receive care and attention in their own homes, maintaining their comfort and routine. It's an especially considerate gift for those who travel during the holidays, relieving them of the stress of finding reliable care for their pets. Rover now has services for cats! Book now at Rover.com!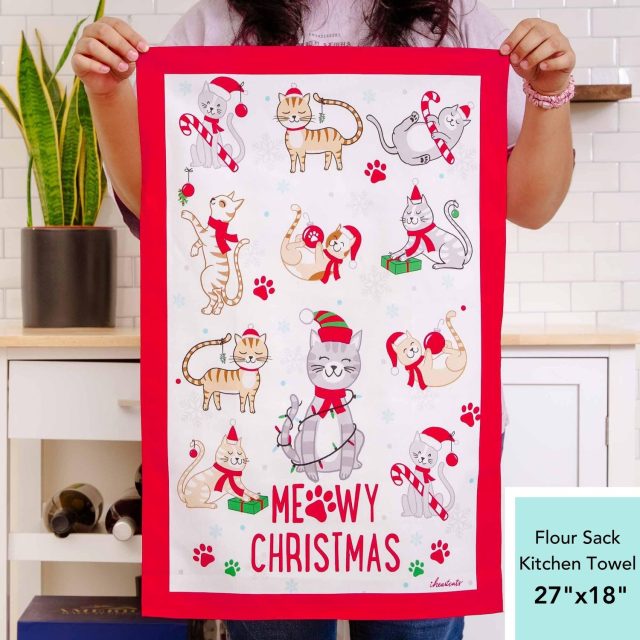 The "Meowy Christmas" Holiday Towel is a delightful and practical gift for cat enthusiasts who love to add a touch of feline charm to their holiday decor. Made from 100% cotton flour sack, this kitchen dish towel combines functionality with a whimsical design, featuring festive and playful cat-themed graphics that are sure to bring joy and smiles. Measuring 27″ x 18″, it's the perfect size for a variety of kitchen tasks, from drying dishes to handling hot plates, or even just hanging decoratively to liven up the space. The quality of the material ensures it is not only absorbent but also durable, standing up to the rigors of daily kitchen use.
Every Solar Angel Cat purchased provides 3 healthy meals for hungry shelter cats.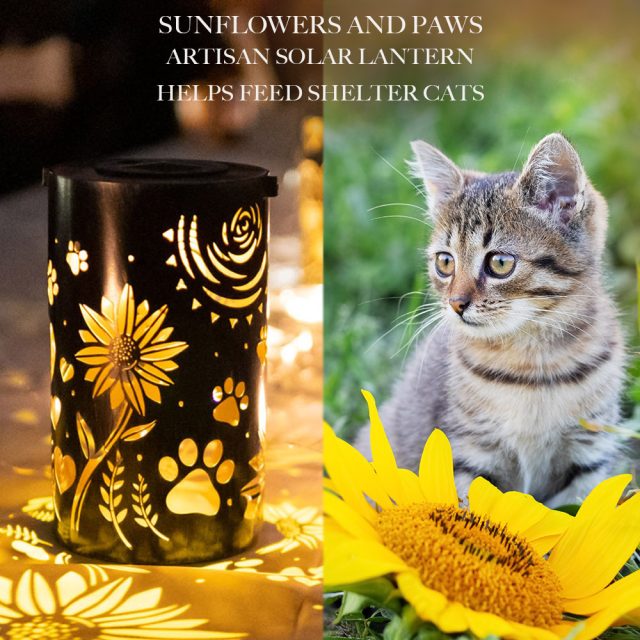 The Sunflower and Paws Artisan Shadow Lantern is a beautifully crafted piece, perfect for cat lovers looking for a unique and artistic addition to their home decor. This lantern, with its intricate sunflower and paw print designs, casts enchanting shadows when lit, creating a serene and whimsical ambiance. The artistry of the lantern is evident in its detailed metalwork, which, when combined with the warm glow of the solar light inside, brings a cozy and inviting atmosphere. This lantern is not just a light source; it's a piece of art that celebrates the love for cats in a subtle and artisanal way, making it an excellent choice for a special and memorable gift.
Every Solar Lantern purchased provides 7 healthy meals for hungry shelter cats.
The Rainbow Bridge Love Paw Cat Solar Garden Chime is a touching and beautiful tribute, perfect for those who have loved and lost a cherished feline friend. This garden chime, with its solar-powered design, illuminates at night, casting a soft, comforting glow in memory of a beloved cat. The rainbow paw prints are poignant and tasteful, symbolizing the eternal bond between humans and their pets. This piece not only serves as a lovely garden ornament but also as a meaningful memorial, helping to keep the memory of a special cat alive. Giving the Rainbow Bridge Love Paw Cat Solar Garden Chime as a holiday gift is a thoughtful way to offer comfort and solace, making it an ideal choice for anyone who wants to honor a feline companion in a beautiful, lasting way.
Every set of Solar Chimes purchased provides 3 healthy meals for hungry shelter cats.
The Meowy Christmas Festive Holiday Cats Garden Flag is a delightful and festive addition to any cat lover's holiday decor. This charming flag features an array of playful and whimsically illustrated cats, all adorned in classic Christmas attire, which brings a joyful and lighthearted spirit to any garden or front yard. The vibrant colors and festive design are printed on durable material, ensuring the flag can withstand winter weather while maintaining its cheerful appearance. As a gift, it's a thoughtful way to acknowledge a friend's love for cats, adding a touch of feline charm to their holiday decorations. For oneself, it's a rewarding treat for all the hard work put into holiday preparations, providing a personal and merry touch to one's outdoor space.
Every Garden Flag purchased provides 3 healthy meals for hungry shelter cats.
The Honest Kitchen's Grain-Free Turkey & Chicken Clusters present a delectable feast for felines, crafted with the kind of ingredient integrity that cat parents can feel good about. Each bite-sized cluster is made with real, whole-food ingredients that are gently dehydrated to maintain their nutritional potency and natural flavor. The combination of cage-free turkey and chicken offers a rich protein blend that's not only irresistible to cats but also supports their lean muscle mass and energy needs. These clusters are grain-free, which is perfect for cats with sensitive stomachs or those on a strict diet. The texture of the clusters also promotes healthy teeth and gums, adding a bonus to the already nutrient-rich meal. Presenting this 100% human-grade dry cat food to your cat on Christmas morning would surely add a dash of holiday joy, making it a gift that's both indulgent and beneficial for your beloved feline.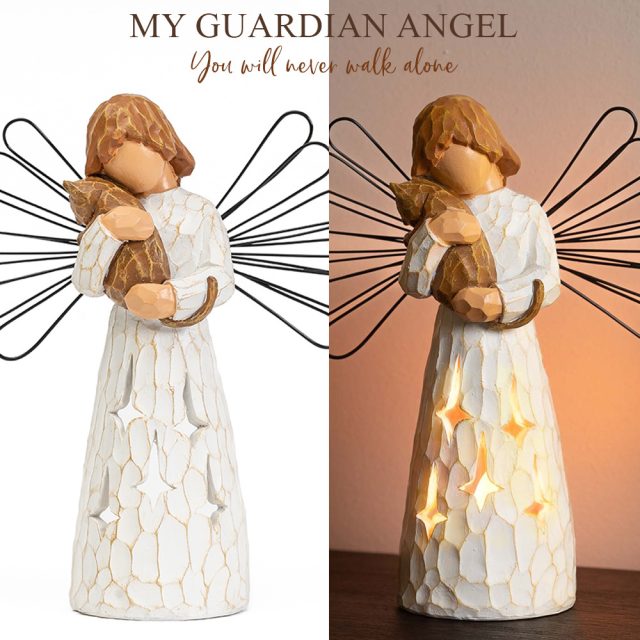 The My Guardian Angel Memorial Cat Figurine with Flameless Candle is a deeply thoughtful and touching gift, especially suited for cat lovers during the Christmas season. This beautifully crafted figurine features a serene angel and cat, symbolizing the everlasting peace they've found after crossing the Rainbow Bridge. The inclusion of a flameless candle adds a comforting, warm glow, making it a perfect piece for quiet reflection or as a gentle reminder of a beloved feline. Its elegant design fits seamlessly into any home decor, offering a subtle yet touching tribute that can be cherished year-round.
Every Cat Figurine purchased provides 4 healthy meals for hungry shelter cats.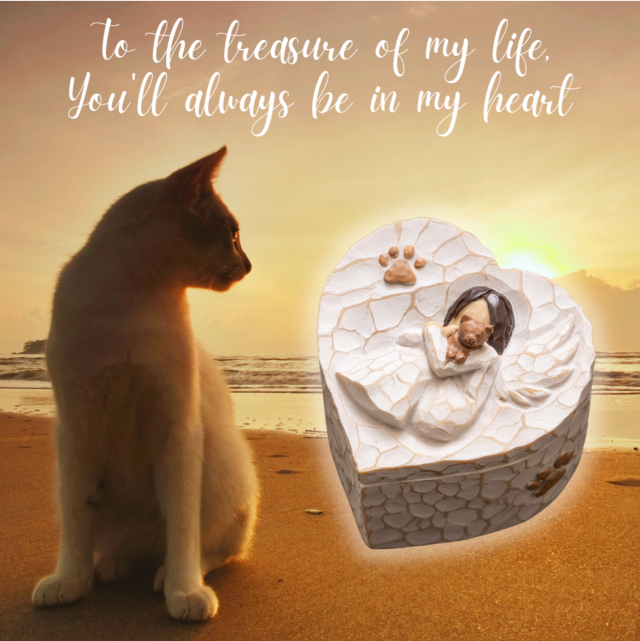 The Always In My Heart – Sculpted, Hand-Painted Angel Cat Memorial Keepsake Box is a beautiful and heartfelt Christmas gift for anyone who cherishes the memory of a beloved feline companion. This exquisitely sculpted and hand-painted box features a serene angel cat, symbolizing the enduring love and memories shared with a departed pet. Its compact size makes it ideal for safely storing small mementos, such as collars, tags, or cherished photos, allowing the owner to keep their treasured memories close. The intricate details and soft colors of the keepsake box add a touch of elegance and tranquility, fitting seamlessly into any home decor. Gifting this memorial box during the holiday season can provide a sense of comfort and closeness to a cat who was more than a pet, but a cherished family member.
Every Keepsake Box purchased provides 3 healthy meals for hungry shelter cats.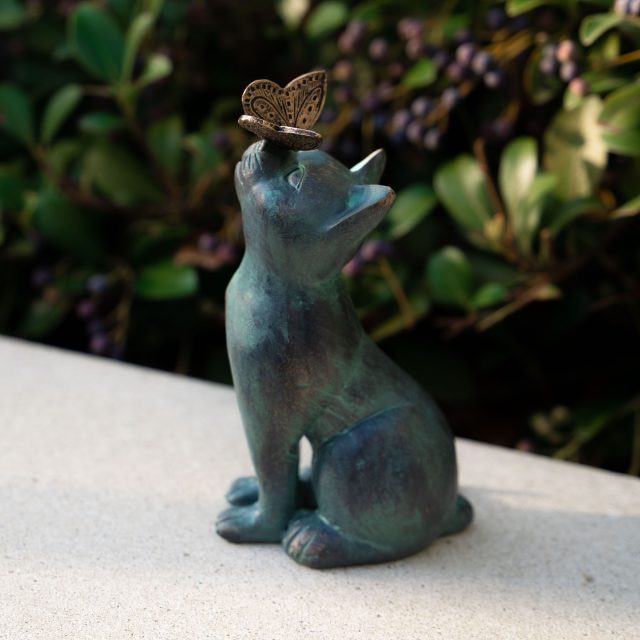 The Curious Cat with Butterfly Indoor/Outdoor Figurine is a delightful and charming gift that captures the whimsical and curious nature of our feline friends with its depiction of a playful cat gazing at a butterfly. Crafted with high-quality materials, it boasts durability that suits both indoor and outdoor settings, allowing the recipient to decorate their garden, patio, or indoor space with a touch of feline whimsy. The attention to detail in the sculpture is commendable, with realistic features and a beautiful finish that brings the scene to life. Its universal appeal makes it an excellent choice for cat enthusiasts of all ages, adding a playful and heartwarming element to their holiday decor.
Every Curious Cat purchased provides 5 healthy meals for hungry shelter cats.
The iHeartCats Butterflies & Paws- Artisan Shadow Solar Lantern casts a mesmerizing shadow pattern featuring butterflies and paw prints, creating a magical and serene atmosphere in any space it illuminates. The artisanal craftsmanship is evident in the intricate design, which beautifully merges the love for nature and pets. It's not just a solar-powered lantern; it's a piece of art that offers a subtle yet enchanting glow, perfect for evenings spent outdoors or as a cozy indoor accent. Giving this lantern as a gift is a wonderful way to light up the holiday season, offering a unique and thoughtful item that beautifully symbolizes the joy and tranquility pets bring into our lives.
Every Solar Lantern purchased provides 7 healthy meals for hungry shelter cats.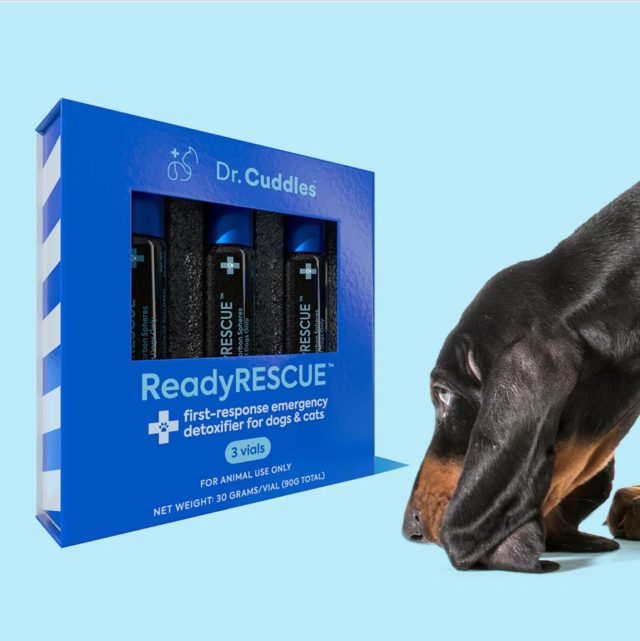 Give your cat and a loved one's felines the gift of safety this holiday season with Dr. Cuddly ReadyRESCUE Pet Detoxifier. This first-aid essential emerges as an essential and thoughtful gift for cat parents, focusing on the crucial aspect of emergency preparedness for their beloved pets. This detoxifier is specifically formulated to aid in the quick recovery of a cat's system following exposure to toxins, which is paramount in unexpected emergency situations. Its ease of use and fast-acting formula makes it a reliable first step in addressing potential poisoning, offering pet parents an immediate solution while seeking professional veterinary care. The product's safety and efficacy, backed by veterinary science, provide peace of mind, knowing that you have a proactive measure at hand.
Gifting this detoxifier isn't just about giving a product; it's about showing care and concern for a friend or family member's feline companion. In the event of an unforeseen toxic exposure, Dr. Cuddly ReadyRESCUE Pet Detoxifier can be a lifesaver, making it an invaluable addition to any cat family's emergency kit.
CatPerson Subscription Cat Food is a purrfect Christmas gift for your cat, offering a tailor-made dining experience that caters to their individual preferences and nutritional needs. This subscription service stands out for its customization options, allowing you to choose from a variety of premium, grain-free recipes that are sure to appeal to even the most discerning of palates. Each meal is packed with high-quality animal proteins and nutrients, ensuring a balanced diet for your cat's health and well-being. The convenience of having these freshly prepared meals delivered straight to your door takes the hassle out of pet food shopping, especially during the busy holiday season. Gifting a CatPerson Subscription to your cat is a thoughtful way to show your love and care, providing them with delicious and nutritious meals that will keep them happy and healthy.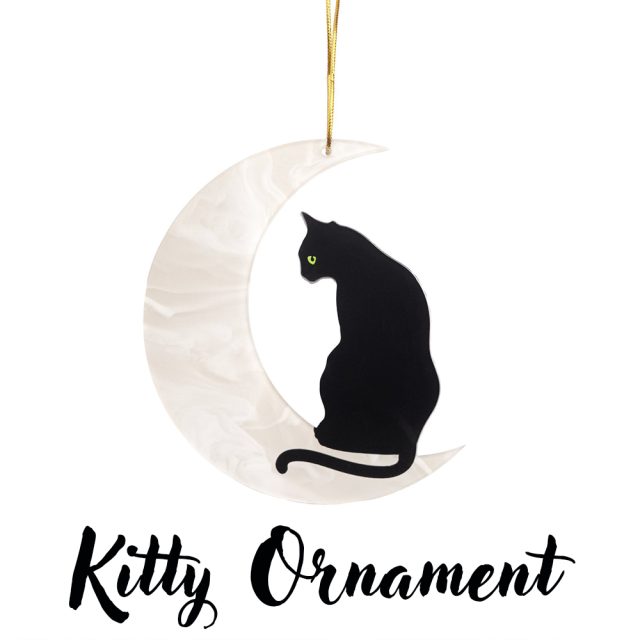 The Kitty Sitting On The Moon Black Cat Christmas Tree Ornament is a charming and delightful addition to any holiday decor, perfect for rewarding yourself for all the hard work this season. This acrylic ornament, featuring a whimsical black cat perched on a crescent moon, captures the magical essence of Christmas with a feline twist. Its attention to detail are immediately eye-catching, making it a standout piece on any Christmas tree. The quality craftsmanship ensures durability, meaning this ornament can become a cherished part of your holiday tradition for years to come and will most likely withstand a curious paw knocking it from a branch. Hanging the Kitty Sitting On The Moon ornament on your tree serves as a delightful reminder of the hard work you've put into making the holiday season bright and merry.
Every Kitty Ornament purchased provides 3 healthy meals for hungry shelter cats.

With this iHeartCats Holiday Gift Guide, you'll have your Christmas shopping done in no time. Any of these quality gifts will make the ones you love smile with delight. Plus, you can feel good about every purchase knowing you're shopping with a purpose. When you tell the cat lovers in your life their gift also provides for cats in need, they'll love their gift even more. So, let us help you give everyone you know and shelter cats across the land the merriest and brightest of holiday seasons this year!