Giggles, the cat, has something to say.
Judging by the look on his face, he might be ready to give us a tongue lashing! Oh, I hope we aren't in trouble with this grumpy-looking tabby cat.
Go ahead, Giggles, are you really as mad as you look?
Giggles the Angry Cat reported he's not mad at all, no matter how grumpy he looks. In fact, he told us, "Don't let my looks deceive you. I'm actually a really chill dude."
The sweet but scowly tabby assured us he's actually a very joyful boy. "I'm so happy that I don't have to worry about sleeping on the cold, hard ground anymore. I was scared and hungry every night."
Riggi Rescue staff and volunteers agree, positively gushing, "He is the SWEETEST BOY! WE LOVE HIM!
So, no angry tongue lashings from this grumpy-faced cat, but instead, loveable purr lashings are coming for everyone that Giggles meets!

Giggles the Angry Cat/Facebook
From the Streets to Home
His past is unknown, but Giggles had been living on the streets for a long while. When he finally made it to Riggi Rescue, the tabby cat was infested with ticks, and he was still unfixed. Plus, Giggles seemed to have been fighting in the days before he came to the shelter. He was suffering from a bite to the neck suspected to be from another cat.
Though he'd been living as a wild boy, Giggles was a cat who loved being with people, and his charming ways soon stole every heart at the rescue. Once they posted pictures of his grumpy face, social media fell hard and fast for him too. His "mean mugging" photos amassed over 3 million views in a hurry!
Among those millions was Giggles' new mom and dad.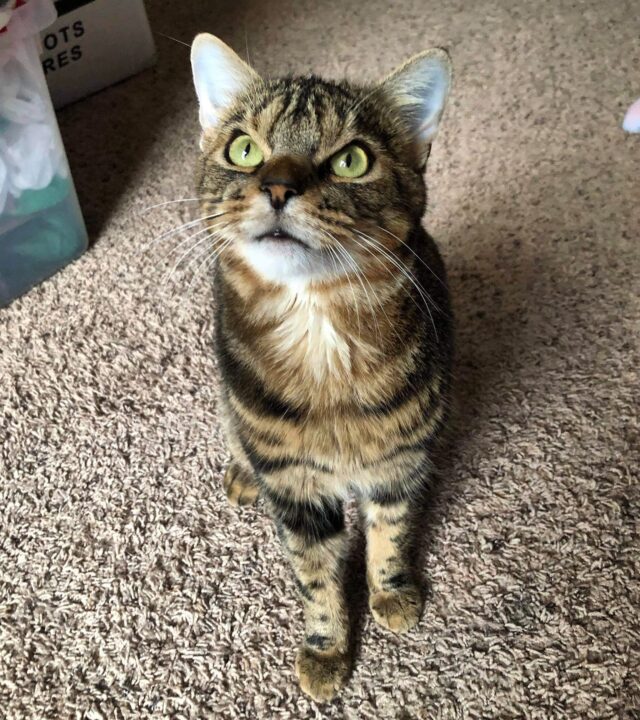 Giggles the Angry Cat/Facebook
After some tick-picking, neutering, and treatment for the cat bite, Giggles was soon adopted. Rescue staff shared, "The immediate connection between him and his new mom was so touching, and we were honored to be his stepping stone into his new life."
Official Spokescat
Though Giggles has made it to his forever home, he still has so much love for the shelter that saved him. He wanted to help them continue their mission.
"He is officially our new ambassador! You will be able to meet Giggles at our fundraising events in the near future," according to Riggi Rescue.

Giggles the Angry Cat/Facebook
And Giggles's rescue message is one we believe in with our whole hearts. "Adopt a cat or kitten in need, and change their life forever!"
Find Giggles the Angry Cat on Facebook and Instagram.
H/T: www.news5cleveland.com
Feature Image: Riggi Rescue/Facebook & Giggles the Angry Cat/Facebook