**WARNING: GRAPHIC CONTENT**
Colorado resident Camden Hall and his tabby cat Merlin are best buds. But in December 2021, while Camden was at work at the Eldora Mountain Ski Resort, the unthinkable happened. The Marshall wildfire raged through the towns and cities of Superior, Louisville, Broomfield, and the unincorporated areas of Boulder County. More than one thousand homes burned, and Camden's was one of them. And Merlin was at home when the blaze arrived.
Camden's landlord was the one who called him with the devastating news that his home had burned down to nothing. But it wasn't the possessions Camden mourned. Merlin was missing and feared dead in the fire. As it turned out, though, Merlin the cat had some kind of magic on his side.
The Missing Returns Unrecognizable
After the Marshall Fire, Soul Dog Rescue volunteers Morgan and Tyler set out into the wreckage of the blaze looking for animals in need of help and found Merlin.
As Soul Dog shared on Facebook, "The best rescue of the night was a severely burned kitty that was meowing on the porch of the single standing home on a block of other homes that were absolutely decimated."
Burned beyond recognition, Merlin was in severe pain and rushed to Northside Emergency Pet Clinic. Suffering body-wide burns, including severe damage to his face and paws, this brave cat had a long road to healing ahead. But Merlin's best friend would be right by his side.
Buddies Reunited
While no one knew this was the missing Merlin when he was first found, a microchip revealed his identity, and in another moment of Merlin's magic, Camden and his boy were reunited.
RELATED: Microchip Reunites Cat With Original Owner 14 Years After He Went Missing
Though they had found each other again, it would be a while before Merlin could come home from the round-the-clock care he needed to get back on his paws. Because he'd been burned so severely, Merlin couldn't eat and needed a feeding tube until he'd gotten past the worst of the pain. He also required regular bandage changes on his damaged paws.
Between fever, infection, and the misery of healing burns, Merlin needed all hands on deck. And care this phenomenal is expensive, especially when you've just lost everything you owned. But the goodness of GoFundMe solved that problem as donators have given more than $27,000 to help Merlin heal.
And Camden can't say think you enough, writing in an update, "Much love for all of you beautiful human beings!"
On Instagram, Camden also expressed his gratitude to everyone involved and those who sent their good vibes to the pair.
"I am extremely grateful for all the love and support you all have shown us during this hard time. I know I wouldn't be in such an amazing place in my life if it wasn't from all your help."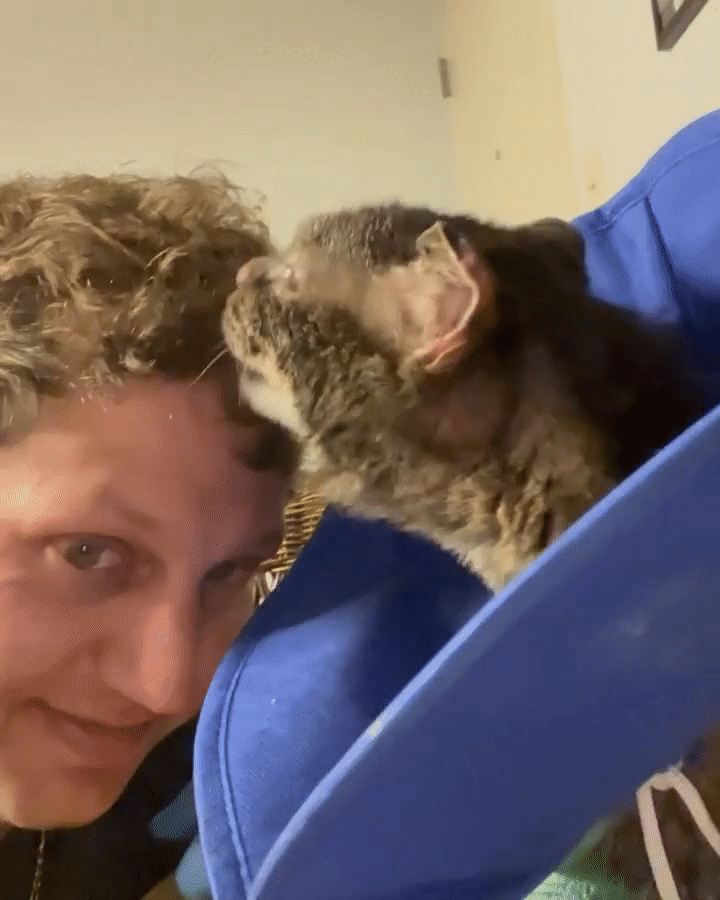 "A huge thank you to everyone who followed Merlin's story and recovery. Your love and support has done more for me than I can put into words. I love you all, forever grateful!"
Healing with Love and Support
While Merlin stayed at Northside for care, Camden came every day he wasn't at work on the slopes to support his feline buddy. Slowly and surely, Merlin began to eat independently, and the feeding tube came out. His handsome tabby stripes grew in again, the scabs started to fall away, and he gained weight. He's still struggling with an infection in his back leg, but new tissue has formed, signaling healing is underway.
RELATED: Tough Cat With Gentle Spirit Can Finally Relax And Heal In Loving Comfort
And as time went on, Camden explained, "His meows sounded calmer and that he was talking to me where before his meows felt to hold a lot of pain and sadness. I can't imagine the rollercoaster of pain and emotion he's going through."
But this cat dad is doing everything in his power to bring Merlin back to a place of pain-free joy!
"Whatever he needs I'll make it happen for my Mr. Kitty! He means the world to me and I am so GRATEFUL that he's still here kicking. He's one tough kitters like his dad, I'll give it to him though he's way tougher than me!"
Buddies Reunited
After 33 nights apart, the magically-tough Merlin came home to his new place with Camden. And just a few days later, the pair celebrated Merlin's ninth Gotcha Gay together. The cat lovers at iHeartCats.com are sending Merlin best wishes and the hopes that you and Camden will celebrate so many more Gotcha Days to come!
H/T: www.coleandmarmalade.com
Feature Image: @vtmonster/Instagram