Shelter cat, Sunny, was adopted into a loving family. The handsome Orange Tabby adjusted quickly and was one happy little boy! That was until his parents brought home baby Hazel. It seemed Sunny's personality had changed as if he disliked his new human sister.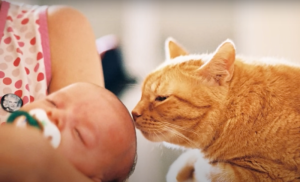 Sunny's parents were floored! He was such a warm, friendly cat. But not with Hazel. When it came to the beautiful baby, he was unimpressed. Hazel would lie on the couch on a comfy blanket, and Sunny laid down on the other end. This went on for months! Regardless, Sunny and Hazel's parents remained hopeful that the kitty would come around, but they never imagined this!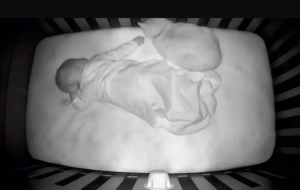 Mom and Dad purchased a baby monitor to keep a watchful eye on Hazel as she slept. One evening they looked over at the screen, and there was Sunny, curled up and fast asleep in Hazel's crib! Bewildered and perplexed, Mom and Dad tried to understand their cat's behavior but couldn't.
Well, the cat was out of the bag, so to speak! Sunny did have a soft spot for baby Hazel but wasn't ready to share his feelings with his parents just yet. The sweet but finicky furry creature loved his baby sister all along!
Please 'SHARE' to pass on this story to a friend or family member
Click 'SHARE' below to pass it on to a friend or family member!