This just in! Cats will interrupt anything a person is doing when they decide they're ready for some attention. And that's just what stray cat Frajola did to TV Paraíba correspondent Artur Lira as he tried his best to deliver a serious report regarding crime and arrest in Campina Grande, Paraiba, a state of Brazil.
Check out the moment Frajola the cat crashed Artur's report and then proceeded to redirect the scene to his cuteness. Artur couldn't help but laugh at Frajola's invasion, and he also couldn't help falling for the funny feline! And that created the best news of all; once the segment wrapped, Frajola decided he'd be joining Artur's family and that his forever home would be with Artur's Aunt Neide.
Crashing the News
As an early morning show reporter, Artur starts work at 5 a.m., and his beat often takes him to the Campina Grande Police Center. There, he's seen many a stray cat hanging out at the station as the officers often feed and care for them. And like cats are known to do, they've typically ignored Artur and his camera crew. But one morning, Frajola decided he was a fan of the reporter and introduced himself to Artur by twining through his legs as he recorded his piece.
RELATED: Meteorologist Falls For Feline And Weather Cats Could Have Predicted It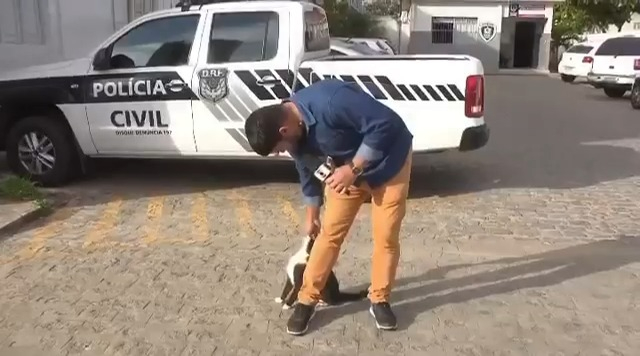 Artur told Globo News, "I was recording a bulletin about the case of a woman who was arrested after trying to enter a prison with cocaine inside a lunchbox. Serious news."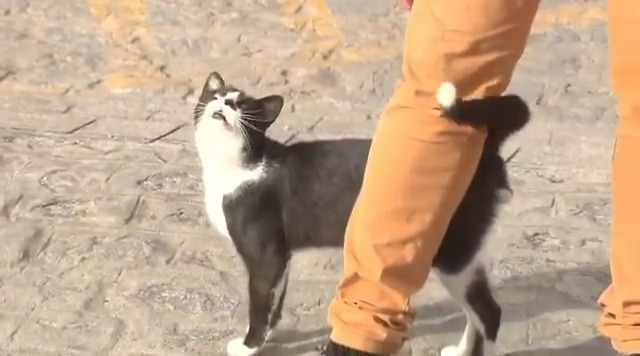 Tickled by the feline intrusion, Artur shared, "I asked the cameraman to continue recording so I could show my co-workers in the newsroom."
And when Artur tried to move locations, Frajola followed.
"The cat climbed into one of the vehicles and stood in front of me. That's when I couldn't take it anymore and started laughing."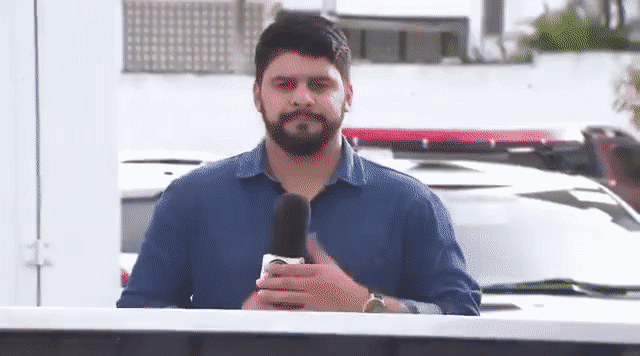 "Everyone is saying that when the cat caresses someone, it is because he has already adopted that person," said Artur. "People are asking me to adopt the cat. I want to adopt him, but I'm trying to negotiate with my mother."
Artur's family had just lost their dog of eighteen years, and his mom was still brokenhearted over the pup's passing. She just wasn't ready for a new furry one yet. And Artur understood.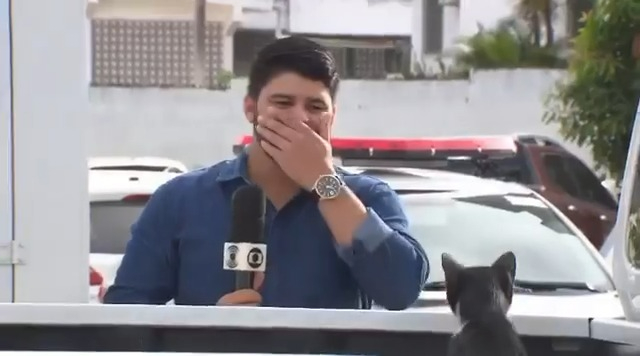 Frajola Becomes Former Street Cat
But Frajola, the Portuguese name for Sylvester of the Looney Tunes, knew he was meant to be part of the family, and so did Artur's Aunt Neide.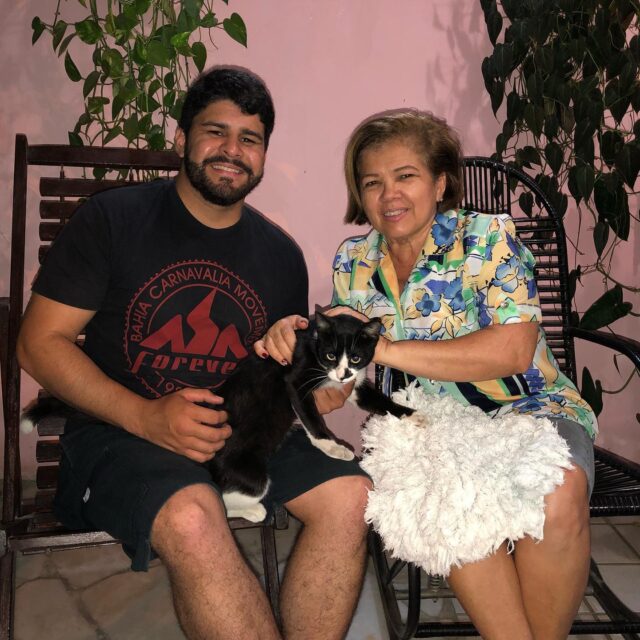 "I'm very happy because he's going to stay in our family," Artur shared on Facebook, "My aunt lives close to my house, so I often visit him."
Since his adoption from the streets, Frajola has been neutered and happily settled into his new home! Want to see another cat who doesn't mind interrupting? Check out Silly Cat Photobombs New Jersey State Police During A Very Serious Moment!
Feature Image: Artur Lira/Facebook