February 2017 was a devastating month for Joya and her two sons. They clung to each other in support as Joya's husband and the boys' father passed away after weeks in the hospital. The family was devastated by their loss, and a month later, they were hit again. Their beloved senior dog followed her owner and crossed the Rainbow Bridge.
Joya and her boys were left to face their grief as a significantly smaller family. They stood strong and made a commitment to keep each other going. It was the hardest thing they ever had to do, but they vowed to do it together. For months, they muddled through their emotions in search of respite from their pain.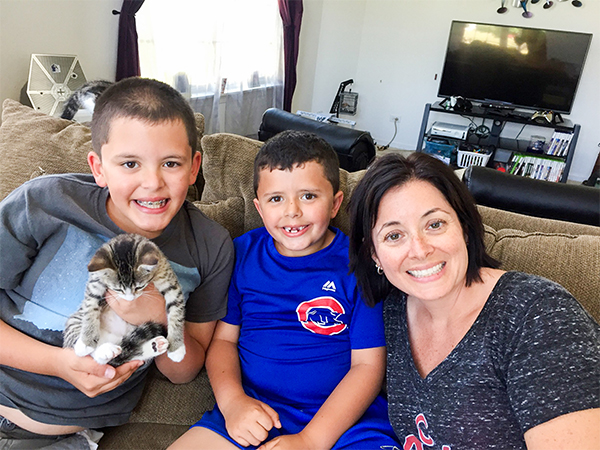 Joya's seven-year-old son was especially affected by the tragic loss of his father and dog. He'd never known life without either, and learning to move on was a difficult journey. The boy's ten-year-old brother, while reeling with his own experience, was determined to do everything he could to help. Although his own birthday was overlooked while his father lay dying in the hospital, he set out to make his brother's upcoming birthday special and meaningful.
When the family next door introduced the older brother to two foster kittens they were caring for, he got an idea. His brother has always been an animal lover, and he couldn't think of a better birthday gift. Joya wrote in an essay to the Petco Foundation,
"By the time he was born, our dog was beginning her senior years. Knowing that her days were coming to an end, my younger son had asked for a dog, a cat, a bird, a lizard, a fish—anything alive that would benefit from his love and care. "
As a grieving mother with two children to care for and no experience with cats, Joya was initially hesitant to take on the responsibility of being a pet owner once again. But when her older son offered some of his birthday money to help pay for the kittens' adoption fees, the look in his eyes made it clear what her decision would be. The little boy was getting two kittens for his birthday.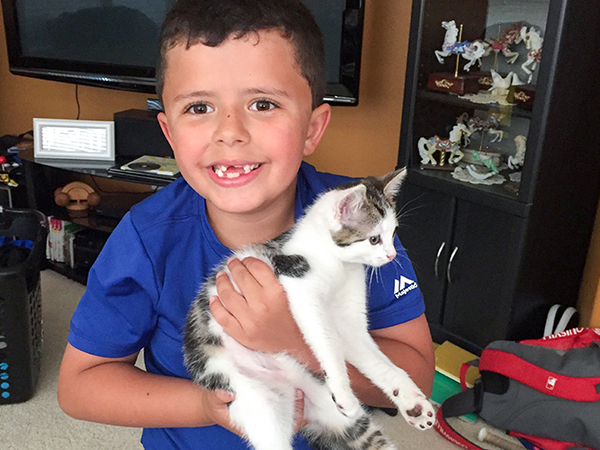 Joya and her older son managed to keep the idea a secret until the big day. To celebrate the boy's birthday, the whole family gathered around to show their support. Joya said,
"We managed to keep the secret while we made all the necessary preparations for the kittens to come home. And they made quite an entrance. My mom and sisters were there to celebrate as my son and I presented the two most precious kittens to a seven-year-old who had lost the sparkle in his eyes. A seven-year-old who was so in awe of what his mama and brother had done, that he didn't know what to say. "
The boys named the kittens Mia and Sophia, and the new family of five quickly bonded. The boys helped care for the kittens when they needed medication for a virus, and they provided all the love and cuddles they could ever need.
"There will never be a replacement for a beloved papa, or a boy's first dog. However, with the blessings of an amazing neighbor, my kids have found that they can feel joy again. And I have, too."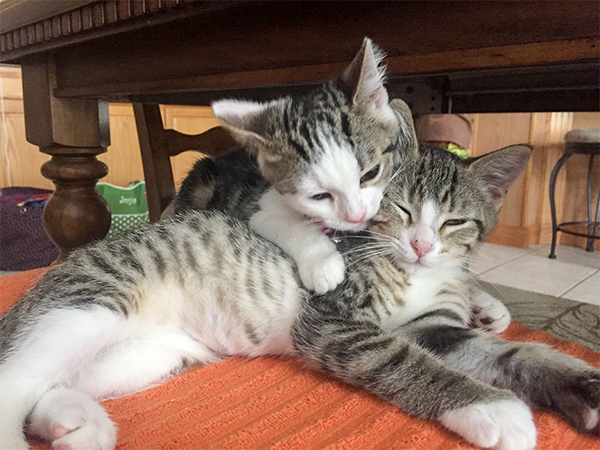 Joya's essay was chosen out of hundreds of animal adoption stories to be featured as part of the Petco Foundation's Holiday Wishes campaign. She earned a significant amount of money to be donated to an Illinois animal shelter as part of the foundation's initiative to donate more than $765,000 to animals in need for the holiday season. Joya's grant will be awarded on December 11 when she'll learn the exact amount.
Joya's story of finding joy through adoption is only one of the many heartwarming tales shared through the Petco Foundation's Holiday Wishes Campaign. From now until December 20, readers are encouraged to vote for the People's Choice Award. The five organizations with the most votes will receive additional funding between $5,000 and $25,000. Vote now to help grant an animal welfare organization their holiday wish.
Featured Image via Petco Foundation