As the largest no-kill, cage-free cat shelter in Georgia, Furkids Animal Rescue & Shelters helps countless kitties find new homes. Stop by their shelter and you'll find tabby cats, black cats, big cats, and kittens, but they also have a different kind of cat population waiting to be adopted.
Furkids is one of only a few rescue organizations that takes in and cares for cats with feline immunodeficiency virus. Called FIV for short, cats that test positive for this lentivirus are often euthanized. It's an extremely misunderstood condition, and Furkids is determined to set the record straight.
https://www.facebook.com/furkidsfivcats/photos/a.223252417730380.67268.217196318335990/755887177800232/?type=3&theater
Popular perception considers FIV to be a death sentence, but in reality, it's nothing more than a diagnosis for a weakened immune system. FIV+ cats contract illnesses more easily, but with regular veterinary attention, they live long, happy, and healthy lives.
There is no physical distinction between a cat with FIV and one without, and with the exception of extra veterinary precaution, there is no difference in the way they're cared for.
https://www.facebook.com/furkidsfivcats/photos/a.223252417730380.67268.217196318335990/1023169454405335/?type=3&theater
The FIV+ cats at Furkids live comfortably in their own rooms within the main cat shelter. The walls are colorful, the windows are big and bright, and toys are strewn across the floor.
About 60 FIV+ cats call Furkids home, and they receive the same care and attention as the cats without FIV. They're found as strays, rescued from floods, and many come from other shelters that do not keep FIV+ cats.
Furkids receives countless requests to take them in, but their limited resources prevent them from saving them all. A Furkids representative told iHeartcats,
"Our staff and volunteers treat the FIV+ cats with the same TLC as the other cats. The only difference is that FIV+ cats are more closely monitored for any signs of illness because their immune systems are compromised."
Their immune systems have to work harder to keep them healthy, but FIV+ cats are as curious, playful, and outgoing as any other cat. Furkids volunteers say the FIV+ cats are some of the friendliest at the shelter.
Toots, a Furkids favorite, is an explorer who spends his time at the shelter learning about his environment. He loves to play with kids and is looking for a family to call his own.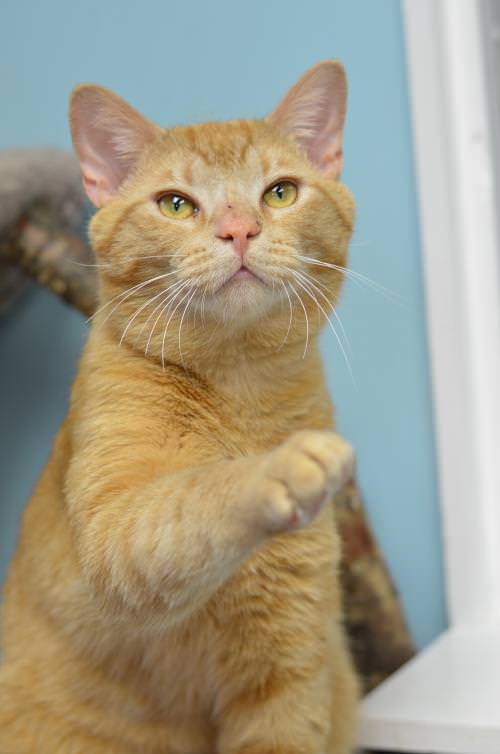 Penguin, nicknamed the Vidal Sassoon of the FIV+ program, has made it his personal mission to keep his feline friends perfectly groomed. His internal clock is never late for mealtime, and he'd love to join a family with other cats. His feline siblings can be FIV+, but he'd also fit in well with cats that don't have FIV.
https://www.facebook.com/furkidsfivcats/videos/1197870246935254/
There's no reason why FIV+ cats can't live together with other animals, and Furkids is leading by example.
Jillian, a senior cat who is FIV free, is best friends with FIV+ Angelica. They live together at the shelter, proving that a compromised immune system is not contagious. The cats don't discriminate, and Furkids wants to show humans that they should't either.
https://www.facebook.com/furkidsfivcats/photos/a.223252417730380.67268.217196318335990/1311279798927631/?type=3&theater
Furkids calls FIV+ cats the underdogs of the cat world. People think they're sickly, contagious, and don't live as long, but none of that is true. Furkids says,
"Adopting an FIV+ cat is virtually the same as adopting any other cat—they are affectionate, beautiful, funny, playful, and like all cats, have personality quirks that make them special in their own unique ways."

Furkids works hard to give all cats a chance at life, and adoption fees for FIV+ cats are always $0. They are spayed or neutered, microchipped, and come with a full bill of health. Furkids also offers complimentary veterinary services for the first year after adoption. They want their FIV friends to live long, healthy lives, and they need help to make that happen. Visit their adoption page to find your future FIV+ family member.
Featured Image Source: Facebook/Furkids FIV+ Cats