Cats get dry, itchy skin for a number of reasons. They could have a food allergy, be sensitive to something in their environment, or have a skin parasite. A visual inspection of their skin may give you insight into the problem, but stopping the itch is a different story. Parasites will likely require a specific plan of attack, but if your cat has allergies, adding Omega fatty acids to their diet could be the powerful ingredient you've been looking for.
What Are Omega Fatty Acids?
There are two main types of Omega fatty acids—Omega-3 fats and Omega-6 fats. They're polyunsaturated fats that contain numerous health benefits. Your cat needs both to stay healthy, but their bodies don't produce them naturally. They rely on their diet to give them the nutrients they need, but most commercial cat food is seriously lacking in these types of "good" fats. Omega fats are best known for being anti-inflammatory, and they can boost your cat's immune system to help stave off symptoms of allergies.
Signs Your Cat Could Benefit From More Omega Fatty Acids
Knowing whether or not your cat is suffering from allergies requires keen observation and a chat with your vet. An allergy is a body's overreaction to some kind of foreign substance. The immune system thinks it recognizes a threat and releases antibodies called immunoglobulin to respond. The action triggers several kinds of reactions—none of which are pleasant for the host. Other skin conditions, like feline miliary dermatitis, have similar effects and can also be helped with Omega fatty acids. Here are the most common signs your cat is suffering from allergies or a skin condition.
Increased scratching 
Itchy, runny eyes
Frequent sneezing
Excessive snoring
Itchy ears

Where To Find Omega Fatty Acids
Because Omega fats are known to reduce skin inflammation and bolster the immune system, supplementing your cat's diet with Omega fatty acids may bring them noticeable relief to their allergy symptoms. The baking process that most commercial cat food goes through essentially kills any Omega fats in the original recipe.
Instead of relying on regular cat food, there are dietary supplements you can add to their dish. Fish and krill oil are the most potent sources. When choosing a supplement, look for high quality sources of EPA, DHA, GLA, and vitamin E (the main components of Omega fatty acids). Omega fatty acid supplements come in everything from pills to powder and chewable treats.
It's important to consult a veterinarian before changing your cat's diet. Your cat will benefit most from an Omega fatty acid supplement if you keep it consistent. It may take a month to see noticeable changes in how often your cat itches, and many veterinarians recommend sticking to a diet rich in Omega-3 and Omega-6 fatty acids for at least 12 weeks before making judgement. It won't cure your cat of allergies, but they'll appreciate any kind of relief from itchy skin.
Looking for an omega fatty acid supplement for your kitty? We've created our ideal supplement made with pure Antarctic krill, a low-contaminant marine animal source of omega fatty acids. Introducing Omega 3-6-9 Select Grain Free Skin & Coat Chews with Pure Antarctic Krill Oil. Our recipe was specially formulated with omega-rich krill meal to provide the best quality omega supplement around. Plus, each container provides 14 healthy meals for shelter pets!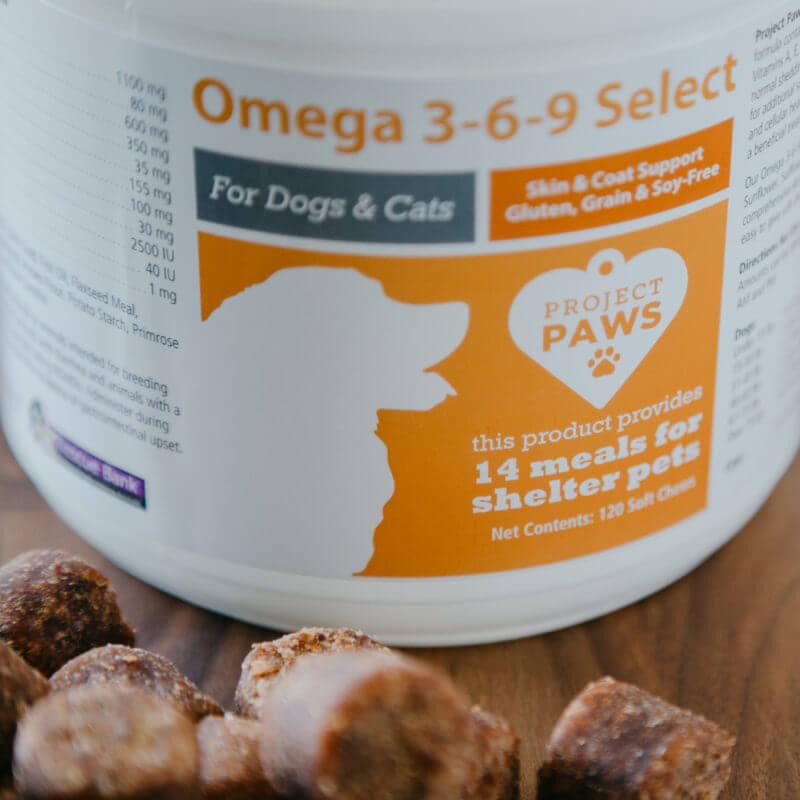 These statements have not been evaluated by the Food and Drug Administration. This product is not intended to diagnose, treat, cure, or prevent any disease. The information on this website is not intended to replace a one-on-one relationship with a qualified healthcare professional.