A tiny, black kitten with a heart condition found a life he might never have known if not for the help of dedicated volunteers and rescue staff.
Brought to a shelter in Quebec City, the little kitten was discovered to have a heart condition. The shelter wasn't equipped to handle a cardiac case, but volunteers and staff wouldn't be deterred from giving the sweet baby the care he needed.
They contacted Chatons Orphelins Montréal for help the with little cutie. Chatons Orphelins Montréal is a network of dedicated foster families trained to help special needs cats and kittens. Their aim is to place their rescues with families who can give special needs felines an ideal home.
The group was more than happy to take the fuzzy kitten.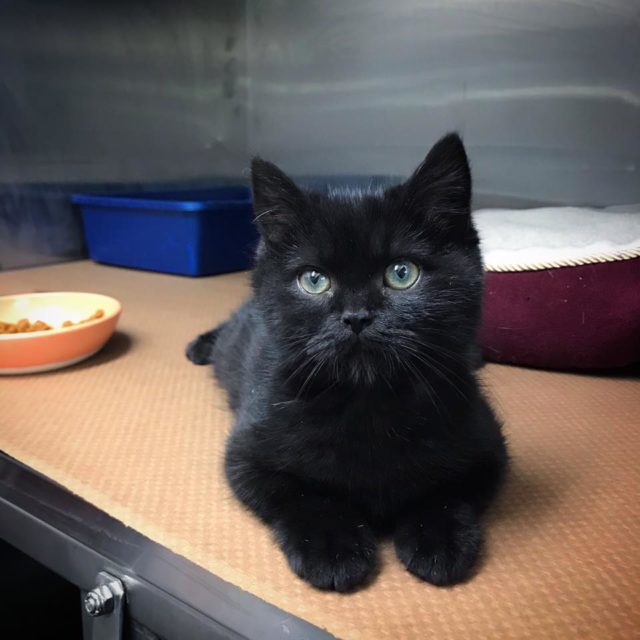 Chatons Orphelins Montréal/Facebook
Chatons Orphelins Montréal's Celine Crom told Love Meow, "A volunteer drove two and a half hours to transport the kitten to us. He had a team of people rooting for him."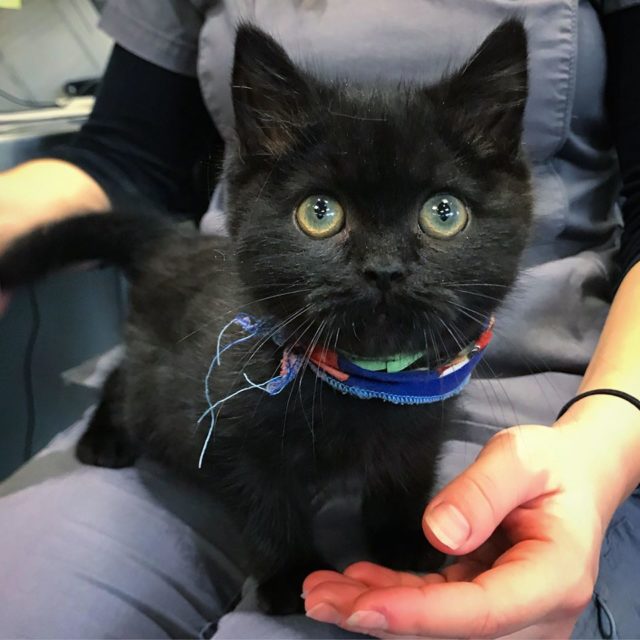 Chatons Orphelins Montréal/Facebook
A Well-Behaved Kitten Makes Friends at the Vet
Once placed with foster, the kitten was named Chouk and taken to see a veterinarian to learn more about the kitty boy's heart problems.
At the vet, Chouk showed no fear, "purring throughout his first consultation at the vet."

Chatons Orphelins Montréal/Facebook
To be so brave and strong, the sweet black cat indeed has a bum ticker. His breathing sometimes grows heavy due to the enlarged condition of his heart. Sadly, he's considered to be in "heart failure", according to Chatons Orphelins Montréal.

Chatons Orphelins Montréal/Facebook
"He has a severe heart defect and a lower life expectancy — anywhere from a few months to a few years," Celine reported.
Chouk will require daily medicine for the duration of his uncertain life. But for all the days Chouk has on Earth, he will be loved and cherished.
A Delicate Heart Finds His Forever Home
Chatons Orphelins said Chouk "is naughty and lively", but its not good for the kitten to get overly wound up as too much play stresses his delicate heart. The ideal house for the darling boy needs be a "quiet environment" as not to overexcite him. This fact coupled with his need for daily medicine would make finding the right fit a little trickier, but Chouk's family was out there.
And right around Christmas time, the adorable kitten and his forever family found each other.

Chatons Orphelins Montréal/Facebook
Seeing Chouk on Facebook, the family knew they'd found their newest member. When they met him in person, he greeted them with purrs and snuggles, as if to say, "you're the ones."
The family renamed the kitten Noel, because the little black cat "was their little Christmas miracle," according to Love Meow.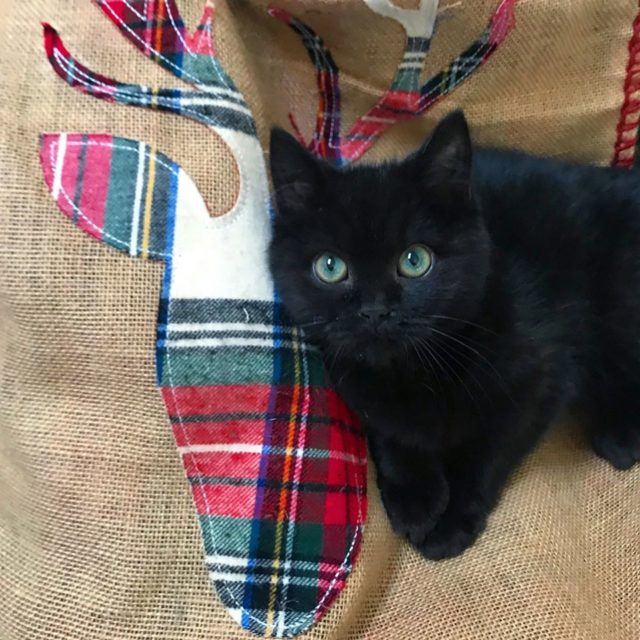 Chatons Orphelins Montréal/Facebook
"At three months old, the kitten found the perfect home he'd been waiting for," reported Celine.
"His future is in the best hands and we are so happy for him."
H/T: LoveMeow
Feature Image: Chatons Orphelins Montréal/Facebook