Your purchases made it possible for Tina the cat to grow into a healthy feline that found her forever family. She thanks you, along with every shelter cat purring over a bowl of food. Your generosity makes you a hero to kitties in need.
Thanks to a partnership between iHeartCats.com and GreaterGood.org, every purchase made helps animal shelters striving to give every cat a home. The Rescue Bank, a pet food distribution initiative in the GreaterGood family, has been keeping hungry bellies full in shelters across America since 2011. To date, Rescue Bank has fed shelter animals over 80 million meals.
By simply purchasing adorable merchandise, you helped elevate that number further.
Tina the cat encourages you to reach out and buy yourself or a loved one something nice while helping animals in need…
Tina's Story
Porpentina, nicknamed Tina, and her siblings were rescued as tiny kittens when their mother nowhere to be found. As newborns on their own, their chances weren't good, but a kind soul found them, surely saving their lives. Specialized in neonatal care, Bottle Babies Rescue knew just what to do, bottle feeding the babies and providing the care needed for them to thrive.
Though Tina struggled with illness, in the hands of trained volunteers and staff, she overcame. The tiny kitten grew into a sleek beauty of grey, white, orange, and stripes.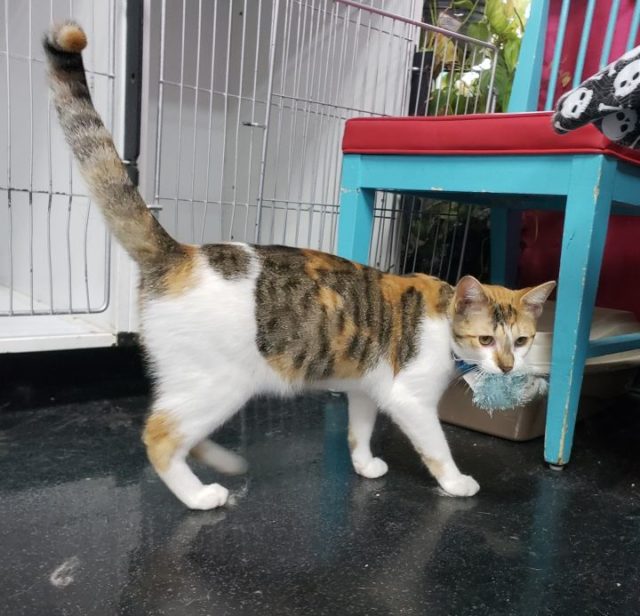 Bottle Babies Rescue/Pet Finder
She spent some time hanging out in PetSmart kitty condos as well as a grooming salon. Because she's grown used to bustle, Tina is well-adapted to the pace of life. The sweet girl loves snuggles, children, and other animals thanks to being handled since her earliest days. Her one request in a home was quoted on Petfinder, "I love to play with toys and to climb on the cat tree so a home that likes to have fun would be great!"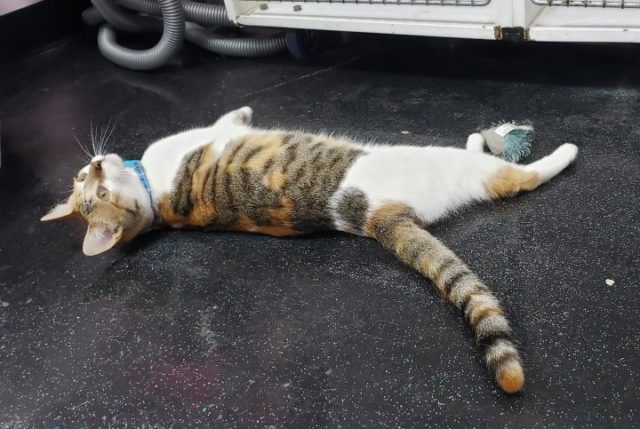 Bottle Babies Rescue/Pet Finder
Tina found her forever home in a hurry. No surprise with a kitty so sweet!
Rescue Bank Makes a Difference
Bottle Babies Rescue holds deep gratitude for the Rescue Bank and their efforts. "Through the supplies we received from GreaterGood.org's Rescue Bank, Tina was able to grow with quality food. She played with toys provided through durable goods pallets as well and even took her favorite toy with her to her new home. Rescue Bank has made a difference like this with many of our animals!"
Finding a forever home as a healthy well-adjusted feline, Tina is a success story, one of many achieved by the efforts of Rescue Bank, GreaterGood, iHeartCats.com, and you!
Once more, thank you for your support!
Feature Image: Bottle Babies Rescue