Hachiko is the most loyal dog in Japan, and his story inspired the movie, Hachi: A Dog's Tale, starring Richard Gere. Hachiko's owner was a professor at the University of Tokyo, and every day, Hachiko would go with him to Shibuya Station to send him off to work. While the professor was at work, Hachiko would sit at the station waiting for the professor to return. This was their routine day in and day out, until one day the professor did not return. Unbeknownst to Hachiko, the professor had suffered a brain hemorrhage and would not be returning to the train station again. Ever the loyal best friend, Hachiko continued to wait at the station platform until his own death 10 years later. News spread of Hachiko, and over the next 10 years, he would have many people that would bring him treats and visit with him. Years after Hachiko's passing, the people put up a statue to remember the loyalty that he showed to his owner and best friend.
To this day, the statue continues to have visitors and is also a common meeting spot for friends going out for the night. Recently, Hachiko has had a new, recurring visitor hanging out with him… a cat! Hachiko's new companion appears to be a well groomed and domesticated cat. The kitty takes naps, sun bathes and just hangs out with Hachiko during the day. Many people have captured some cute pictures of the two together and shared them on social media. In the video you will see many people surrounding the statue, flashes going off, people posing next to the two of them, and the cat couldn't be bothered and just wants to continue taking his catnap!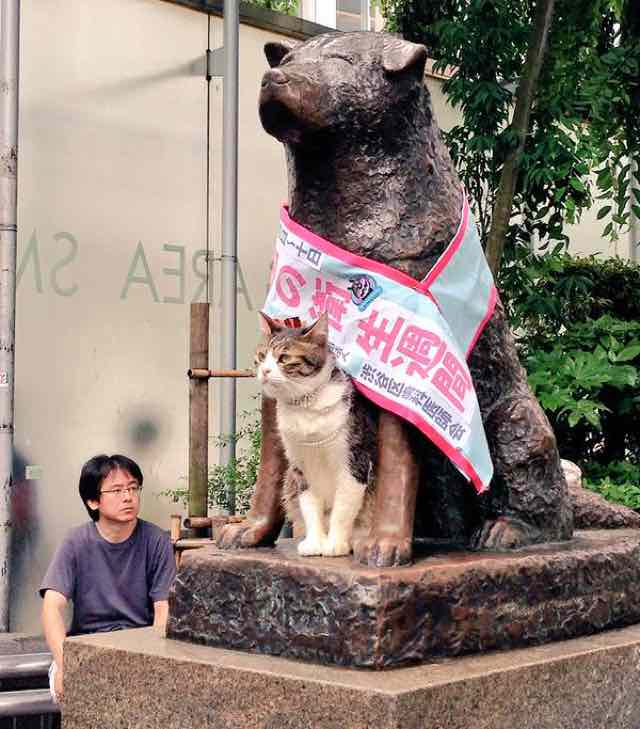 Share this cute video of Hachi and his new feline friend!
Did you like this?