Sarayo and Selena were just three weeks old when Hurricane Harvey brought them to Austin Pets Alive! (APA!). Safe and sound from the hurricane and flooding, these adorable siblings cuddled up in APA!'s kitten nursery, no longer scared and alone.
The nursery specializes in caring for orphaned kittens, a pet population that typically faces euthanasia in traditional shelters because of the constant care and frequent feeding they need.
In Austin, APA!'s kitten nursery provides a vital safety net for these babies, giving them a chance at life and adoption. As APA! responded to Hurricane Harvey, helping thousands of pets in need, the nursery was able to provide safe haven to kittens at risk of drowning, starving or euthanasia.
As dozens of Harvey kittens, including Sarayo and Selena, made their way to Austin, emergency grant funding from iHeartCats' charity partner, GreaterGood.org enabled APA!'s neonatal nursery to provide them with the care they needed without jeopardizing its ability to continue meeting local needs. 
Every purchase made from iHeartCats helps provide food to shelters across the country, allowing more funds to go towards emergencies like the Hurricane Harvey rescue efforts.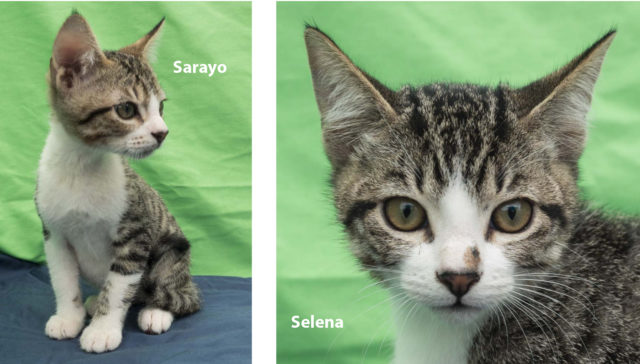 Sarayo and Selena were soon strong enough to be placed with a foster who specializes in caring for young kittens. There, they played, snoozed, snuggled and continued to grow and thrive. Their luck continued to improve when they were adopted—and even better, they were adopted together! Now they are happily living with their forever family who "love Selena and Sarayo so much!"