Mouse came to the Best Friends Animal Society's Salt Lake City Kitten Nursery along with his mom and siblings. They were feral and wild. The staff at the shelter also quickly noticed that Mouse had a congenital deformity that was causing his front legs to not develop properly. He was placed in foster care so that he could receive more personalized attention.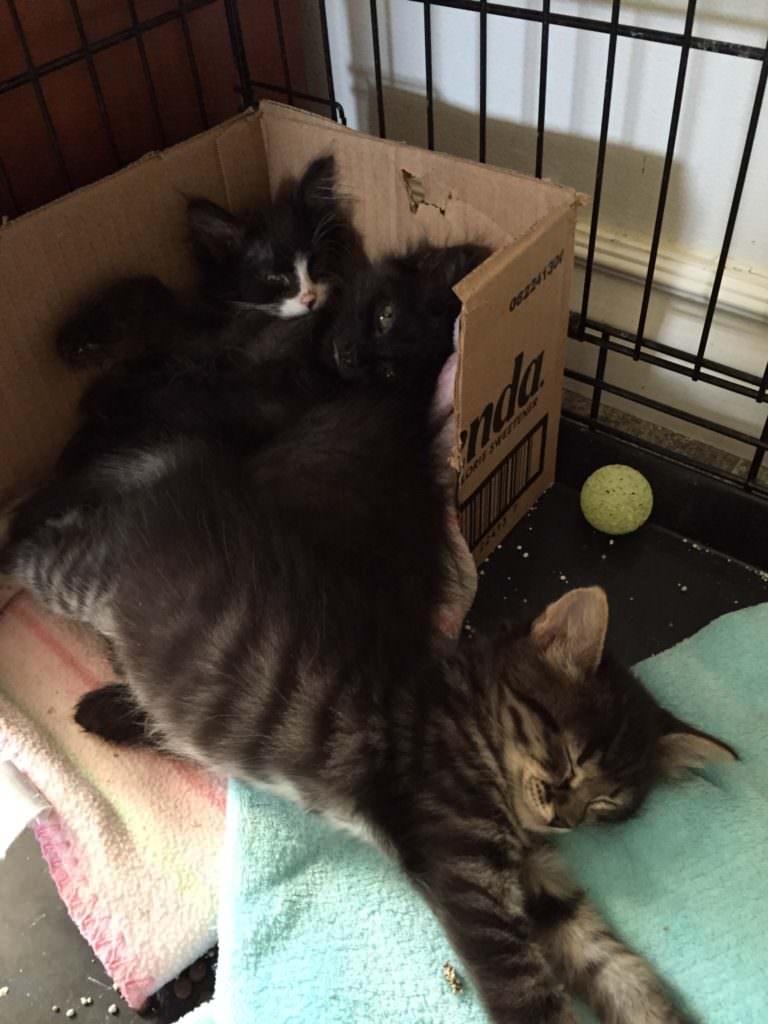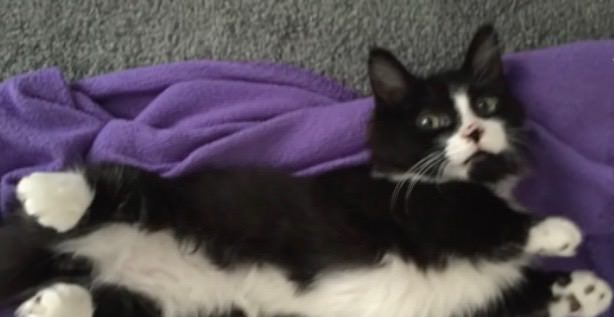 Many feral cats take a long time to get used to being inside around people and even other cats. But Mouse flourished in his foster home, showing them he was not only brave and adventurous, but that he enjoyed being a house cat!
He also loves boxes and bags! Soon, it was time for Mouse to find a forever family of his own, and as fate would have it, his foster mom was sure she knew the perfect couple.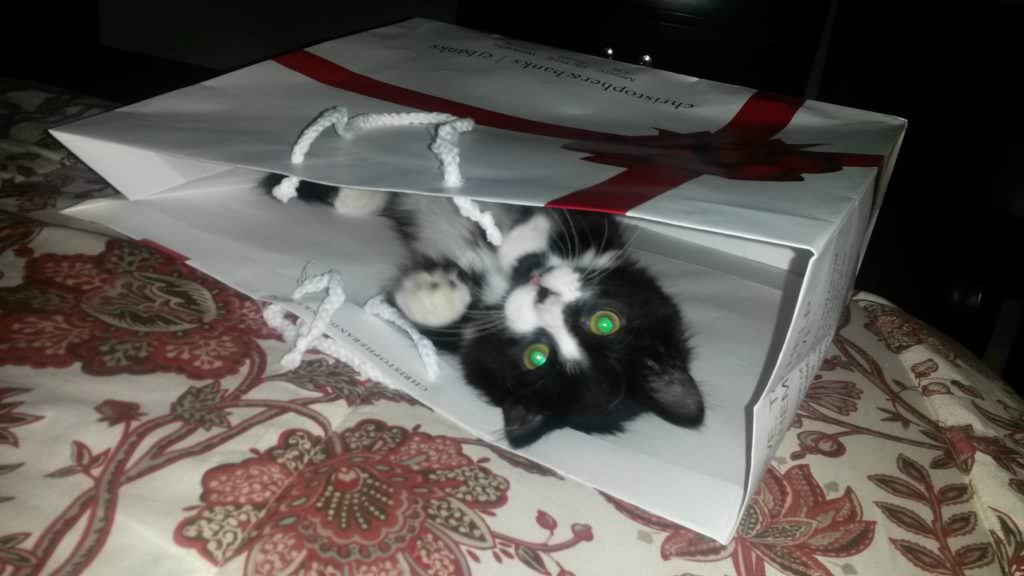 "One of Lana's friends at work volunteers for Best Friends Animal Shelter in the Salt Lake City area, and was a foster mom for a dwarf kitten named Mouse," Curtis Crichton told iHeartCats. "She kept telling us about this cute little kitten, and how we would be perfect parents for a kitten with special needs. We met Mouse, and I'm not sure if we picked him or he picked us, but I do know we fell in love with him."
Curtis and his wife Lana weren't really looking for a kitten – she's allergic! – but they were instantly smitten with the short-legged kitten, who they say hardly acts like he has a disability at all.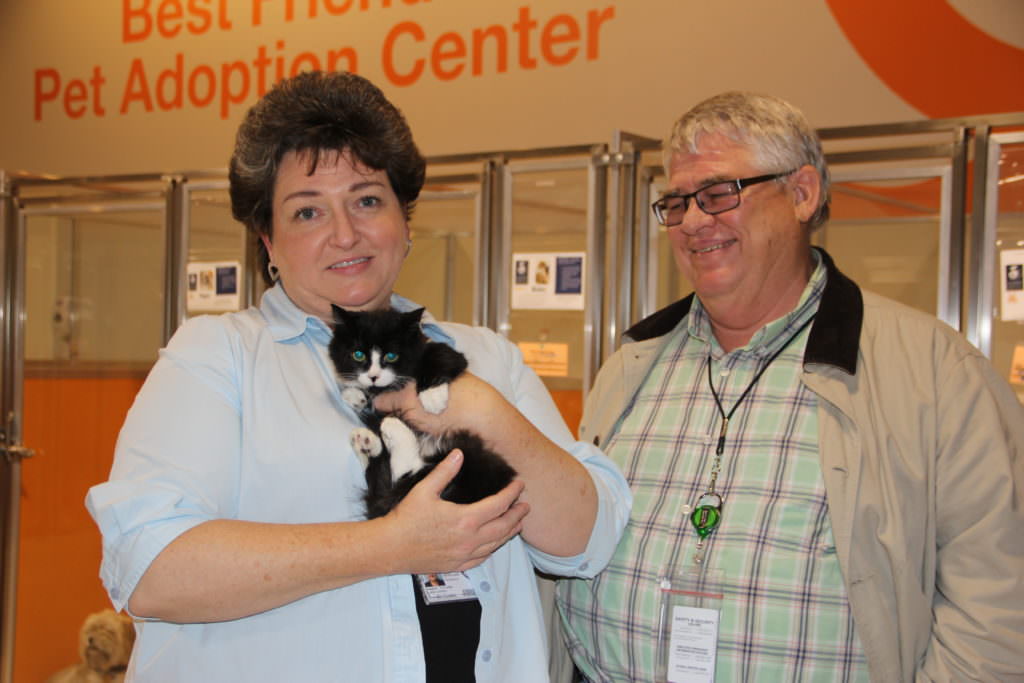 "We don't think of him as having a disability- in fact, when we see other cats, their long legs look strange to us," Curtis said.  "If he's been running hard, he'll sometimes stop to catch his breath, because his rib cage is a bit smaller than normal."
They renamed him Outlaw Baby Smalls (Smalls for short), whose antics are anything but small.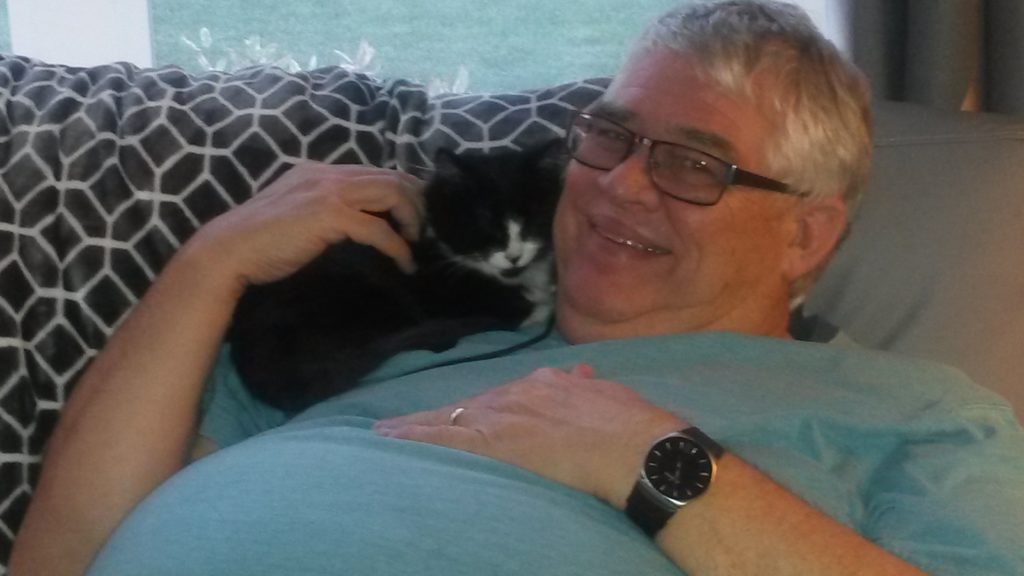 Smalls is the king of his new home Curtis said:
If I had to describe his demeanor I'd say he's more like a lion hunting on the plains of Africa than an 8-pound house cat. Being a feral kitten, he still hides from strangers and won't come out for a few hours. It's hard to describe how much we love this little kitty, and we wouldn't trade him for the world. He goes everywhere in the house we do, watches TV with us, plays with us and sleeps curled up next to Lana's hip at night.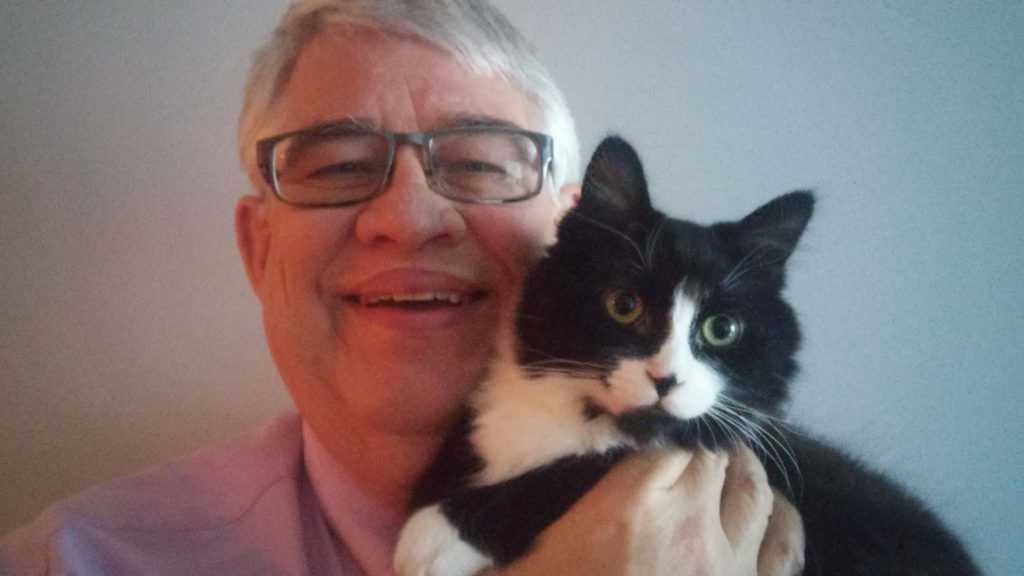 Curtis said he loves to play with the plastic rings from milk bottles, which he bats around for hours. He loves the feather toys on poles, attacking feet from under the dust ruffle, and salmon treats. When it's time to nap, the top stair with the morning sun streaming in is purrfect, or a chair in the upstairs study.
Wondering how he gets around on those tiny legs? Curtis has a story that perfectly illustrates Smalls's big personality:
One morning I was cooking polenta for breakfast and turned to put something in the refrigerator. When I turned back around there was Smalls, on top of the kitchen counter with his nose down in my pot of polenta. I picked him up and put him on the floor and asked him how he got his tiny self clear up there?

He streaked across the living room, trampolined off the couch onto the back of our stuffed chair, and leapt to the back of one of our dining room chairs. From there, it was a short hop to the kitchen counter.  He walked around the counter, past the sink and over to the stove where I was standing and, I swear to God, looked me right in the face and said, "There Dad, that's how I did it!"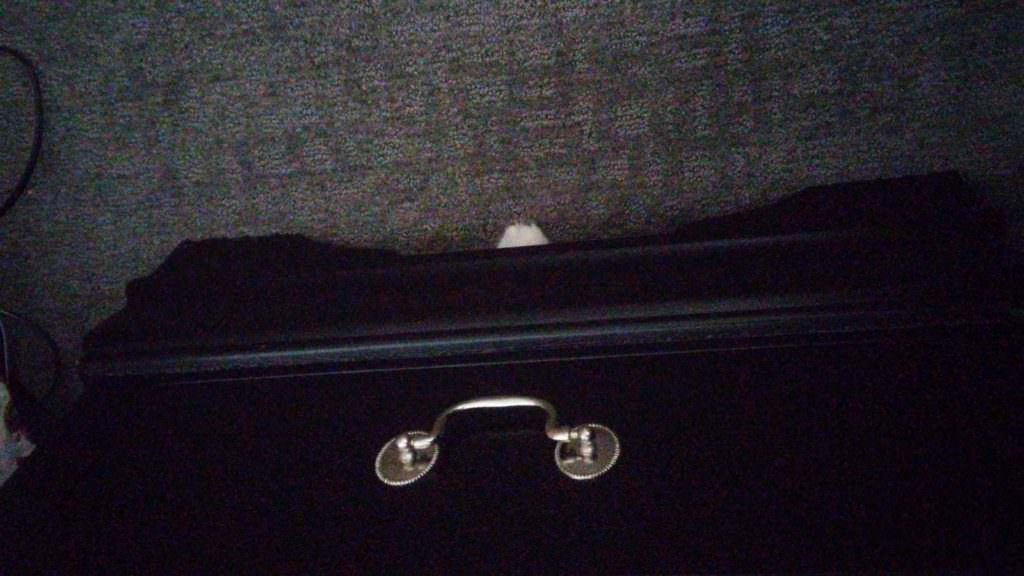 The following adorable adoption video was created by Best Friends Animal Society Staff Videographer Erin Fell:
Thanks to the Best Friends staff, Smalls has a wonderful life ahead of him, full of love, toys and salmon treats. But there are thousands of other kittens are without a warm place to sleep or a lap to snuggle. You can help other kittens like Smalls by donating to Best Friends Kitten Nursery here.