When feral cats are brought in from the street, the "solution" to their problems is usually euthanasia. They're unaccustomed to being around humans, and scratching, biting, and hissing are their ways of communicating their distrust. But when an aging feral cat with advanced kidney disease was found in October of last year, his rescuers wanted a better future for him.
The cat, later named Mason, was trapped as part of a Feral Fix-a-Thon that intended to help control the large population of feral cats and prevent unwanted litters. The senior cat was battle-scarred from a hard life on his own. He had a large growth on his paw that prevented him from putting weight on his foot and needed to have several broken and abscessed teeth removed. He also tested positive for advanced-stage renal disease and would have suffered if left in the wild with his colony.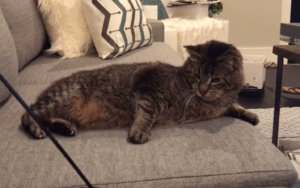 There were two options with Mason: euthanasia or life as a house cat. In an attempt to let the aging cat live his last months in comfort, his rescuers from TinyKittens brought him home. He was difficult to handle and needed daily medication, but with time, he grew accustomed to life indoors. He started playing with toys and seemed content to simply lounge on the couch. He was still wary of humans, but Mason was obviously happy to be alive.
After a few months of showing the former feral what life was like in a home, Mason's rescuers thought his life was as good as it could possibly get… but then they brought home foster kittens.
Moo Shu, Hatch, and three other kittens from the same litter were born to a feral cat found living in a colony. They were curious and adventurous, and couldn't stay away from the strange grandpa cat that liked to hide under the furniture.
Eventually, the foster kittens worked up the courage to approach Mason. No one knew how the fierce feral would react to the tiny newcomers, but what they saw surprised everyone. Mason, who couldn't stand to be handled by humans, calmly let the kittens near him. They sniffed, poked, and prodded, and within minutes, the three were close friends.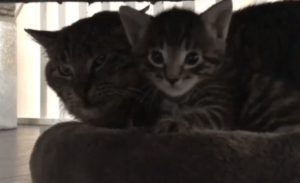 Grumpy Grandpa Mason has a soft spot for the youngsters that are now referred to as "Mason's Kittens." They sleep curled together in a tangle of fur and spend their days playing and cuddling. The kittens showed that while Mason is used to life on his own, he's a sweet cat with the right to a second chance. He'll spend the rest of his sunset months living in a home where he's loved by humans and kittens alike.
Featured Image Source: Facebook/TinyTuxies