For over a year, a feral cat, now named Lipstick, has been seen around Katie Lanza's neighborhood. Katie, her mom, and a neighbor have been feeding the poor cat. But when a blizzard came, Katie and her mom knew they had to do something to save the poor cat.
It was January 22 to 23 when the blizzard of New Jersey came. Katie and her mom searched for Lipstick but she was nowhere to be found; she had disappeared for five days. They finally found her when they heard her meowing from underneath a neighbor's porch. Lipstick had sought shelter under a neighbor's porch and got trapped in there. Katie and her mom rescued Lipstick and they discovered that she was pregnant. It was then that they decided to capture Lipstick so they can keep her warm inside the house.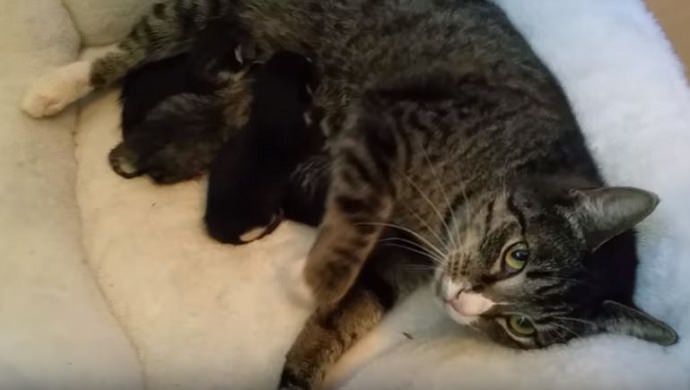 But it wasn't going to be easy. It took them weeks to get lipstick to go inside their house. They had to be patient with her.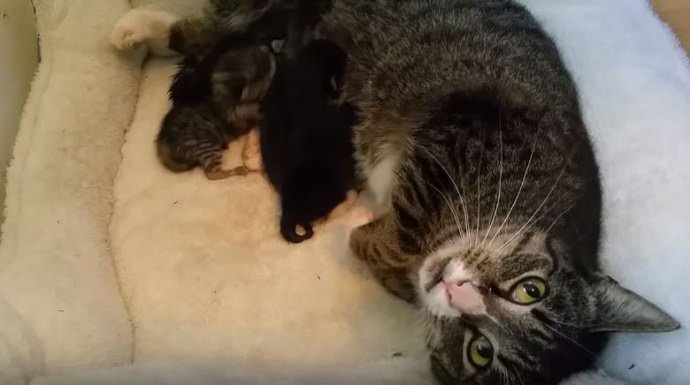 Come Valentine's Day, Lipstick finally realized that the humans were trying to help her. That day was the coldest so far. Katie and her mom locked their dogs and cats upstairs, left some cut up hamburger pieces, and then Lipstick walked into their kitchen.
Watch the video below and see Lipstick with her tiny babies!
Awwww…what a beautiful family! And Lipstick sure is a very protective momma!
I sure hope Lipstick will stay with Katie's family. That way, she and her babies have a home to keep them safe and well-nourished.
You can read more about Lipstick's story at LoveMeow.com
Did you like this?