When her family had to leave their place, Madras was put outside and left to fend for herself. Sadly, kitties are often turned out when hardship hits a family, leaving them to fend for themselves after having known some sort of home life. It's a sad fact for felines and what makes Madras' case even more pitiful was the fact she was pregnant.
Not only alone in the wild outdoors and bereft of home comforts, Madras would soon bring kittens into the world. The expectant mom knew she needed help and she found it in Gael, a neighbor who heard the tale of the family's move. Wanting to give Madras the help she needed, Gael contacted Chatons Orphelins Montréal(COM) and soon, happily ever after was soon underway for a feline family in the making.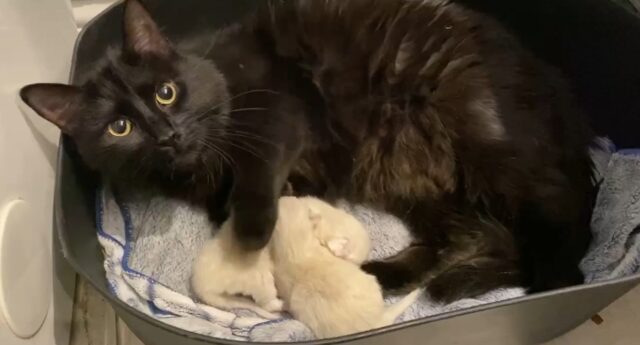 Mama and Her Boys
As soon as COM had her safe in their care, Madras soon went to a foster home, where she could settle in and prepare for the birth of her kittens. With her belly grown big and round, they would arrive soon in a perfect place where mom and babies alike would receive the best of love and care.
When Madras's two white kitten boys arrived, Celine Crom of Chatons Orphelins Montréal told Love Meow, "Her foster mom was with her the whole time, comforting her and reassuring her."
Caspar and Cotton were the most beautiful little guys and, with their mom, the three made a purrfect family. But about a week in, Madras fell ill. Infection had set in and her milk stopped. She needed immediate care to bring down her fever and antibiotics to treat a urinary tract infection. She wouldn't be able to nurse anymore, so her foster family dressed her in a cute suit and soon, Madras was back with her babies. Though Caspar and Cotton were now on bottles and Madras's feeding duties were done, the fluffy black cat was still a devoted mother, teaching her kittens about the world and giving them lots of mom snuggles.
Thanks to rescue and foster care, the outcome was one of joy for Madras and her babies. Without them, what would have become of them when Madras fell ill?
As Celine said, "Her kittens survived and thrived thanks to the rescuers and the foster family."
"Madras is a super mom. She is protective of her babies and watches over them every step of the way."
Not only does she love her kitten boys, she also enjoys time spent as a cuddly lap cat, always happy "to be petted from head to tail." In fact, Madras and her foster family love each other so much, the sweet cat quickly turned into a "foster fail." She's already forever home while helping her boys get ready for their chance at forever.
The Boys
As Casper and Cotton have aged, more coloring has painted itself onto their fur, revealing the Birman lineage of their father. Both kittens have adorable grey points and sweet grey noses. Oh, and those eyes, they're some of the most beautiful blue you'll ever see!
And their purrsonalities?
"They are mischievous and adventurous. Casper (with the darker nose) encourages his brother to play and is the leader of the two. Cotton, the shyer one, likes to follow Casper around the house, and will seek him out if he can't find his brother."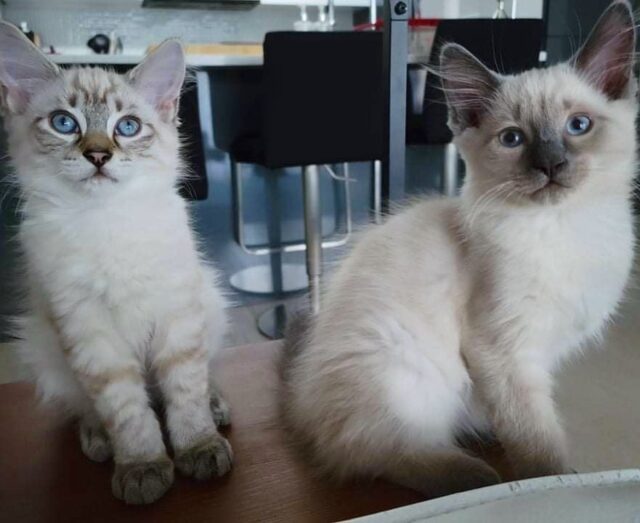 The brothers share a special bond and when it's time for them to go home, they'll go together into their happily ever after. This feline family of three is one more to offer proof that rescue and foster care are pure magic.
H/T: www.lovemeow.com
Feature Image: Chatons Orphelins Montréal/Facebook