iHeartCats is reader-supported. When you buy via links on our site, we may earn an affiliate commission at no extra cost to you.
As the leaves start to change and the air turns crisp, it's time to talk about fall products for cat lovers. This season is not just about sipping pumpkin spice lattes or going apple picking; it's also an opportunity to indulge in autumnal treats and comforts for our feline friends. Imagine wrapping yourself and your kitty in a cozy blanket with a cup of warm cider while basking in the glow of a cinnamon-scented candle. Sounds purrfect, doesn't it? Well, you're in luck.
We've rounded up some of the best fall products for cat lovers that feature your favorite and ours—felines! These choices will have you and kitty bestie falling head-over-tail in love with autumn. So grab your cat, a cozy blanket, and let's make this fall the most memorable one yet.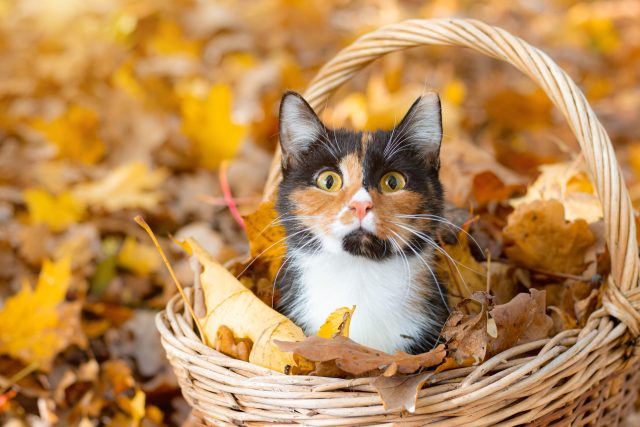 40 Fall Products For Cat Lovers
Home Décor For Fall Y'all
#1 – Roszwtit Hello Fall Door Mat
As you step into your home this fall, the Roszwtit Hello Fall Door Mat greets you with warmth and a dash of feline flair. Measuring 30 x 17 inches, this doormat is the perfect size for any doorway, and its autumn-themed design featuring a charming cat adds a seasonal touch that cat lovers will adore. The non-slip rubber backing ensures that the mat stays in place, even when those autumn rains come pouring down. Made for both indoor and outdoor use, it's a versatile piece that elevates your entryway while celebrating your love for cats. Its durability is a major plus, standing up to foot traffic and weather conditions alike. For anyone who's both a fan of fall and a cat enthusiast, this doormat is the purrfect addition to your home decor.
#2 – Fukeen Fall Halloween Decorations Pillow Covers
This Fukeen pillow cover effortlessly combines the whimsy of Halloween with the coziness of fall, all wrapped up in a feline-friendly design. Measuring 12×20 inches, these cotton-linen cushion covers add both texture and character to any room. Featuring leopard print, a black cat, pumpkin, and sunflowers, they bring all the iconic symbols of the season right into your living space. The covers are both visually arresting and functionally sound, with a hidden zipper for easy insertion and removal of cushions. Whether you place them on your sofa or bed, they'll instantly transform the area into a haven of autumnal charm that cat lovers can't resist. Plus, they're an easy way to update your décor without breaking the bank.
#3 – Fahrendom It's Fall Y'all Maple Leaf Cat Decorative Throw Pillow Cover 20 x 20 Set of 4
The Fahrendom pillow covers make declaring your love for fall and felines an effortless affair. Measuring 20×20 inches, this set of four cotton pillow covers showcases a mix of autumnal elements, including pumpkins, maple leaves, and adorable cats. These covers serve as an instant décor booster for your porch, patio, or indoor spaces. The vibrant orange hues perfectly encapsulate the essence of the harvest season, making them a must-have for any cat lover's home. Plus, they're incredibly easy to care for—just toss them in the wash and they're good as new. Overall, they're a seasonal home update that's both functional and irresistibly cute.
#4 – Artoid Mode Watercolor Cat Maple Leaf Pumpkin Hello Fall Kitchen Towels
Nothing screams fall like the Artoid Mode Watercolor Cat Maple Leaf Pumpkin kitchen towels. These 18×26-inch seasonal hand towels are an exquisite mix of functionality and aesthetic appeal. The cute tabby cat, maple leaves, and pumpkins captures the essence of fall perfectly. Made of a durable material, these kitchen towels for cat lovers are perfect for tackling any kitchen mishaps while adding a touch of autumnal flair to the room. Plus, their soft texture ensures they're gentle on the hands. For cat lovers who enjoy cooking or baking, these towels are the purrfect addition to your fall kitchen décor.
#5 – Primitives by Kathy Block Sign-Grateful for My Cat
For a simple yet touching nod to your love for your feline friend, the Primitives by Kathy "Grateful for My Cat" block sign is the perfect fit. Measuring 4.5×4.5 inches, this multicolored block sign effortlessly blends in with any décor while making a poignant statement. It's the ideal size for placing on a mantle, shelf, or even your office desk. Made from durable wood, it's a long-lasting tribute to your cat that you'll cherish for seasons to come. In the season of gratitude, this cat lover sign serves as a heartfelt reminder of the furry friend that makes every day special.
#6 – GAGEC Fall Table Runner Pumpkins Cat Maple Leaf Autumn Harvest
Set the stage for a perfect fall dinner with the GAGEC Fall Table Runner. Measuring 13 x 72 inches, this table runner features an array of autumnal symbols like pumpkins, cats, and maple leaves that will make any cat lover's heart sing. Made from high-quality fabric, it's durable yet soft to the touch. This table runner will not only protect your table but also elevate your dining room decor to reflect the warm hues and cozy atmosphere of the season. It's versatile enough for both casual family dinners and more formal gatherings, making it a must-have this fall. With its intricate design and attention to detail, it sets the mood for an autumn feast in purrfect style.
#7 – GURMQIK Cat Autumn Shower Curtain
Add a splash of fall magic to your bathroom with the GURMQIK Cat Autumn Shower Curtain. Measuring 70 x 70 inches, this cat-themed shower curtain features an enchanting design of pumpkins, autumn leaves, and a super cute kitty that's perfect for the season. It's made from water-resistant polyester, ensuring both style and functionality. With easy-to-use hooks, installation is a breeze. The warm and cozy art perfectly complements any bathroom and is sure to delight any cat lover. It's like having a mini fall festival right in your bathroom!
#8 – One Fur All, Pet House Candle – Autumn Harvest
Pet odors meet their match with the One Fur All Pet House Candle in Autumn Harvest scent. This 100% plant-based wax candle is a game-changer for any pet lover looking to keep their home smelling fresh. The Autumn Harvest scent is a blend of seasonal aromas that capture the essence of fall. It's non-toxic and eco-friendly, providing a safe environment for you and your cat. With its long-lasting burn time, you can enjoy a pleasant fragrance throughout the season. It's a fantastic way to welcome fall into your home while taking care of those inevitable pet odors without worrying over harmful inclusions like paraffin dyes, phthalates, parabens, and formaldehyde.
#9 – AVOIN colorlife Fall Cat Welcome Garden Flag
Greet your guests in style with the AVOIN colorlife Fall Cat Welcome Garden Flag. Measuring 12 x 18 inches, this double-sided garden flag is a charming addition to any outdoor space. With its adorable cat and maple leaf design, it's a warm welcome to anyone entering your home this fall. Made from durable materials, it's built to last through the changing seasons. It's easy to set up and fits most standard garden flag poles. For a fun, cat-centric twist on your traditional autumn decorations, this garden flag is the way to go.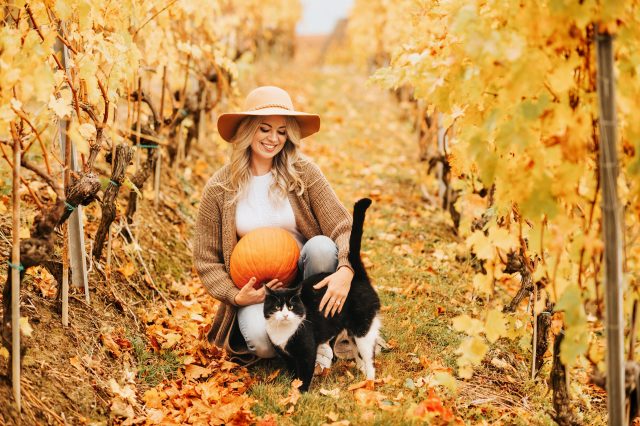 Clothing for Cat Lovers You'll Fall For
#10 – iHeartCats I'm A Cats And Coffee Kind Of Girl Hoodie Black
Wrap yourself in cozy comfort and feline flair with the iHeartCats "I'm A Cats And Coffee Kind Of Girl" Hoodie in Black. As the leaves start to change and the air turns crisp, this hoodie is the ideal layer to keep you warm and snug. Made from soft, high-quality fabric, this cat lover hoodie not only durable but also supremely comfortable for those laid-back fall days. The design combines two of life's greatest joys: cats and coffee, making it an instant favorite for cat aficionados who also appreciate a good brew. The deep black color makes it versatile enough to go with any outfit, whether you're out for a stroll or just curling up at home with your furry friend. With a spacious hood and convenient pockets, it's functional, fashionable, and undeniably cat-tastic.
#11 – iHeartCats Cat Sketch Premium L/S Tee Dark Grey
Stay stylish and cozy in cat flair this fall with the iHeartCats Cat Sketch Premium L/S Tee in Dark Grey. This long-sleeve tee for cat moms is perfect for layering on those increasingly chilly autumn days. The subtle yet artistic cat sketch on the front is an elegant way to declare your love for cats without going overboard. Made with premium material, it promises both durability and comfort, making it ideal for a day out or a comfy evening at home with your feline friend. The dark grey color offers flexibility to mix and match with other fall staples. All in all, this tee is a win-win for both style and comfort for cat lovers.
#12 – iHeartCats Awesome Cat Mom Leopard Paw Hoodie Black
Feel the fall vibes while wearing your cat love on your sleeve, literally, with the iHeartCats Awesome Cat Mom Leopard Paw Hoodie in Black. This hoodie offers a bold and unique design combining a leopard print paw with the text "Awesome Cat Mom," making it a fun statement piece. The high-quality fabric ensures a comfy, cozy fit that's perfect for the brisk fall weather. The hood and pockets add extra warmth and convenience, whether you're out on a coffee run or lounging with your cat. The black backdrop makes it versatile for any outfit, ensuring you look chic while celebrating your cat mom status.
#13 – iHeartCats Buffalo Plaid Paws Cat Lover's Flannel Shirt
When autumn leaves start to fall, you'll want to be reaching for the iHeartDogs Buffalo Plaid Paws Cat Lover's Flannel Shirt. This shirt is the epitome of fall fashion for cat lovers, featuring a timeless buffalo plaid pattern that's interspersed with subtle paw prints. Made from soft, durable flannel, it's cozy enough for those crisp fall walks yet stylish enough for social gatherings. The versatility of this shirt is exceptional; it can be layered over a t-shirt for a casual look or buttoned-up for a more polished appearance. What sets this shirt apart is its cat-centric design—it's not just another flannel but one that boldly declares your love for your furry friend.
#14 – Heymiss Womens Tops Cat Mom Shirts Long Sleeve Crewneck Graphic Tees
Heymiss delivers a shirt that's both a tribute to felines and a fashionable piece for any cat mom out there. This long-sleeve crewneck tee sports a "Cat Mom" graphic that leaves no room for interpretation—you love your fur baby, and you're proud of it! The material is soft blended rayon and polyester spandex, perfect for those cooler fall days. Its long sleeves make it adaptable to changing weather, and the crewneck design keeps it casual but trendy. Dress it up with a nice pair of jeans or keep it laid-back with some comfy leggings; the choice is yours. It's essentially the shirt every cat mom didn't know she needed for fall.
#15 – Cat Mom Sweatshirt
Kick off the fall season with the quintessential "Cat Mom" sweatshirt that combines style, comfort, and, of course, your love for cats. Designed with a cute letter print that says "Cat Mama," this long-sleeve top adds a whimsical touch to your autumn wardrobe. The fabric is incredibly soft, making it perfect for cuddling up on the couch with your fur baby or for taking a crisp walk outside. The relaxed fit ensures comfort, while the stylish design makes it a versatile addition to your fall attire. Whether you're out and about or simply lounging at home, this sweatshirt has you covered in cat-loving fashion.
#16 – Hello Fall Y'all Cute Pumpkin Spice Latte, Pie & Sleeping Cat on Leaves Love Fall T-Shirt
Embrace the autumn spirit with this adorable "Hello Fall Y'all" T-shirt, featuring a cute sleeping cat atop autumn leaves, along with iconic fall elements like pumpkin spice latte and pie. It's a perfect conversation starter at Thanksgiving dinners or casual fall gatherings. The shirt's material is soft and breathable, making it comfy for all-day wear. It's also versatile enough to pair with jeans or leggings, giving you the flexibility to create your own style. Plus, the unique design showcases your love for fall and felines in one charming package.
#17 – Fall Coffee Pumpkin Spice Latte Cat Lover T-Shirt
For fans of pumpkin spice and all things feline, this t-shirt is a dream come true. The shirt features an irresistibly cute pumpkin spice latte design dedicated to cat lovers, making it the ideal pick for Thanksgiving, fall festivals, or any other autumnal event. The material is soft and breathable cotton, ensuring you stay comfy and cool. It's a perfect way to show off your seasonal spirit and your love for cats in one go. Versatile and fun, this t-shirt is a must-add to your fall collection.
#18 – STYLEWORD Women's Long/Short Sleeve Leopard Print Color Block Tunic Top
Add a splash of leopard print to your fall wardrobe with this STYLEWORD tunic top. It's a unique blend of casual and chic, with a leopard print color block that makes it an eye-catching piece. The fabric is soft to the touch, ensuring you stay comfy throughout the day no matter if it's a warm autumn day or chilly fall eve. Versatile and striking, it's the perfect piece for those who love cats and like to make a statement.
#19 – YESNO Women Sweater Graphic Oversized Pullover Sweater
Looking for an oversized sweater with cats on it to snuggle in this fall? Look no further than this YESNO pullover. Its casual, loose fit and long sleeves make it ideal for those chilly autumn days. The unique feline graphic design adds an artsy touch, making it more than just a basic sweater. You'll get compliments with every wear while loving the soft, cozy comfort it provides.
#20 – Arssm Cat Cardigan Sweater for Women Kawaii Cartoon Oversized 
Turn heads this fall with the Arssm Cat Cardigan, a fun and fashionable oversized knit sweater featuring cute cat cartoons. The loose fit and V-neck design offer both comfort and style, making it a versatile piece for any autumn occasion. Whether you're going to a fall festival or just enjoying a pumpkin spice latte, this cardigan is sure to get you compliments. It's the perfect blend of coziness and cuteness, designed for the ultimate cat lover.
#21 – Neyaolk Pumpkin-Sweatshirt Halloween Crewneck Shirt
If you're searching for the perfect Halloween or fall-themed attire, look no further than the Neyaolk Pumpkin-Sweatshirt with a delightful cat and pumpkin print. This crewneck shirt encapsulates the essence of fall with its pumpkin and cat designs, while its long sleeves make it cozy and appropriate for the chilly weather. The pullover style is simple to put on and offers a loose fit for ultimate comfort. Whether you're planning to attend a Halloween party or just wish to indulge in the autumnal spirit, this sweatshirt serves as a versatile and festive option. Its eye-catching graphics of big-eyed black cats and white pumpkins not only make it stand out but also allow you to show off your love for cats.
#22 – Aelfric Eden Women's Sweater Crewneck Sweater Vintage Oversized Sweater 
As the fall leaves begin to drop, why not elevate your wardrobe with the Aelfric Eden Vintage Oversized Sweater? This sweater offers a classic crewneck style with a trendy kitty cat touch, making it a must-have this autumn. The oversized fit ensures you're enveloped in warmth and comfort as you sip on your hot apple cider or enjoy a scenic fall drive. Its versatile design makes it suitable for both casual and work events, and its neutrality means it can be worn with any bottoms of your choice. If you're looking for an all-rounder fall sweater, this Aelfric Eden piece is your go-to for style and cat love.
#23 – YEMAK Women's Knit Cardigan Sweater – Cat Pattern
The YEMAK Women's Knit Cardigan Sweater is a dream come true for those who love kitties. Featuring a cute pattern of cat faces, this cardigan is the epitome of pet-loving fashion. The lightweight knitted material and 3/4 sleeves make it an excellent choice for the transitional fall weather. With its button-down front, you have the flexibility to wear it open over a tee or buttoned up for a different look. This cardigan isn't just for pet lovers; it's a fashionable piece that can be incorporated into various fall outfits, making it a versatile addition to your wardrobe.
#24 – Leggings Depot Women's Printed Solid Activewear Jogger Track Cuff Sweatpants
Don't miss out on the Leggings Depot Furball Cats Jogger Sweatpants this fall, perfect for those lazy days at home or for quick runs to the grocery store. These joggers feature a charming cat print that will appeal to every feline lover for their catty cuteness and thier breathable comfort for fluxing fall temps. The track cuff at the ankles adds a functional touch, ensuring that you can move freely without any hassle. Comfortable, fashionable, and purrfectly themed for cat lovers, these sweatpants make for a delightful addition to your fall loungewear collection.
#25 – PajamaMania Women's Cotton Flannel Pajama PJ Pants with Pockets
When it comes to cozy evenings at home during the fall, PajamaMania's Cotton Flannel Pajama Pants have you covered—literally. The soft cotton flannel material is designed for comfort and warmth, ensuring you and your pup stay cozy during those Netflix binge sessions. The addition of pockets adds a wickedly practical touch, ideal for carrying treats or your phone during those late-night potty walks. Cuffed hems, piped satin trim, and a classic fit, these will be your favorite pajama pants for fall.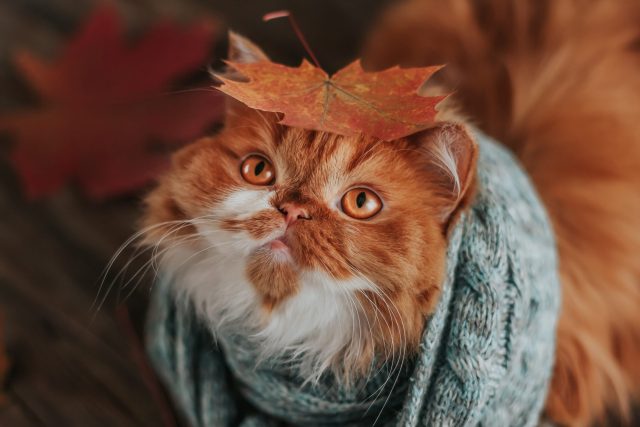 Cozy Stuff for Chilled Nights
#26 – LOVE IS LIKE A BLANKET Fall Cat Flannel Blanket
When the autumn chill arrives, the LOVE IS LIKE A BLANKET Fall Cat Flannel Blanket is a warm hug you can't resist. Decorated with an endearing cat motif that also includes fall fungim flowers and foliage, this blanket perfectly complements the fall season for cat lovers. Crafted from super-soft and lightweight flannel, it's excellent for snuggling on the couch with your kitty or adding an extra layer of warmth to your bed. Measuring 50″x60″, this blanket is large enough for kids and adults alike.
#27 – BLUBLU Cute Cat Design Flannel Fleece Bed Blanket
The BLUBLU Cute Cat Design Flannel Fleece Bed Blanket is a cozy haven for cat lovers during the crisp fall season. This 50″x40″ blanket features adorable cats of all breeds and patterns! Its lightweight yet cozy plush flannel and fleece makes it ideal for cuddling on the sofa, or as an added layer on the bed. If you're looking for an effortlessly cute and functional blanket to add to your home this fall, this BLUBLU offering is perfect.
#28 – Sleepwish Cat Blankets for Cat Lovers
The Sleepwish Cat Blanket is a feline aficionado's dream come true. This fleece and sherpa blanket features a stylish black and white cat print, adding a dash of elegance to your fall decor. Measuring 50″x60," it's perfect for curling up with a good book or watching a movie on a chilly evening. The blanket's dual materials offer a fuzzy, warm experience that will make you want to stay indoors all day long. Your cat will be happy to curl up in this soft napping spot too.
#29 – Bedsure Cat Blanket Hoodie with Sleeves
Step into ultimate comfort with the Bedsure Cat Blanket Hoodie. This sherpa hooded blanket not only covers you but also comes with sleeves for added warmth and a giant pocket for convenience. Designed to be a perfect gift for cat lovers during the colder months, its cozy wearable design makes it a stand-out choice for lounging at home, especially during the fall season.
#30 – Panda Bros Womens Cozy&Warm Animal Slipper Socks
When it comes to lounging around the house this fall, don't overlook the importance of warm, cozy feet. The Panda Bros Women's Cozy & Warm Animal Slipper Socks, adorned with a  sweet cat face and paw prints, are not only adorable but also incredibly warm and comfortable. The grippers on the sole add an extra layer of safety, making these slipper socks an excellent choice for both fashion and functionality. You'll love these cat slippers so much, you'll want to make a fellow feline fan's fall by giving them a pair too.
#31 – Snoozies Pairable Slipper Socks
When it comes to experiencing absolute comfort this fall season, the Snoozies Pairable Slipper Socks go above and beyond. Designed with both cat and dog lovers in mind, these slipper socks are the epitome of cozy meets fun. The unique designs and fuzzy interior will have you feeling snug while giving off an upbeat vibe. Not only are they incredibly comfortable to wear indoors, but the non-slip soles also offer extra security for those quick trips to grab the mail or take out the trash. Make your fall season a cozy affair with these wonderful slipper socks that serve both utility and style.
#32 – SINNO Cute Animal Slippers for Women
For those chilly autumn days and nights, the SINNO Cute Animal Slippers for Women offer cozy refuge for your feet. Made with winter-warm memory foam, these slippers provide a plush, cloud-like experience. The pawprint design adds a creative touch for cat lovers. With non-slip soles and a soft, warm interior, they make for wonderful gifts for women and girls who are animal lovers.
#33 – GaraTia Women/Kids Family Cute Cat Warm House Slippers Booties
The GaraTia Cute Cat Warm House Slippers are a must-have for any cat-loving family looking to keep warm this fall season. Designed for both women and kids, these booties come in a delightful cat design that will surely put a smile on your face. The soft, plush material ensures your feet are always warm, providing an ideal setting for those cool autumn evenings at home. Add these to your fall wardrobe for a fun and comfortable experience.
#34 – Skechers Women's Too Cozy-Meow Pajamas Slipper
Skechers Women's Too Cozy-Meow Pajamas Slipper is just what the name suggests—too cozy to pass up this fall. With a plush interior and a snug fit, these slippers are perfect for lounging around the house or making quick runs to the store. The Meow design adds an extra layer of cuteness that makes these slippers a great gift for cat lovers, ensuring that your feet not only stay warm but also stylish on fall days when the temps drop low.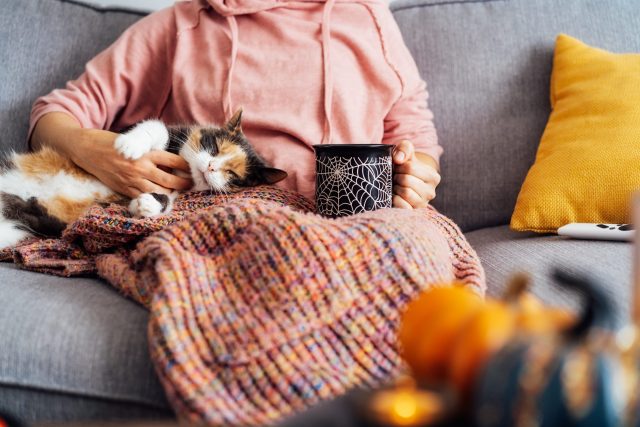 For Your PSLs, Cocoa, Cold Brews, and More
#35 – DJY Meh – 20oz Black and White Cat Stainless Steel Tumbler
If you're a cat lover looking for an upgrade to your typical morning coffee experience this fall, DJY Meh 20oz Black and White Cat Stainless Steel Tumbler is a fantastic option for displaying your "enthusiasm" at being up and awake on a cold autum morning. This cat-themed tumbler features a vacuum-insulated design, ensuring your hot drinks stay hot and your cold drinks stay cold. The lid adds an extra layer of convenience for those on-the-go moments. The funny cat design is perfect for those who want to celebrate their love for cats while sipping their favorite beverage. This tumbler is a great gift idea for friends, colleagues, and anyone who loves cats and snark.
#36 – Tervis Flat Art Cats Triple Walled Insulated Tumbler
Tervis delivers again with their Flat Art Cats Triple Walled Insulated Tumbler, making it a must-have item for cat enthusiasts this fall. With a 20oz capacity and stainless steel construction, this tumbler offers both style and function. The triple-walled insulation ensures your drinks maintain their temperature, whether hot or cold. The Flat Art Cats design adds a charming touch, making this travel cup an ideal companion for autumn outings.
#37 – Paris Products Co. Cat Coffee Tumbler
When it comes to celebrating birthdays or any special occasion this fall, Paris Products Co.'s 20 oz tumbler is a fantastic choice for cat lovers. This well-designed, stainless steel tumbler comes with a charming cat motif that will definitely appeal to all cat enthusiasts. It's not just about looks, though; the tumbler's insulation ensures that your drinks remain at the perfect temperature. A versatile and delightful gift, this tumbler hits all the right notes for cat lovers.
#38 – BigNoseDeer Kawaii Tea Cup Gifts for Women
If you're in the mood for something adorable and functional, the BigNoseDeer Kawaii Tea Cup is a perfect addition to your fall mornings. This 13oz ceramic mug comes in a delightful pink shade and features a cute cat design, adding a splash of joy to your tea or coffee ritual. It's not only stylish but also practical, offering a generous capacity and sturdy construction. The cup arrives with a cat paw spoon, cute anime Kitty coaster, and Fish tea infuser.
#39 – infloatables Color-Changing Cat Mug
This fall, add a bit of magic to your mornings with the infloatables Color-Changing Cat Mug. This 3D ceramic mug holds 12 ounces and will charm everyone. Watch as it changes color when hot liquid is poured in, revealing a heat-sensitive color gradient inside the cat as your drink warms up. Not only is it functional, but it's also an incredibly cute and unique gift for cat lovers.
#40 – creature cups Cat Stretch Ceramic Cup
Add a bit of surprise to your coffee or tea time this fall with the creature cups Cat Stretch Ceramic Cup. This unique 11-ounce dark grey mug hides a stretching kitty inside, revealing itself as you sip. It's the perfect combination of practicality and whimsy, making it a fantastic gift for any coffee or tea lover who is also a cat enthusiast.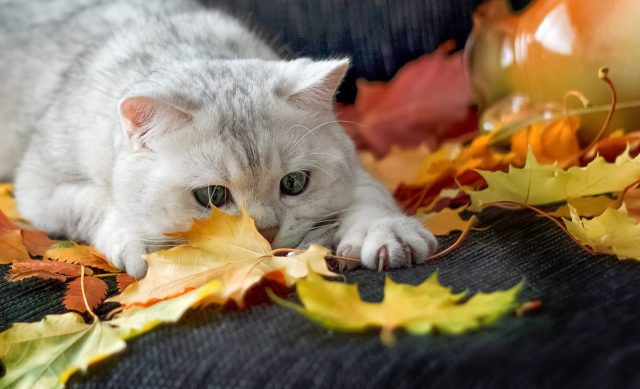 As the autumn leaves continue to fall, we hope this curated list of fall products for cat lovers adds a dash of cozy, seasonal charm to your life and that of your feline friend. After all, what's better than sharing the joys of the season with your whiskered companion by your side? So go ahead, indulge in a little cat-centric autumnal bliss—you and your kitty deserve it!
iHeartCats is reader-supported. When you buy via links on our site, we may earn an affiliate commission at no extra cost to you.