Emily married a man who's a tried and true cat lover. The couple frequented local shelters hoping to find the perfect kitty to add to their family, but Emily didn't connect with any of them. Not until she met Ella!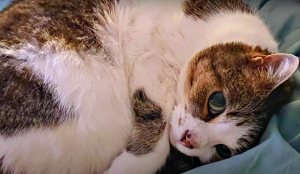 The beautiful senior cat immediately came up to Emily and gave her kisses. Ella had already chosen her mom. Thankfully, Emily chose her too! They brought the kitty home, and it only took a week for Ella to adjust. She wanted to be with her parents constantly.
One day while Emily was channel-surfing, she put on The Grinch. The cat-mom often watched TV to wind down and relax. But this moment was different. Ella stopped dead in her tracks, looked up, and didn't take her eyes off the film. Emily paused the movie at one point, and Ella glanced back at her mom with a disapproving grimace. Emily laughed and put the movie back on.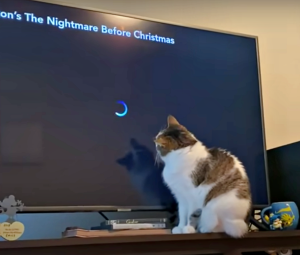 Ella doesn't just love The Grinch, she loves to watch other films as well, but it has to be with Mom. This adorable cat's fascination is too good to miss! Check out Ella, and her winning personality, in the video below!
Please 'SHARE' to pass on this story to a friend or family member
Click 'SHARE' below to pass it on to a friend or family member!