Part of each sale through the iHeartCats store is donated to Greater Good, which helps support various charities. Thanks to customers like you, happy endings, like the one below, are made possible. 
Miss Kitty is a dainty tabby and white Oklahoma gal who likely had a family at some time in her past. She is declawed and very sweet, but somehow she found herself roaming the streets as a stray.
A kind family took her into their garage and fed her, but they were unable to keep Miss Kitty because of their other pets. They surrendered her into the care of Misfits, Mutts and Meows Rescue, who noticed she was pretty skinny and somewhat dehydrated.
Miss Kitty seemed to have difficulty eating dry food which may account for her being so underweight. When the rescue examined her further, they realized she had some bad teeth that probably made it painful to chew hard kibble.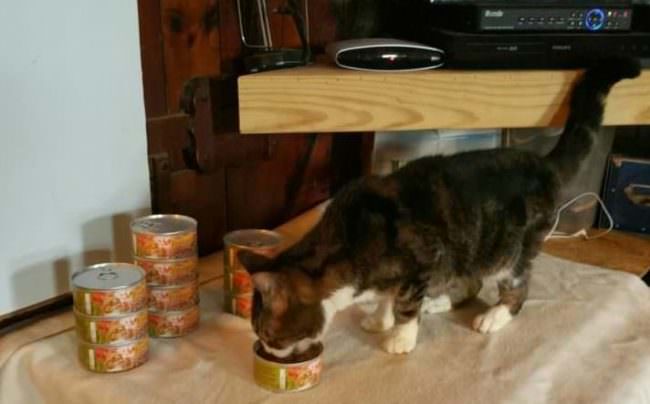 They started her on canned food donated by GreaterGood.org's Rescue Bank program. She loved it! The gravy in the canned food gave Miss Kitty the extra liquid she needed to stay hydrated. She looks forward to her Friskies twice a day and is back to a healthy weight as she waits for her forever home!
"Donations from Rescue Bank have made a big difference in our rescue. The savings has allowed us to make improvements to the rescue, and saves us a lot of time in searching for the best deal on both dog and cat food. We also are able to provide better medical care and take on harder cases." – Misfits, Mutts and Meows