Greetings, pawsome human minions.
Forrest the cat here, coming to you about a topic I really don't care for, but it must be discussed anyway. You know how sometimes caring for your health brings tasks you'd rather not do but have to? Well, this is one of those.
I'm not too fond of dental day, but I care about your kitties, so here I am, revealing how mom dupes me into getting my teeth brushed.
February is Pet Dental Health Month, so I felt it was a timely topic, plus I just saw mom get out my toothbrush. Forgive my ire. This is truly an important matter as cats need clean teeth not only because it perfects our purrfection, but major health problems can arise from dental disease in cats.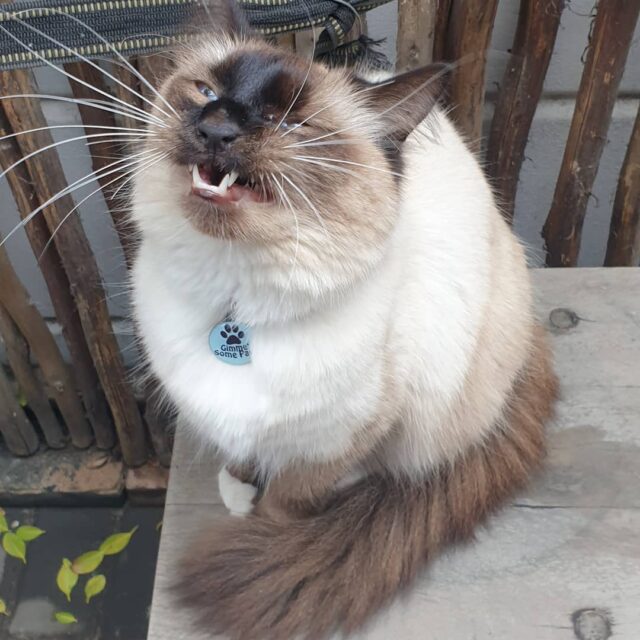 After researching cat teeth, Mom said the cat experts of Cornell Feline Health Center explain, "The three most common dental diseases in cats are gingivitis, periodontitis, and tooth resorption."
And all three dental problems can cause major pain and suffering in cats. Mom has emphasized this fact many a time as I've squirmed during a brushing. I'm aware but, I don't have to like it. I'm a cat. Discomfort is our greatest foe. Well, that and the vacuum.
Here are the teeth-chattering truths of the 3 biggest dental diseases in cats.
Gingivitis
Simply put, gingivitis is an inflammation of the gums. It usually occurs when bacteria housed in tooth plaque invades the gums but can typically be treated with professional teeth cleaning and antibiotics. To help prevent gingivitis, keep cats on a regular toothbrushing schedule of two to three times per week.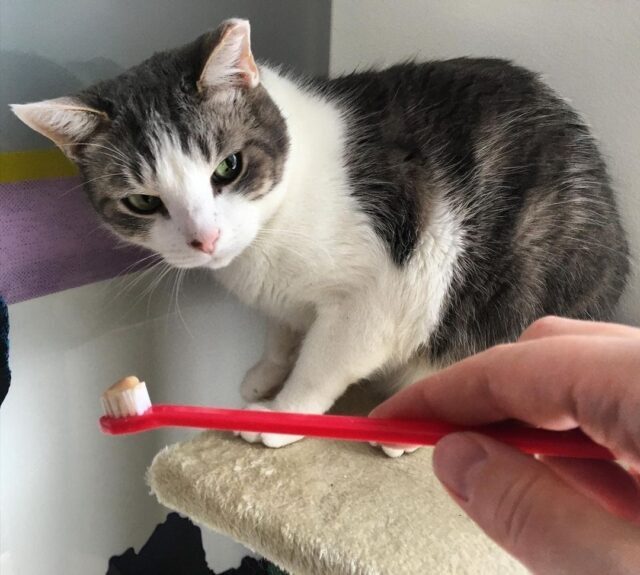 Sometimes gingivitis can be a symptom of bigger health problems, so if you notice plaque build-up on your cat's teeth, head to the vet. It's probably just some tartar, but it's always better to be safe than sorry.
Periodontitis
The result of untreated gingivitis, Periodontitis causes infection in the gums, which weakens the tissues responsible for keeping teeth intact. It can lead to tooth loss if left untreated, but like other dental diseases in cats, good oral hygiene is the key to prevention.
Tooth Resorption
This sounds like a nightmare scenario, right? It doesn't get any better when you realize what it is, either. Tooth resorption happens when a cat's tooth begins to erode the dentin or other structures of a tooth. The erosion of the tooth can potentially cause substantial pain in a cat's sensitive mouth. Resorption can happen in one tooth or all of them. It could be mild, or it could be aggressive. Even worse, the cause behind this condition is unknown, so keep an eye on kitty's teeth and grab that toothbrush to keep a feline's mouth sparkly clean.
Infections in the mouth resulting from dental issues can spread to vital organs, and mouth pain can stop cats from eating. Both of these, as well as other dental diseases in cats, can result in extreme illness and even death. If you notice your cat has stopped eating, is drooling, or has redness, swelling, or bleeding of the gums, call the vet to make an appointment as these are all symptoms of dental disease in cats.
So, reading about such mouth horror has probably left you asking, "Forrest, how do I brush my cat's teeth?"
Here's how it goes down in my house…
Brush Your Cat's Teeth With Toothpaste and Toothbrushes Made for Cats
To get started on a dental hygiene routine for your cat, you'll need a toothpaste and toothbrush for cats. Don't bring your minty tube to a cat's dental day, though. Human toothpaste contains ingredients that are harmful to felines. You can choose a cat toothpaste from a variety of cat-friendly flavors; I prefer beef, in case you were wondering.
As for the toothbrush, here again, save the human toothbrush for brushing a cat's head. Your mouth is bigger than ours, so a human toothbrush won't fit in a feline mouth. When it comes to cat toothbrushes, you can choose from bristled or nubbed styles with a handle or a nubby finger-cover style. It's really about what's easiest for you and your cat during this time of torture, excuse me, oral care.
When Mom brushes my teeth, she lures me in with treats and scoops me onto the dreaded counter. Anytime I get put up there by human hands, something wicked is about to happen, getting my teeth brushed being no exception. Then, she starts her cooing as she corrals me with her arms, and the next thing I know, she's holding my chin with one hand and invading my mouth with the toothbrush.
As I'm gnashing on the brush, she softly scrubs all my teeth, both inside and out. She spends a long time on my molars, and I generally make gagging sounds. Sure, it's dramatic, but it gets my annoyance across.
And while the taste of beef is nice on my tongue, it ain't so great when mom is brushing on my tongue. It's about this point I start prying at her hands with my front paws, and maybe I have my claws out a bit, but again, points have to be made.
She gets in her last brushes, releases me, and darts away from my lashing tail. But, she's good about giving me a fresh sip of water right away and finishing up with a pile of treats. Mom is then smart to let me sulk with my fresh breath for a while before bugging me again.
After a nap, I've usually forgiven her. So, all is well, and my mouth is clean.
Before you and your cat get this good at brushing teeth, you'll need practice and patience. This feels unnatural to your cat, so go slow and start with a simple introduction of toothbrush and toothpaste. Soon, your cat will be allowing you to brush the kibble from their teeth.
But to get kibble in the teeth, a cat needs feeding, so…
Don't forget to feed the cat.
Feature Image: @bennylu_ragdoll/Instagram & @yuki_snowbear/Instagram