Felines have played muse to human creativity for centuries. If the cat craze continues growing as it has with every passing year, then cats will stay busy serving up inspiration for centuries to come. Lucky for us, we're standing at the moment in time when The Golden Pagoda in Los Angeles is hosting Cat Art Show 4: A New Beginning, an exhibition that features the feline kind we fancy so much.
Billed as "the ultimate exhibition celebrating the feline form," the Cat Art Show is celebrating its fourth showing from October 14 – 24, 2021.
With more than 70 artists bringing all forms of media, you'll experience cats in rich pieces where "themes of satire, unconditional love and chaos prevail." And if you can't make it to LA to visit the exhibit, you can still view it online as well as reach out and purchase your favorite work of art while helping cats in need.
Feline Fancy on Display
70 renowned and emerging artists have come together from across the globe to bring more than 80 works for Cat Art Show 4: A New Beginning. No matter your taste, if you love cats, you'll find what tickles your feline fancy.
Renowned children's book author and illustrator Natalia Shaloshvili offers two works featuring adorable, round-eyed kitties she created exclusively for the show.
Professional illustrator Anna Sokolova found inspiration in the novel "The Master and the Margarita" and brought the "Behemoth" to life in a dark and lush work of art.
Photographer Brooke Hummer captured "Reba and Neva" exclusively for Cat Art Show 4. Catch this beautiful pair before they're gone.
Animal illustrator John Geary presents "a cute bunny" in "Rabbit Ears," an exhibition exclusive. This one will hop away fast, so find out the price by sending a message to Cat Art Show Los Angeles on Facebook.
Holly Frean usually finds inspiration in dogs, but Cat Art Show brought out her hidden feline side for two adorable pieces.
Giulia Rosa brings a piece of truth to the exhibition with "All I Need is Books and Cats."
Jim McKenzie's first publicly-released watercolor, "Ice Cream Cat," was inspired by his toddler son's love of ice cream.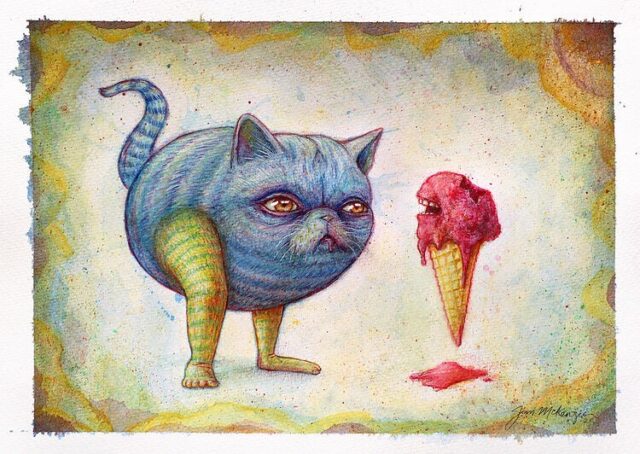 Another great thing to know about Cat Show 4 is that this celebration of cats donates ten percent of all artwork sales to groups helping cats in need. This year's proceeds will go to Kitt Crusaders and Milo's Sanctuary.
Entry is free, but check the Covid-19 protocols before attending. Visit Instagram and Facebook for more information and to check out pieces available for sale.
H/T: www.thisiscolossal.com
Feature Image: Cat Art Show of Los Angeles/Facebook